Manage your Power smarter
Be in control of your vehicles' power - The days are gone when the battery of a military vehicle had to feed the chassis electronics and one radio only. Modern army vehicles are no longer "just" vehicles but have evolved into complex systems which are increasingly reliant on electrical energy. Thales Power Management Systems put the power in your control.
 
Military mission complexity leads military vehicles to incorporate more and more equipment, and the power supply of these vehicles has to meet the demand of mobility, lethality, survivability.  Mission critical consumers such as CBNR equipment, and C4ISR systems but also standard services such as vehicle air conditioning, heating, metrics, drive control, rely on high quality power. 
These complex vehicle platforms, once procured, often evolve through several upgrade and modernization steps and by consequence, can hardly ever be configured from scratch or bought «off the shelf» in the final configuration. To support this trend and to avoid severe system failures during operation, modular and expandable power system solutions are needed. 
© Mobile Tactical Operations Center - Swiss Armed Forces
It's crucial to manage Power!
A Power Management System allows a vehicle crew to transition seamlessly between various mission profiles, delivering power where it is most required to provide maximum efficiency with the greatest mission effectiveness. 
The system ensures that energy loss and inefficiency are minimized by addressing the system as a whole, and finding the optimal level of integration. Furthermore, centrally managing all loads reduces a vehicle platform's total cost, weight, and volume.
"In decisive moments the valuable focus of the vehicle commander shall remain on the mission, while a Power Management System ensures sufficient battery capacity to crank/start the engine under all circumstances."
Thales Next Generation Power Management Solution
Be in control of your vehicles' electrical Power
Thales Power Management's capabilities address today's high power demands efficiently, starting in each platform's system architecture. Each military vehicle platform has a unique need for electrical power generation, distribution, conversion, and storage.
Electrical load requirements vary within each platform to support each vehicle's specific mission equipment and operating mode. Additionally, mechanical accessory packages are used differently on each platform.
Thales Power Management System offers integrated control of power from varied sources via modular power management systems that optimize our clients' logistical and provisioning requirements effectively.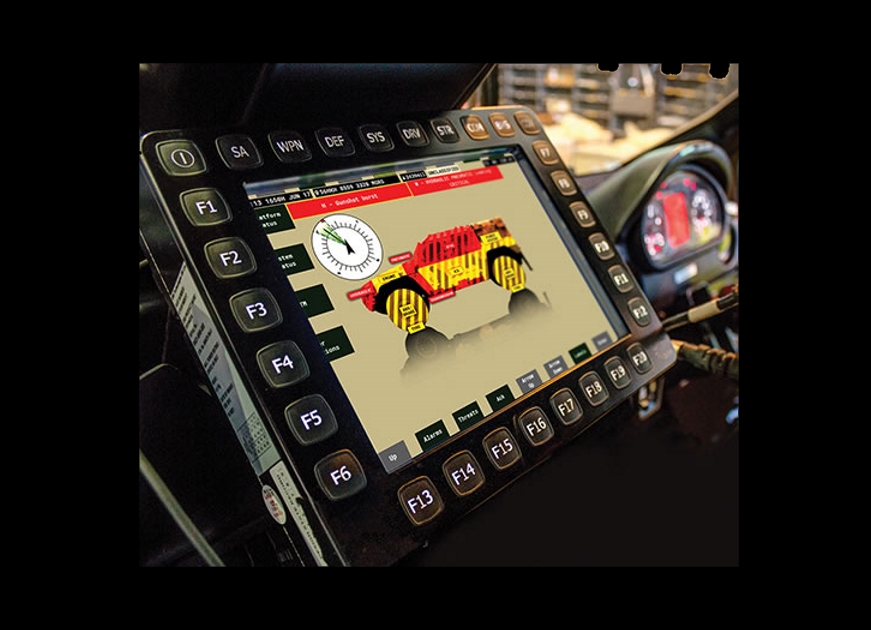 How it works
Thales Power Management System puts the vehicle crew in control of their energy use, enabling them to monitor and manage not only the secondary vehicle power system but primary power system as well.
The system helps to minimize equipment malfunctions, power spikes and shutdowns, and proactively optimize your power on-board a vehicle. It provides real-time monitoring of electrical parameters, and alerts the crew to any anomalies, that helps them to identify and address potential problems before the power goes out. These kind of functions are critical in helping the crew on-board a vehicle with issues ranging from improving energy efficiency and reducing power consumption during Silent Watch missions.
The modular and scalable architecture allows to support up to twelve (12) MIL-PRF 32565B compliant 24V Lithium-ion batteries or with the addition of a Thales Battery Sensor up to twelve banks of 2x 12VDC Lead-acid batteries, as well as multiple power sources including alternators, APUs, Solar panels, external chargers, etc.
Protected Mobility Vehicle
Thales Hawkei
NBC RECCE VEHICLE
GDELS-MOWAG Piranha
A comprehensive and scalable power management solution from Thales can help provide several key power and operational benefits to a military vehicle fleet, including:
Centralized supervision, and control of vehicle Power Generation, Power Storage and Power Distribution System;

Precise information of battery State-of-Charge (SoC), battery State-of-Health (SoH), and remaining Time-to-Go (TtG);

Hard-wired override modes for emergency operation;

Simple integration to NATO Generic Vehicle Architecture (NGVA), or VICTORY;

Extended lifetime for Li-Ion and lead-acid batteries due to optimized load balancing and charging algorithms;

Economies on fuel and batteries even under demanding mission conditions.
Your personal data are collected and processed by THALES in order to enabling Thales to address your requests and to respond to your messages, keep you informed about our product and services, you may be interested in and guaranteeing the security of our website. We may also share your personal data with the following categories of third parties: Our service providers and agents e.g. IT companies who support our technology. As for example, we process personal data (i.e. within our email system) with Typeform and Amazon Global Services (AWS) This externally hosted environment was found to be consistent with our privacy and security programs and is regularly assessed so it continuously meets our standards. You have a right of access to your personal data. You can also request the correction or deletion of your personal data. You have the right to oppose the processing of your personal data or to request a limitation of such processing. You can also request to receive your personal data in a structured standard format. If you have a request or complaint, please send an e-mail to support.internet@thalesgroup.com .
FOR MORE INFORMATION: https://www.thalesgroup.com/en/information-notice