E-scan IFF Mode 5 interrogator, with active fixed flat-pannel
Long-range IFF identification
for naval and ground applications
Identifying air targets after they have been detected is crucially important in the theatre of operations, and naval forces need to be able to rely on new technology to make the right decisions when it matters most.
Thales developed the TSA 6000 to help them conduct their critical missions more safely. The system is the first Mode 5/Mode S compliant IFF interrogator to use flat, fixed-panel active array antenna technology. This unique new solution provides 360° coverage around the vessel, with no trade-off in range capabilities, and an unprecedented and extremely fast identification capability.
The TSA 6000 brings naval forces a secure, highly reliable, robust and interoperable IFF identification solution.
 
Features: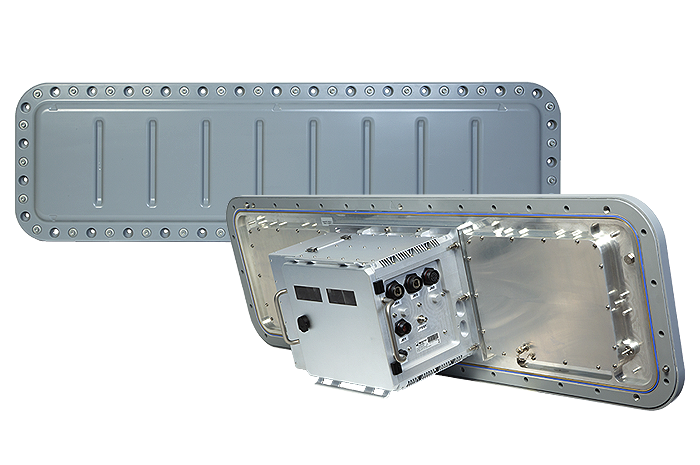 Selected by the French Navy
Electronic scanning technology for agile, smart operation
Very fast identification of targets
360° coverage (with four panels)
Easy to integrate
- compact, lightweight panels
- flexible panel positioning
- Ethernet link
Permanent system availability and increased maintainability
High growth potential to meet future requirements
Panel weight and dimensions:
<55 kg
1464 (L) x 430 (H) x 314 (D)
- Mode 4/5 or National Secure Mode (NSM)
- Fully compliant with STANAG 4193 ed. 3 and DOD AIMS 03-1000B
- Mode S level 2 (elementary and enhanced surveillance operation) according to ICAO Annex 10 Amdt. 85
- Flexible crypto: US or EU
- Ship attitude compensation
- Not subject to ITAR regulations
The TSA 6000 will equip the French Navy's future FDI-class frigates from 2021, alongside Thales's Sea Fire radar. The radar/IFF combination will offer a near-instantaneous detection and identification capability against high-velocity threats.
The TSA6000 is the latest addition to the Thales family of IFF products and meets the full range of current and future operational requirements. With its unique digital architecture, it is designed to evolve in line with emerging needs and future threats. We're proud to be providing state-of-the-art and ever more innovative solutions to ensure the highest levels of protection for the armed forces and help them conduct their operations safely.
Florence Gourgeon, Vice President Radiocommunications, Thales.
If you wish to learn more, please read our leaflet.