EMV benefits with full control
PURE is a unique solution for a scalable and cost-effective private payment network. 
It's quick and easy to deploy and enables innovative and advanced modes of payment.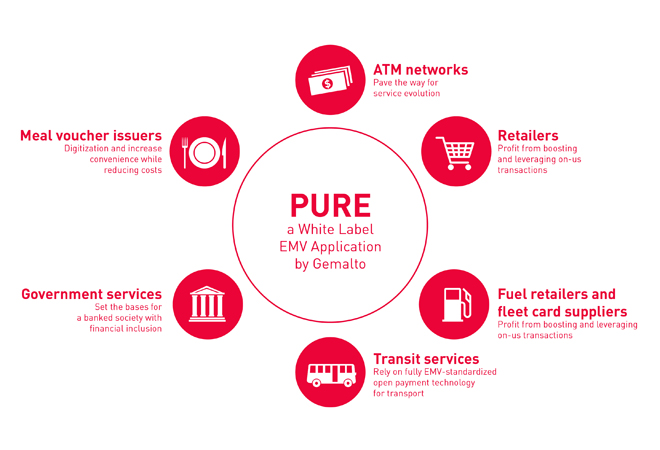 PURE offers private-label issuers the benefits of EMV combined with full control over their payment network, for the ultimate in convenience and state-of-the-art technical features.
Cost-effectiveness and easy deployment
Independence and control
EMV™ security and interoperability
Innovative and advanced modes of payment
Overall, PURE helps customers benefit from the diversified ecosystem, enabling new and innovative payment solutions to interoperate with existing ATMs, EMV terminals and points of sale, public transportation turnstiles and tolls, to name a few.
 
Here are four examples:
#1 Leverage existing EMV terminals
​Meal voucher issuers need to push digitization to migrate from paper to cards or mobile solutions.
With PURE, they can leverage existing EMV terminals and points of sale at their affiliated restaurants and merchants to offer their customers the convenience of contactless and mobile payment. 
With the PURE white label solution, they can avoid the hassle of building a new acquiring infrastructure from scratch or developing expensive cobranding programs.
#2 Contactless to grow your business
Retailers and Fuel retailers are looking to enrich their private label card portfolios of fuel/fleet cards and loyalty cards.
PURE offers banking-level security to reduce fraud with
EMV Chip
& PIN cards and NFC mobile applications.
In addition to this extra security, PURE offers greater convenience with contactless technology and many other loyalty features to increase conversion rates and articulate, efficient retention programs. 
Furthermore, thanks to the interoperability of EMV standards, payment instrument acceptance can be leveraged and extended with partners such as retailers, parking garages, and hotels to support your marketing initiatives.
#3 Smarter public services
City, transport card and government benefit card issuers want to offer convenient services.
PURE smart cards, coupled with flexible issuance solutions, enable innovative use cases matching top trends: 
Transportation networks with cash replacement and fast transaction times
Smart cities with multi-purpose city cards for payment, transit and access control
Government programs seeking to boost financial inclusion or to build card- and mobile-based eServices. 
#4 EMV and mobile payments
Mobile PURE, for mobile NFC payments based on secure elements (SIM and embedded) or HCE, is already available to meet the needs of mobile payment issuers. 

PURE for private networks
Extensive EMV™ and mobile NFC payments for private networks. Gemalto's PURE white-label application brings EMV technology to private label card and mobile payment issuers.
PURE for private networks