​​​​​​Meet the Thales Gemalto Display Payment Card​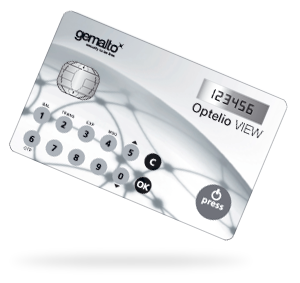 Are you looking for a high-end, all-in-one solution that enables you to deliver extra value to your customers? 
Then the Display Payment Card could be the answer. 
Not only does it add value, but it also reflects your brand image, thanks to the latest technology that integrates a display and keypad on the card.
We have designed this solution to strengthen trust between banks and end-users. 
Convenient and easy to use, it encourages customers to make higher-value and more frequent transactions and use the card's additional functions.
Gemalto Display Payment Card is user-friendly.
The display card comes with an embedded LCD and an optional keypad. It is a proven and trusted card format that simplifies everyday life.
Why? 
Because there is no longer any need for additional devices such as a card reader to consult balances or process online authentication.
Our self-management device (SMD) provides convenient functions for trusted transactions. 
The multifunctional Display payment card​ works like a regular credit/debit card. 
The display smart card combines all your customers' needs for typical daily banking and payment activities -- from ATM and EMV payment, loyalty, and bank account access to generating one-time passwords for online authentication. 
What's more, you can also send marketing messages to the cardholder directly via the terminal.
Gemalto Display Payment Card is fully integrated.
The display payment card​ integrates a magnetic stripe and an EMV contact or contactless chip for payment, with a keypad option that protects the card. 
It offers a natural step up in banking and authentication solutions, making it easy for banks and their customers to migrate from traditional EMV payment cards to more multifunctional Smart Mobile devices (SMDs). 
Why Thales?
Customers that opt for our solution benefit from our world-class expertise in EMV technology. 
Plus, they can rely on our products' quality and our production processes with issuance delivered by MasterCard and Visa-certified facilities. 
We also provide an outsourced hosted service or onsite server for one-time password (OTP) authentication. 
The display payment card​ ​ is fully integrated with our services -- card personalization, customized card printing, engraving, and packaging, to end-user mailing and fulfillment.
The display card: Key features
​Multi-application including balance, last transaction, messaging, and OTP
Magnetic stripe and EMV payment
6-digits display
Integrated keypad for PIN entry and challenge/response and menu
Capable of generating 5,000 up to a maximum of 15,000 (optional) displays
Laser engraving personalization for cards with the keypad.