​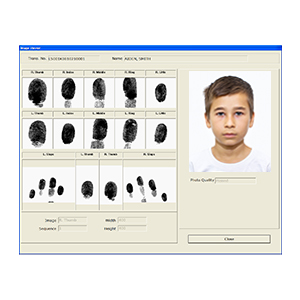 A fast, easy, inkless, and secure way to provide parents with their child's vital information at their fingertips. 
Thales Cogent's Child ID Software guides the user to input the child's demographic information, the parent's contact information, and the capture of the child's fingerprints and picture. 
The intuitive software and realtime image quality check feature inspire confidence in the user, making the experience nonintimidating for both the child and parent. 
Peace of mind for parents
To safeguard against misuse of the child's information, the Child ID software discards all captured information upon closing the application, providing parents with the peace of mind in knowing that they have the only copy of their child's information.
The Child ID system is compatible with multiple scanners that digitally capture the child's fingerprints without ink.
Ideal solution for law enforcement
The Child ID system is an ideal solution for law enforcement agencies, public safety agencies, neighborhood watch programs, or corporations giving back to their communities.