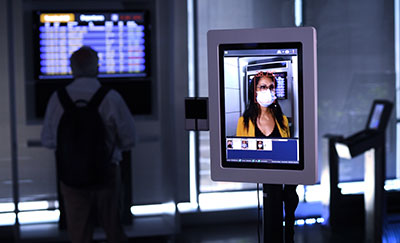 Since the pandemic, high temperature detection has been employed in various entry points to help screen people with symptoms associated with the virus.  
Until recently two different systems have been available: handheld, infra-red thermometers (easy to use, but resource demanding, with a high margin of error) and a combination of thermal and RGB cameras, usually with a blackbody device for calibration.  While the accuracy is improved, the system requires regular calibration, and takes up a lot of space. 
Thales Cogent High Temperature Detection overcomes these issues. This cutting-edge system for high-precision human elevated body temperature detection is the most accurate fever detection solution on the market; GDPR and NORAM regulations compliant.
How does Thermal fever detection works?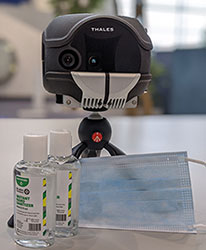 Based on state of the art proprietary facial feature detection and body temperature measurement algorithms, High Temperature Detection quickly and easily captures and processes live visible and thermal images of individuals and groups of simultaneous users at a distance of up to 3 meters. Thales thermal screening solution displays detected temperature on a user-friendly interface designed for a multitude of use cases, including monitoring by security officers. 
What are the benefits of Thales thermal scanners? 
superior measurement accuracy of +/- 0.1 C  
no costly and hard to maintain blackbody device for calibration 
consistent, reliable and repeatable measurement at a distance and on the move 
ready-to-use standalone application for end-users and an SDK for integration with existing systems.  
What are the critical use cases of fever detection? 
Thermal screening is used at physical access control points of critical importance such as borders, airports, ports, ships, power-stations and others. It offers fully touchless and safe experience for customers, passengers, employees and security officers alike. 
Following a study in an UK hospital, the NHS concluded that Thales Cogent HTD can be used for both clinical and non-clinical raised temperature screening.  

Thales Cogent High Temperature Detection (HTD)
The most accurate and easy remote temperature measurement
Read more on HTD