In their annual Leadership Compass on Verified Identity, KuppingerCole Analysts assist the public and private sector in identifying the vendors, which they should consider for products/services decisions. 
The tool provides an overview up-to-date insights on the leaders in innovation, product features, and market reach for full-service providers of Verified Identity. The vendors' evaluation covered the entire identity verification process from beginning through onboarding and authentication.
In its latest 2022 edition, the KuppingerCole Leadership Compass positioned Thales Digital Identity & Security as an Overall Leader in Verified Identity with a triple recognition as Product leader, Innovation leader and Market leader.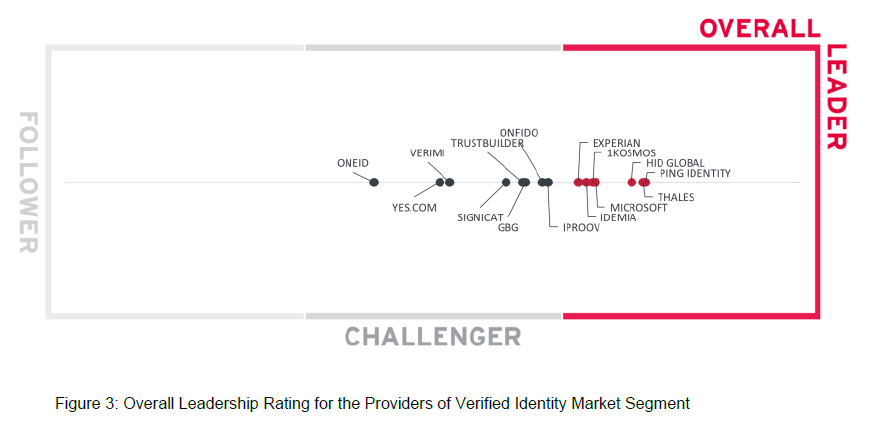 In the Product leadership board, "Thales is in the leaders segment with strategic focus on identity verification and for its reuse during later stages of the identity lifecycle." To rate Thales products, KuppingerCole evaluated a mix of security, functionality, deployment, interoperability and usability.
In the Innovation leadership board, "Thales make strides to enable citizen IDs that interoperate with emerging Mobile Document (mDoc) standards as well as emerging decentralized wallet standards."
"Their Digital ID Services Platform can support various digital credential formats, including those based on the mobile doc ISO 18013-5 standard as well as the W3C Verifiable Credential standard to address decentralized identity models."

In the Market leadership board, "Thales lead the segment with a global presence and reputation, with product capabilities spanning the globe."
To rate Thales as a vendor, KuppingerCole evaluated a mix of innovativeness, market position, financial strength and ecosystem.