Large format, cost-efficient , easy to integrate.
Thales' third generation of fixed detectors offers a cost efficient solution for general radiology applications, within reach of all X-ray system manufacturers and integrators. The PIXIUM RAD 4343 C-E detectors offers Cesium Iodide (CsI) X-Ray detection technology in 43x43cm format (17"x17").
Features:

Cost-efficient and performant digital radiography

PIXIUM RAD 4343 C-E detector is a cost-efficient large-format digital flat-panel detectors designed for X-ray exams.

The pixel pitch (148µm) is optimized to offer high-resolution images while ensuring a low noise level. The detector reaches a DQE of 63% at low dose (6.4nGy), 0.05lp/mm .

Robust

PIXIUM RAD 4343 C-E detectors are robust, durable and guarantee a reliable level of performance under difficult conditions.   

PIXIUM RAD 4343 C-E return rate is below 1%.

Easy to integrate

The design of PIXIUM RAD 4343 C-E detector facilitates easy integration in X-ray systems.   

Data between detector and system is transmitted via a simple Ethernet link, and PIXIUM RAD 4343 C-E detector only requires a single 24 V power supply.

PixRad, a software platform

PixRad is the software platform supporting all Thales static X-ray detectors, fixed and portable.   

A single PixRad platform provides simplified management of multiple configurations and also supports the management of any new static X-ray detector in the Pixium product line.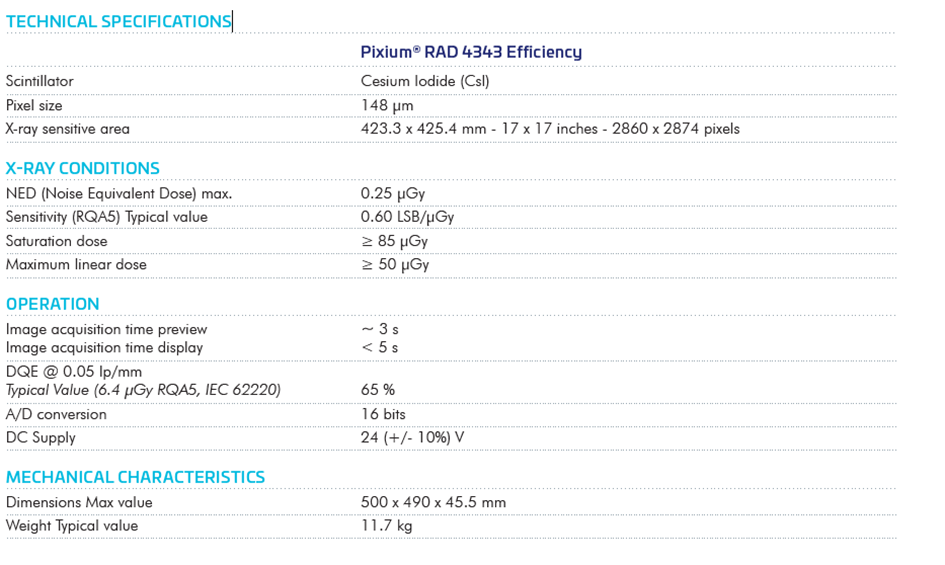 © thales