The electromagnetic operational environment has become increasingly complex. No matter how well-prepared armed forces may be when they embark on their mission, they may enter contested naval spaces where they may encounter fast, varied and unexpected threats. To ensure platform survivability, naval platforms need to be equipped with EW suites that provide the appropriate means for Commanders to keep the tactical edge: rely on the accuracy of the data, choose from a range of countermeasures, from jamming and decoying to missiles, for a graduated response to the tactical context.
The technology used in Radar Electronic Support Measures (R-ESM) offers full spectrum wide-band digital signal processing, delivering unrivalled probability of intercept. Eliminating irrelevant signals, the information provides augmented accuracy to the real-time situational awareness picture.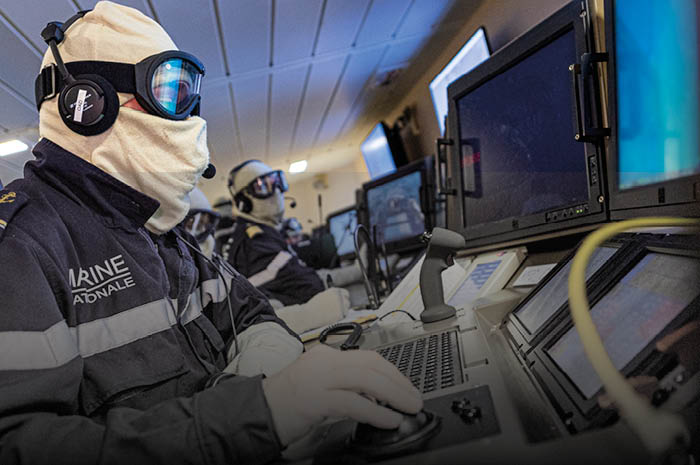 © Terence WALLET/Marine Nationale/Défense
Electronic Warfare is also, increasingly, about responding. This is instrumental to the concept of layered defence, giving the ability to use soft kill measures - like jamming and decoy - as part of the ships defence. 
Today, Warships are operating in a hostile environment. They must be able to conduct their operations, while remaining ready at all times to deal with direct threats. Among the most dangerous and numerous of these threats are anti-ship missiles with advanced electromagnetic seekers, fired from other ships, submarines, aircraft or even from the shore.
Efficiency in this context relies on the full EW suite. One of the levers Thales is developing is an off-board active decoy (OBAD) to improve the protection bubble around the asset or group of assets against upcoming threats. 
The OBAD will make a significant contribution to the operational effectiveness and missile protection of ships, crews, and therefore sailors, and help them carry out their missions.
Given the increasing quantity and changing nature of threats in the battle space, for navies to retain their tactical advantage they have to rely on more than just quantity and efficiency of assets and systems; they also need force multipliers such as off board systems that can keep High Value Units out of harm's way" says Patrick Agnieray, Radar Electronic Warfare Product Line Director for Thales.