Digital assurance, secure encryption, secure transmission and the authentication of data are cornerstones to keeping data secure in an ever more connected world. This includes the protection of data in transit and at rest. In order to create digital assurance, crypto keys need to be generated, managed and kept safe. Each generated key has a lifecycle consisting of three phases: key derivation, use and retention, revocation. These three phases are the same for every key despite keys being used for different purposes and in different contexts.
With over 20 years of hands-on experience Thales has become the European leader in key management and cyber security solutions, making Thales the worldwide leader in data protection, addressing the entire information security lifecycle, the cornerstone of digital assurance. Thales helps to secure the digital transformation of the most demanding government bodies, private firms and critical infrastructure providers. This deep industry insight continuously helps satisfying customer demands regarding anything from generating over transportation to revocation of keys. Thales is working in close cooperation with the German Federal Office for Information Security (BSI), the Home Office in the UK as well as other private and government partners in different areas. Thanks to strong ties between the government and the private sector Thales was able to successfully deploy electronic key management systems around the globe.
Key Management Centre Solutions
For Thales it is imperative to have a Key Management Platform which guarantees high security, integrity as well as authenticity without limiting the field of application. Hence, flexibility and interoperability are key characteristics for deploying and operating a KMC in different market sectors, such as defence, transportation and space each benefiting from the evolution of the underlying technology. That is why Thales has developed a solution based on a Platform-as-a-Service (PaaS) approach which not only enables high availability but also immense flexibility in terms of the configuration of services. That is why all customer specific solutions make use of the KMC Software Architecture Framework as shown in figure 2.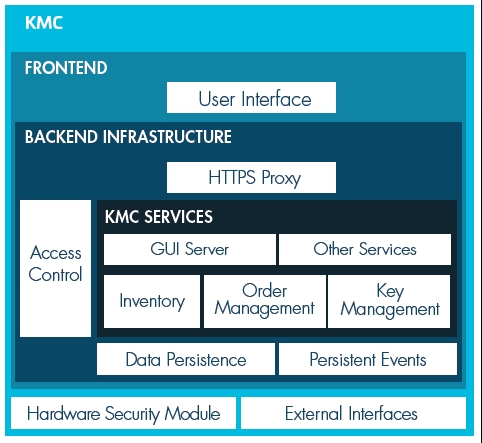 Beyond technical requirements and standards, ease of use is crucial to ensure that the operational procedures are properly followed by the end-users of a KMC. The key to success lies within supporting the operators along these procedures to provide a high degree of usability.
For over 20 years, Thales has supplied the German Armed Forces with key management solutions. Thales is successfully providing management and distribution means for key material, enabling the German Armed Forces to have a fully flexible distribution network to the End Cryptographic Units (ECUs).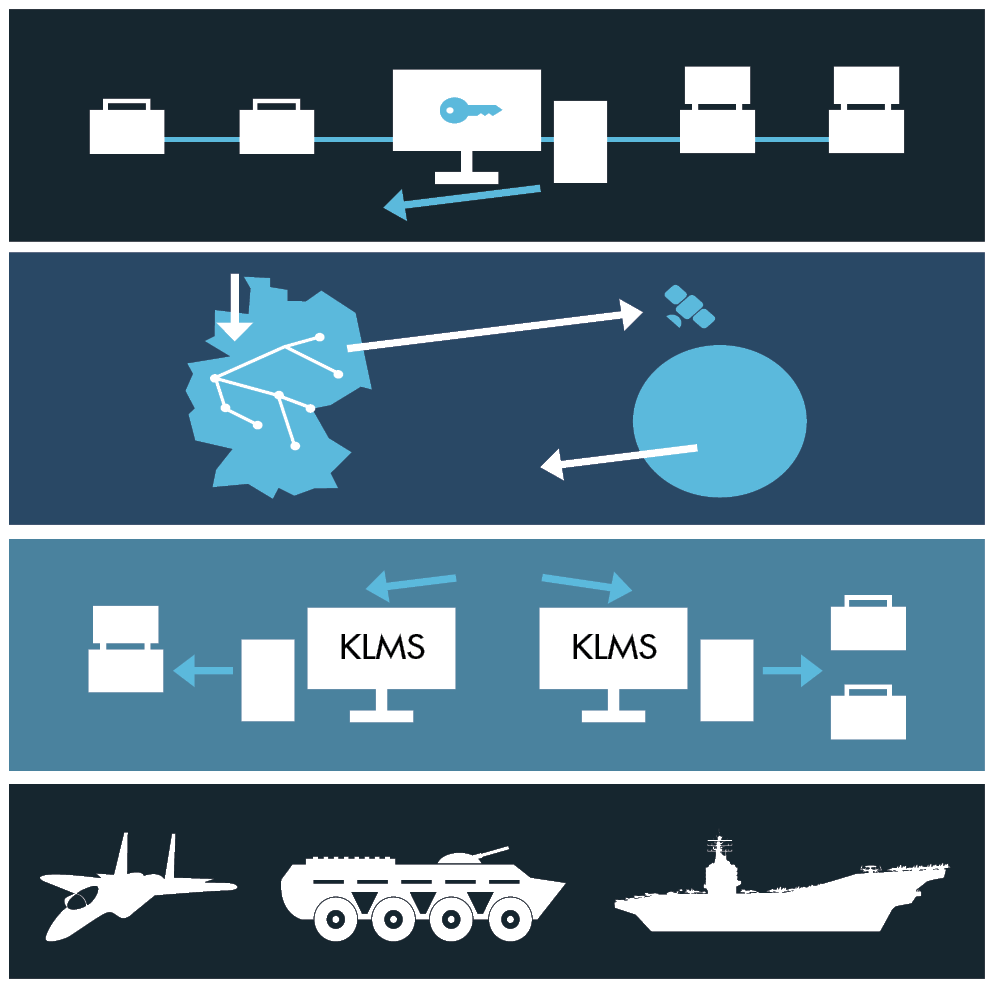 Figure 3 shows a rough outline of the transportation infrastructure. The generated key material will enter the transport network from the top node. Once the key material has entered the network, it will be transferred to the network relevant endpoints and from there it can be loaded either directly onto an ECU or it passes through a preparation process. The system is approved to handle highest security levels. 
For more than 10 years, Thales has been developing components to secure key transportation means of the GALILEO satellite navigation infrastructure including the key loading processes for GALILEO satellites. The Black Box Key Management Equipment (BBKME) in particular is an increasingly demanded product in this area.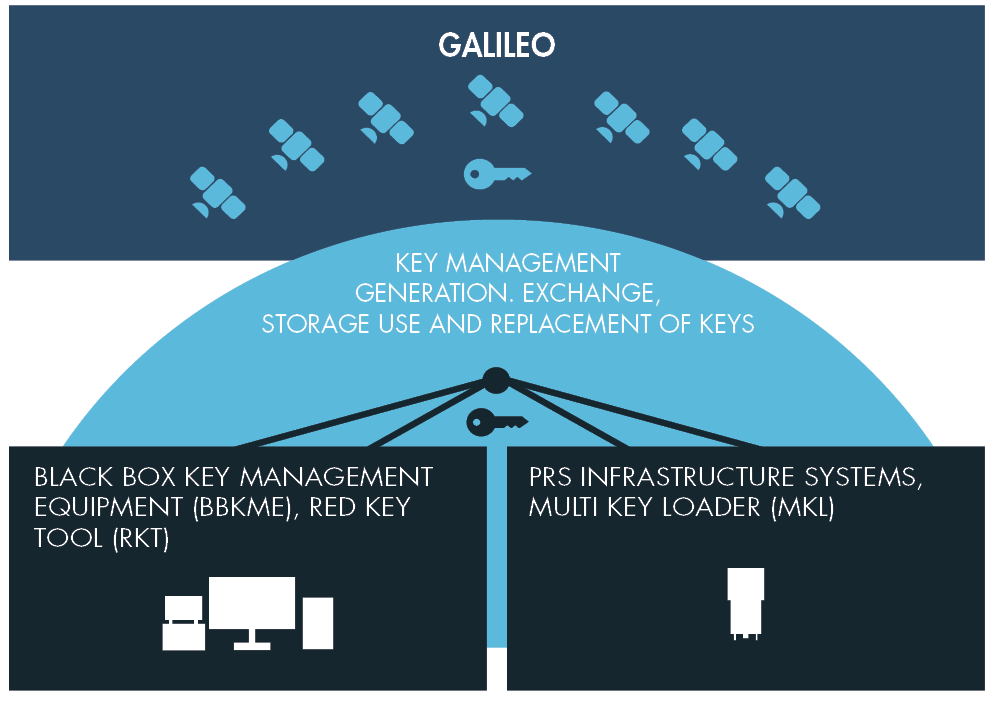 Thales is actively participating in designing a holistic key management solutions within the field of GALILEO PRS, the Public Regulated Service, providing high-accuracy positioning data for official applications.
The Ground Transportation Key Management Centre provides key management capabilities in the context of the European Train Control System (ETCS). It supports offline and online distribution of key material shared between on-track and off-track entities.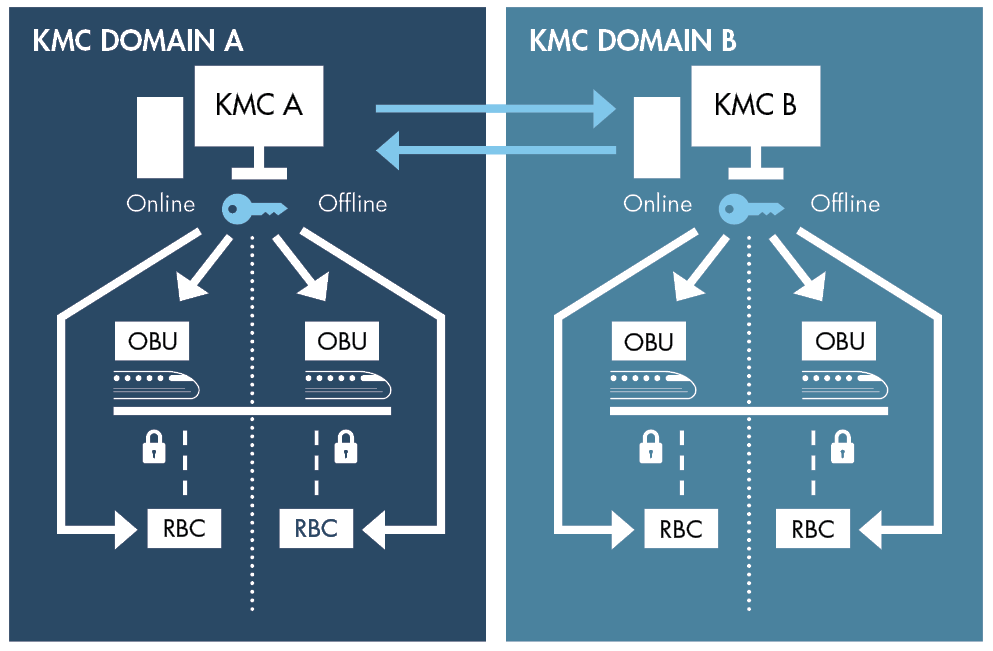 In Offline Mode, keys are transported to the entities using external storage devices. They are then imported into the entities on site. Response messages are transferred back the same way. The Offline Mode introduces ETCS capabilities into the operational world of railways.
In Online Mode, key material and response messages are transferred to the various entities via an IP network using Transport Layer Security (TLS) .
The system is based on procedures, key types and message formats defined by the UNISIG standardisation body for the European Train Control System. Therefore, the system is capable to interact with any entity that conforms to the UNISIG Subsets.
Defining strictly order-based workflows has been one of the central efforts in specifying a KMC for the Ground Transportation sector. All actions related to the entities are processed as orders in a highly user-friendly manner.
Although originally developed for ETCS purposes, the Thales KMC can cater for different use cases which are similar such as securing production plants or other infrastructures.
Digitalisation of almost every market sector known today leads Thales to constantly adapt solutions to new requirements, where electronic key management becomes crucial for high tech customers such as the automotive sector.
Feasibility studies conducted in cooperation with customers show that the Generic Key Management Platform is suited to secure a broad variety of applications from smart production plants to car interconnectivity.
A Public Key Infrastructure (PKI) provides 'trust services' to an organisation and therefore must be carefully maintained and protected. PKI is not just about technology. PKI services must be underpinned by policies, processes and procedures and must be governed accredited and managed appropriately. Thales PKI services are for customers who already have an existing PKI, a legacy PKI, plan on deploying a new PKI Infrastructure, or wish to purchase a fully managed and accredited PKI as a Service (PKIaaS).
The fully managed services support 24x7 operations, protective monitoring, management following ITIL, support through helpdesk and expert engineering teams and assistance with security and compliance.
Many infrastructure-, platform-, and software as a service providers offer data at rest encryption capabilities with encryption keys managed by the service provider. Meanwhile, many industry or internal data protection mandates, as well as industry best practices as defined by the Cloud Security Alliance, require that keys be stored and managed remote from the cloud service provider and the associated encryption operations. Providers can fulfil these requirements by offering "Bring Your Own Key" (BYOK) services to enable customer control of the keys used to encrypt their data. Customer key control allows for the separation, creation, ownership and control, including revocation, of encryption keys or tenant secrets used to create them. Leveraging cloud provider BYOK API's, the Thales Key Management as a Service (KMaaS) reduces key management complexity and operational costs by giving customers lifecycle control of encryption keys with centralised management and visibility. The solution can be deployed almost instantly using KMaaS.
The requirement to protect sensitive data across Infrastructure-, Platform-, and Software as a Service (IaaS, PaaS, and SaaS) has resulted in broader cloud provider encryption offerings.
Meanwhile the Cloud Security Alliance and industry analysts state that encryption keys should be held by customers. The challenges of holding keys grow with up to hundreds of master keys per subscription to be secured and managed across multiple clouds. There is also the imperative of knowing how, when, and by whom encryption keys are used. The Thales Key Management as a Service, using CipherTrust Cloud Key Manager provides comprehensive key lifecycle management to fulfil requirements for safe, comprehensive key management across multiple clouds. Supported clouds include:
Microsoft Azure
Amazon Web Services
Azure Stack
Microsoft Office365
Salesforce.com
Public Key Infrastructures (PKI)-, Key Management as a Service (KMaaS) and on premises deployment are additional options Thales can offer its customers. Although all three solutions can be hosted separately, Thales offers a highly customisable platform which gives customers the unique opportunity to  integrate all three areas to an integrated solution to provide maximum security in any field of application.
PKI and KMaaS offer our customers the unique possibility to downsize on costs and technical over-head. Although cutting down on unnecessary costs is important Thales knows that there might be customer requirements that make it impossible to use as a service products. Therefore all options can be deployed on premises to meet more stringent compliance requirements.