​Oman eGovernment and digital transformation
Oman's eGovernment project is now more than ten years old and has transformed citizens' relationship with the state.
Let us explain.

Around the world, there is real momentum behind the use of electronic identity, authentication, and access systems to improve the quality and efficiency of public services. 
However, even countries that recognize the benefits of a modern approach to governance and citizenship typically have a long way to go in terms of realizing their ambitions.
This is due to the scale of systems that need to be digitized and the size of investments to be made.
A notable exception is Oman, which is now more than a decade into what is one of the most comprehensive digital government programs on the planet. 
As a result, the oldest independent state in the Arab world​ has become a template for the digital nation of the future.
As it has become the standard-bearer for the benefits of eGovernment, Oman – which has a population of about 5 million people in 2019– has set clear objectives at every stage. 
Behind this implementation of a modern IT infrastructure was a desire to give citizens more convenient, comprehensive and efficient access to a host of vital public services. 
Furthermore, eGovernment systems could enhance security and participation in public life, and establish a platform for wider objectives, such as economic diversification and the creation of employment opportunities for the resident population.
A reliable National Register System and ID
Oman's eGovernment project began in 2002 when the country introduced a National Registry System: a single, centralized database that maintains records for all citizens which has provided the basis for all the country's subsequent eGovernment initiatives. 
As the starting point, Oman launched a National eID scheme. 
Utilizing secure, smartcard technology, it provided millions of Omanis – for the first time – with a single, convenient identity credential, also incorporating driver's license and border control functions.
From card to phone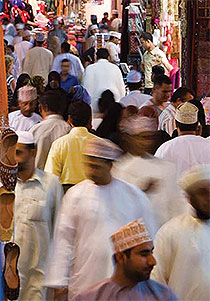 Oman was quick to build on these initial achievements and, in 2009, a prepaid ePurse function was added to the eID card​.
This allowed citizens to pay quickly and easily for numerous official procedures, even if they did not have access to conventional banking. 
In 2011, electronic voter authentication and identification were added. 
The eID card gives citizens access to numerous government services online. 
Oman's government has also introduced the option of Mobile-ID. This embeds an electronic equivalent of a physical eID card on the user's mobile phone, allowing citizens to sign legally binding documents and access services wherever they are.
Electronic biometric passport 
Taking this one step further, Oman's latest move to bring technology to its citizen services is ePassports: state-of-the-art travel documents that carry embedded personal information, digital fingerprints and photographs. 
In addition to carrying top-line security software, the ePassports will radically improve the speed and efficiency of border administrative processes and make travellers' experiences more hassle-free.
Oman has become a true eGovernment model and has proved beyond doubt that the concept of the digital nation is not a far-fetched or unrealistic ambition.
The speed and extent of Oman's transformation have not gone unnoticed. 
​United Nations recognition
In June 2009, the Royal Oman Police's Civil Status System for national registrations received a significant award from the UN in recognition of excellence in public service. 
A year later, the same body ranked Oman as the world's most progressive country in its Human Development Report. 
In 2012, Oman was ranked 16th in the UN's biannual eParticipation Index. 
In its 2018 eGov report, the United Nations ranks Oman in "very high" for its level of Online Service Index.
Closer to home, the National Registry System and Electronic ID Card Voting System have both been recognized with Sultan Qaboos Awards for Excellence in eGovernment – the most prestigious award for IT in Oman.
Oman's transformation has proved to its citizens that eGovernment is a powerful enabler, providing greater accountability, accessibility, and convenience from the public services that are now a fundamental part of modern society.​
More resources