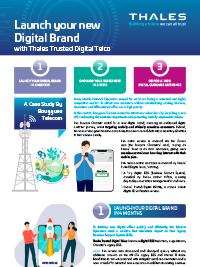 Launch your new Digital Brand with Thales Trusted Digital Telco
Source by Bouygues Telecom relies on Thales Trusted Digital Telco, powered by triPica, to deliver highly innovative customer experience.
Read our case study
Bouygues Telecom is a leading European MNO (Mobile Network Operator) with over 25 million customers in France. This innovative enterprise recently identified an opportunity to create a differentiated offer that attracted new subscribers by enhancing and enriching the customer experience.
Specifically, Bouygues Telecom sought to create a new digital brand that would promote and support socially responsible values. 
The offer envisaged by Bouygues Telecom was a hybrid between a pre-paid and monthly subscription plan. Customers would pay 10 euros a month, in advance, for 10GB of data and unlimited texts and calls.
Crucially, the new offer would also be designed to give values-driven subscribers an opportunity to minimise the carbon footprint generated by their mobile connectivity, and contribute to good causes.
Launching a digital offer
This innovative brand would not be a migration from existing offers.
Bouygues Telecom's vision was for a completely new service, created from scratch. As a result, to launch the new offer, the company needed to address a number of significant challenges. In particular, transforming its legacy BSS (Business Support System) to meet the needs of a new 100% digital offer would simply divert too many resources away from the company's internal IT team.
To develop the new customer offer quickly and efficiently, Bouygues Telecom, therefore, had to implement an external, outsourced solution that would minimise the impact on the company's existing operations. 
 
A mobile-centric approach with Thales Trusted Digital Telco
Bouygues Telecom was able to create its new digital brand by employing Thales' Trusted Digital Telco. Key elements include:
Thales Project partner triPica's fully digital BSS,  simply plugging into the MNO's existing back-end system and allowing day-to-day subscription management for end users.
Thales' Trusted Digital Identity,  a proven remote digital ID verification solution.
The entire service is enabled via the Source app, harnessing Thales' 'Telco in an App' approach, giving users effortless control over how they interact with their mobile plan. 
Enhancing the customer experience
Introduced in France in March 2022, Source by Bouygues Telecom enables an end-to-end digital customer journey, whilst targeting socially and ethically conscious consumers.
Source was launched in the space of just four months, developed and deployed without any additional pressure on the MNO's legacy BSS and internal IT team.
Rapid time to market was combined with straightforward implementation and a novel brand offer that attracted new subscribers in addition to existing business. 
Thales Trusted Digital Telco is at the heart of an easy, three-step customer journey. Subscribers simply download the app, enrol remotely, then activate their plan. As a result, Source delivers a true anytime/anywhere intuitive experience for end users. 
The Thales solution also enables an innovative customer dashboard that is central to the Source brand proposition. 
Reflecting the ethical ethos of Source, at the end of each month, users are automatically offered the opportunity to convert unused data into a monetary donation to their chosen charity. Each GB can be exchanged for 'drops of water', a virtual currency that is given to the subscriber's preferred good cause. 
The Source customer dashboard also reports on data and airtime usage, and gives subscribers the ability to check and manage the CO2 they are generating through these activities.
Tips are provided on how the impact can be reduced, giving the end user a real sense of control over outcomes.  
Delivering a 100% digital experience
With Thales' Trusted Digital Telco, MNOs will be able to extend their digitalization programmes further and rapidly launch new digital brands to enrich their offer and empower their consumers.
Over-stretched internal resources will no longer be a barrier to attracting new subscribers.
Moreover, this 'Telco in an App' solution is perfectly aligned with the growing desire of consumers to manage every aspect of the mobile experience direct from their smartphone. 
Our aim was to launch a new Bouygues mobile brand that promoted socially responsible values. With the support of Thales Trusted Digital Telco solution, we were able to launch Source by a very tight deadline. This approach also avoided impacting our internal infrastructure and IT resources. Thales enables us to combine charitable giving, environmental awareness and a seamless journey that puts the customer at the heart of the mobile experience." Stéphane Allaire, Director of Innovation at Bouygues Telecom