Digital Transformation for Telecoms 
This white paper details why Communications Service Providers (CSPs) must respond to a rapidly evolving market to stay competitive.
We'll also investigate the challenges and opportunities ahead and how Thales can contribute to creating the ultimate digital customer journey.
Thales Trusted Digital Telco, in particular, addresses the telecom digital transformation.
It is designed for CSPs that want to offer digital natives and digital immigrants a trusted, end-to-end digital experience for purchasing, using and managing their mobile plans.

Here is a summary of the report.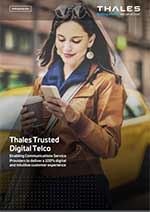 Download the whitepaper
You can carry on scrolling to read more but to save time download our free white paper now on "Enabling Communications Service Providers to deliver a 100% digital and intuitive customer experience".
Thales Trusted Digital Telco 
•    Launch a new digital brand within four months.
•    Enroll new customers in less than 3 minutes
•    launch a new offer in just 48 hours.
Thales eSIM Seminar, 2022 
Alisha Rodrigues, Associate Director CX and Product development at Visible(TM), tells us more about  what you need to know about Verizon's digital brand Visible(TM) and the role of eSIM in their strategy.
Thales eSIM Seminar, 2022
What you need to know about Spusu, the whole mobile brand launched by Mass Response.
Thomas Reichardt, CIO at Mass Response Service GmbH from Spusu tells us more.
Thales Trusted Digital Telco
A Thales solution powered by Tripica, designed for Communication Service Providers (CSPs) that want to launch their digital brands
Unleashing the power of eSIM to launch your digital-first brand
- How can eSIM really change the customer experience?
- What could be the ideal customer journey?
- What are the main benefits for the customer acquisition process?
- Why can't operators achieve the same results with their existing infrastructures?