Enabling Communications Service Providers to deliver a 100% digital customer experience 
Trusted Digital Journey addresses the telecom digital transformation and is designed for Communications Service Providers that want to offer digital natives and digital immigrants a trusted, end-to-end digital experience for purchasing, using and managing their mobile plans.
Our disruptive digital solution covers every step of the digital customer experience, from ordering and subscription activation through to service usage and customer care, and puts your customer at the center of the experience.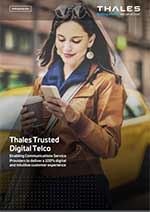 Download the whitepaper
You can carry on scrolling to read more but to save time download our free white paper now on "Enabling Communications Service Providers to deliver a 100% digital and intuitive customer experience".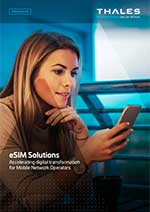 eSIM Solutions: accelerating digital transformation for Mobile Network Operators
Read our white paper
Digital transformation  in the Telecom Market
The telecom digital transformation is advancing fast. Physical stores may remain a significant touchpoint for many consumers, but a major shift is taking place. Increasingly, digital natives and digital immigrants, expect a Uber-like, full digital experience for their services, characterized by new standards of flexibility and personalization. In addition to this, the pandemic has further accelerated the shift to digital transformation in the telecom market. Communications Service Providers (CSPs) need to anticipate the risks posed by pure digital players emerging 'out of the blue'. This has already been the case in many other markets.
CSPs will therefore need to launch new business models adapted to profound change in both markets and consumer behavior. In the consumer domain, the end-user will increasingly take control of the digital experience. CSPs must transform their capabilities to support new use cases and offer marketing teams an agile and responsive tool to interact frequently with customer databases and provide resilience in an age of uncertainty. This highly flexible model must embrace the diverse interests and lifestyles of the 'new customer'. That means high volume data consumption in the shape of ultra HD video, gaming and video-calling, and unpredictable spikes in demand created by events such as the pandemic and sudden switch to home working.
Key factors are driving the telecom digital transformation: 
Many consumers, particularly digital natives and digital immigrants, no longer want to spend time visiting stores. Instead, they are switching exclusively to digital channels to purchase and manage services. What's more, this new generation of consumer is looking for an Uber-like experience, using their entire service through a mobile app. For CSPs, enhanced customer expectations have become the new normal.
 
Online ID verification and enrollment systems are a critical enabler for the digital experience. Combined with rapid adoption of the eSIM and 5G, these technologies are fundamentally reshaping the operating environment, and opening a host of new possibilities for adding value to the customer offer.
 
CSPs are also grasping new opportunities to streamline their operations. Recognizing that current systems and processes are often complex, slow and costly, they are investing in digital transformation to create lean and agile organizations, underpinned by high levels of automation.
 
An uncertain environment, and in particular the pandemic, is further accelerating digital transformation and reducing store footfall. CSPs, in common with all enterprises, are revisiting their digital strategy in search of greater resilience. In some cases, acceleration of change is also related to the repurposing of retail stores, for example as collection points. 
In terms of technology, digital customer experience is being enabled by online ID verification and enrollment, and supported by rapid adoption of the eSIM (embedded SIM).  Indeed, one of the key step of the digital customer journey is digital subscription. Online ID verification has a key role to play. By offering consumers the freedom to confirm their identity via a mobile device, in line with local regulations, they represent the foundations of any 100% digital experience. Also significant here is the emergence of the eSIM. Increasingly, this is enabling remote connectivity and subscription management solutions that eliminate the need for customers to go in-branch to activate their subscriptions.  As a result, a growing number of operators are adapting their subscription distribution strategies and establishing a digital customer experience which is trusted. And behind both these trends, 5G rollout is further powering change, with benefits such as low latency, high data rates, reduced energy use and cost savings sparking new digital revolutions throughout the commercial domain. 
Going forwards, traditional CSPs need to reinvent themselves. They must meet heightened expectations and directly address consumer pain points. Services must be personalized to individual requirements, and extend beyond the boundaries of a conventional telecoms offer. Moreover, these services must be near-effortless to select and adopt.
They need to focus on every stage of the digital customer journey, and address each customer pain point. This goes from digital subscription through to digital customer service.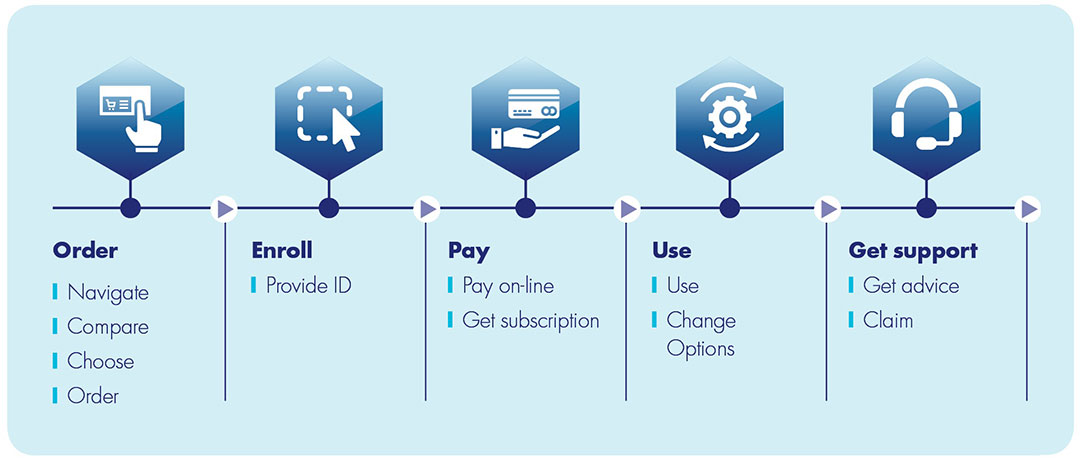 In our latest eBook, we investigate the challenges and opportunities that lie ahead and our approach to digital customer experience management, enabling CSPs to deliver a 100% digital and intuitive customer experience. It relies on a complete suite of digital bricks that can be built on legacy systems to ensure full and efficient deployment in a short timeframe. Thales provides a Trusted Subscription platform to identify and instantly connect consumers, and enable mobile payment. This comprises: Thales Trusted Digital ID platform for ID verification (documents and biometrics); Thales On demand subscription management for instant cellular connectivity activation of eSIM capable mobile devices; a digital payment platform.
Thales can help CSPs become faster, more productive and more responsive to consumer needs, adapting their service on a day to day basis and being present for their consumers at any time.
 
Boosting business in the era of eSIM
Over the coming years eSIM is expected to achieve astounding growth in both the consumer and IoT sectors.
It forms a central part of operator digital strategies and opens many new use cases.
Here, Mobile World Live speaks to Thales' Marketing Manager Marylene Arnoux-Roetynck about the status of  the technology and operator opportunities brought about by eSIM.
Thriving through uncertainty with digital customer journeys
Thales' Strategy and Marketing Director Emmanuel Legros spoke to Mobile World Live about 
the importance of digital offerings and provided insight into how CSPs are using new technologies 
to make market gains and improve customer service.
Thales Trusted Digital Telco
A Thales solution powered by Tripica, designed for Communication Service Providers (CSPs) that want to launch their digital brands
Unleashing the power of eSIM to launch your digital-first brand
-How can eSIM really change the customer experience?
-What could be the ideal customer journey?
-What are the main benefits for the customer acquisition process?
-Why can't operators achieve the same results with their existing infrastructures?