Last updated 25 January 2022
Do you want to know more about 5G technology? Then you're in the right place.
On this Q&A page, you'll discover key facts about 5G:
What is 5G?
How fast is 5G?
What is the difference between 4G and 5G?
What are the 5G use cases?
When is 5G coming, and where is it available?
What does it mean for consumers and operators?
What's the relation between 5G and satellites?
Will 5G technology be secure?
Let's see how 5G technology is about to change the world.

What is 5G?
5G technology is a breakthrough.
The next generation of telecom networks (fifth generation or 5G) has started hitting the market end of 2018 and will continue to expand worldwide.
Beyond speed improvement, the technology is expected to unleash a massive 5G IoT (Internet of Things) ecosystem where networks can serve communication needs for billions of connected devices, with the right trade-offs between speed, latency, and cost.
This makes sense if you think about what 5G has to offer.
5G technology is driven by 8 specification requirements: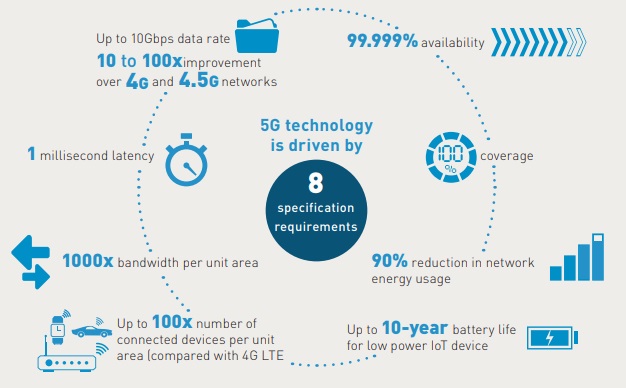 Up to 10Gbps data rate - > 10 to 100x speed improvement over 4G and 4.5G networks
1-millisecond latency
1000x bandwidth per unit area
Up to 100x number of connected devices per unit area (compared with 4G LTE)
99.999% availability
100% coverage
90% reduction in network energy usage
Up to 10-year battery life for low power IoT device
How fast is 5G?
5G speed tops out at 10 gigabits per second (Gbps).
5G is 10 to x100 faster than what you can get with 4G.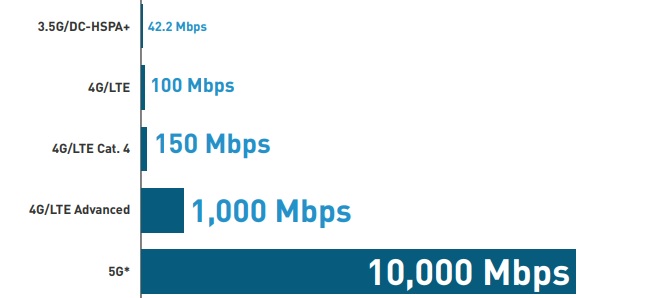 What makes 5G faster? Good question!
According to communication principles, the shorter the frequency, the larger the bandwidth.
Using shorter frequencies (millimeter waves between 30GHz and 300GHz) for 5G networks is why 5G can be faster. This high-band 5G spectrum provides the expected boost in speed and capacity, low latency, and quality.
However,
5G download speed
may differ widely by area.
According to the February 2020 issue of Fortune Magazine, average 5G speed measures done in Q3/Q4 2019 range from:
220 megabytes per second (Mbps) in Las Vegas, 
350 in New York,
380 in Los Angeles,
450 in Dallas,
to 550 Chicago,
and over 950 in Minneapolis and Providence approximatively.
That's 10 to 50 times more than
4G LTE
. 
Here are some other examples of download and upload speeds you can expect with 5G.
Some download and upload 5G speed tests in Australia, America, and China (April 2020)
But here is the part where you understand the benefits of 5G go beyond speed. 
What is 5G low latency? 
5G technology offers an extremely low latency rate, the delay between the sending and receiving information. From 200 milliseconds for 4G, we go down to 1 millisecond(1ms) with 5G.
 
Just think about it.
 
A millisecond is 1/1000 of a second. 
 
The average reaction time for humans to a visual stimulus is 250 ms or 1/4 of a second. People are capped at around 190-200 ms with proper training.
Imagine now that your car could react 250 times faster than you.
Imagine it could also respond to hundreds of incoming information and communicate its reactions back to other vehicles and road signals all within milliseconds.
At 60 mph (100km/h), the reaction distance is about 33 yards (30 meters) before you pull on the brakes. With a 1ms reaction time, the car would only have rolled a bit more than one inch (less than 3 centimeters). 


Use cases associated with low latency are: 
In other words, 5G and IoT create the perfect match.
So, let's see what makes 5G so different from 4G.
5G vs 4G - What is the difference?
The 5th generation of wireless networks addresses the evolution beyond mobile internet to massive IoT (Internet of Things) from 2019/2020. 
Compared with today's 4G and 4.5G (aka LTE advanced, LTE-A, LTE+ or 4G+), the main evolution is that, beyond data speed improvements, new IoT and critical communication use cases will require a new level of improved performance. 
For example, low latency provides real-time interactivity for services using the cloud: this is key to the success of self-driving cars, for example.   
5G vs 4G also means at least x100 devices connected. 5G must support 1 million devices for 0.386 square miles or 1 km2.
Also, low power consumption is what will allow connected objects to operate for months or years without the need for human assistance.
Unlike current IoT services that make performance trade-offs to get the best from current wireless technologies (3G, 4G, Wi-Fi, Bluetooth, Zigbee, etc.), 5G networks will be designed to bring the level of performance needed for massive IoT. 
It will enable a perceived entirely ubiquitous connected world.
In short, that's what makes it transformational. 
5G and the previous mobile generations at a glance
In the last four decades, mobile phones, more than any other technology, have quietly changed our lives forever.
Do you remember how much you loved your 2G Nokia 3310?
1G, the first generation of telecom networks (1979), let us talk to each other and be mobile
2G digital networks (1991) let us send messages and travel (with roaming services)
3G (1998) brought a better mobile internet experience (with limited success)
3.5G brought a truly mobile internet experience, unleashing the mobile apps ecosystem
4G (2008) networks brought all-IP services (Voice and Data), a fast broadband internet experience, with unified networks architectures and protocols
4G LTE ( for Long Term Evolution), starting in 2009, doubled data speeds
5G networks (2019) expand broadband wireless services beyond mobile internet to IoT and critical communications segments
Virtual networks (5G slicing) tailored to each use case.
5G will support all communication needs from low power Local Area Network (LAN) – like home networks, such as Wide Area Networks (WAN), with the proper latency/speed settings.
This need is addressed today by aggregating various communication networks (Wi-Fi, Z-Wave, LoRa, 3G, 4G, etc.)
And 5G is more innovative.  
5G is designed to allow simple virtual network configurations to align network costs with application needs better. 
This new approach will allow 5G Mobile Network operators to catch a larger piece of the IoT market pie by delivering cost-effective solutions for low-band, low-power applications.  
What are the real 5G use cases?
Each new generation wireless network came with a new set of new usages. 
The next coming 5G will make no exception and will be focused on IoT and critical communications applications. 
In terms of the schedule, we can mention the following uses cases over time:
Fixed wireless access (from 2018-2019 onwards)
Enhanced mobile broadband with 4G fall-back (from 2019-2020-2021)
Massive M2M / IoT (from 2021-2022)
Ultra low-latency IoT critical communications (from 2024-2025)
Some critical applications like self-driving cars require very aggressive latency (fast response time) while they do not require fast data rates.  
Conversely, enterprise cloud-based services with massive data analysis will require speed improvements more than latency improvements.
When is 5G coming? 
5G rollout: Where do we stand? How long will it take?
As of November 2021, 170 mobile operators have launched commercial 5G services with a 7% population penetration at the end of 2021, according to GSMA Intelligence. The study forecasts 25% global connections by the end of 2025.
Here are the recent steps done so far:
North America 5G was available in some locations in 2019. It took off in most areas in 2020.
In the US, more precisely, ATT announced nationwide coverage in the first half of 2020. Verizon 5G was the first carrier to roll out 5G.
Deutsche Telekom started 5G in Berlin, Darmstadt, Munich, Bonn, and Cologne in Sept 2019. In December 2021, major cities (53% of the territory) are now covered by 5G services.
Telcos in France announced 5G offers by the very end of 2020 for real availability in 2021.
In the UK, many cities have seen 5G in 2019 and more in 2020. EE, Vodafone, and O2 have been actively deploying 5G since mid-2019.
India Telcos are getting prepared for the 5G rollout in 2022.
China Unicom has set up 5G in a few locations in 2019. China Mobile said it had deployed over 560,000 5G base stations as of November 2021. GSMA expects 460 million 5G connections in China by 2025.
Find more resources: 5G availability worldwide as of 24 January 2022 or check the interactive weekly updated Ookla 5G map.
In short, 2019-2020 is when 5G lifted off, and 2021 and 2022 are when 5G networks and 5G phones are available en masse.
This brings us to our next point.
New 5G phones  - 5G for all?
By early 2022, 1250 5G devices had been announced by 180 vendors.
Phones represent close to 50% of the announced 5G-compliant devices (GSA report).
ATT launched fifteen 5G phones in October 2020 in the US.
We can count on twenty 5G devices from Verizon. Some are priced below $600.
At the Consumer Electronics Show, at least two companies revealed new 5G phones that will cost less than $500. These lower-cost phones will help make 5G more affordable for many of us.
Similarly, Samsung has released its new Galaxy S line of phones in San Francisco. These new devices are also likely to have a lower price point than the company's current 5G phone line.
On 13 October 2020, Apple has released its long-awaited 5G-compliant iPhone. All four iPhone 12 models support 5G.
The four models support the three types of 5G services based on different frequencies: the "low-band," the "mid-band," and mmWave,(millimetre wave, the fastest).
Which 5G service should you get? 
Well, it all depends on where you live. 
How fast will 5G take-up be?
The projected adoption rate for 5G differs drastically from all previous generation networks (3G, 4G). 
While previous technology was driven by mobile internet usage and the availability of "killer apps," 5G is expected to be mainly driven by new IoT usages, such as connected and self-driving cars, for example.
Globally, the number of 5G users worldwide is foreseen to explode from less than 200 million in 2019 to 1,02 Billion in 2023 (Fortune Feb. 2020).
Ericsson announced that there were 660m 5G subscribers at the end of 2021.
According to a November 2020 report from Ericsson, 5G will reach 4.4 billion subscribers by the end of 2027, making it the fastest generation ever to be rolled out on a global scale. 

What are the implications of 5G for mobile operators?
5G is still a cellular broadband technology and is a network of networks. 
 
MNOs' expertise and knowledge in building and operating networks will be crucial to the success of 5G.
Beyond providing network services, MNOs will develop and operate new IoT services.
Implementing 5G networks while keeping 3G and 4G networks operational will likely trigger a new challenge for MNOs regarding the ability of frequencies in the spectrum (mainly if the forecasted massive volume on IoT occurs). 
MNOs will need to operate a new spectrum in the 6 to 300 GHz range (typical 5G bandwidth), which means massive network infrastructure investments.  
To reach the 1ms latency goal, 5G networks imply connectivity for the base station using optical fibers.
5G networks are planned to support virtual networks such as low power, low throughput (LPLT) networks for low-cost IoT on the cost savings side. Unlike today where LORA networks address that need separately from 4G.
What does 5G mean for consumers?
5G for consumers means not just faster mobile internet, but mainly internet connectivity in many more objects than what you see today.
 
The car and the house are two examples of the big IoT revolution coming ahead, supported by 5G networks.
Samsung and other Android OEMs have introduced the first 5G smartphones in 2019. 148 5G phones are already commercially available, according to the GSA October 2020 report.
5G SIM cards made their debut in 2019 and 2020.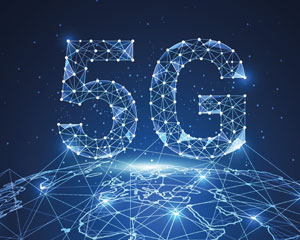 What's the relation between 5G and satellites?
5G satellite communication -directly from the sky to the device- will soon become a reality.
Indeed, a new generation of satellites will bring onboard 5G capabilities to ensure full 5G coverage of the Earth, in addition to the terrestrial mobile 5G networks.
Specifically, with space-based systems, 5G will offer higher accessibility, reliability, and resilience, along with broadcasting and multi-broadcasting capabilities.
We expect 5G to support a wide variety of applications (e.g., agriculture, logistics, public safety) so that everybody in the world can be connected.
Along with space and mobile phone manufacturers, Thales Alenia Space supports the efforts of 3GPP to develop solutions embracing the vision of a single global space-based network fully integrated with mobile operators 5G networks.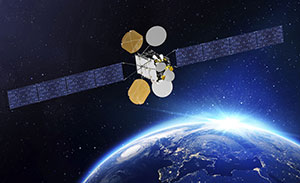 Beginning of 2021, South Korean operator KT SAT, a subsidiary of the world's first 5G commercial service provider Korea Telecom, has led a 5G satellite demonstration using the geostationary Koreasat 5A telecommunication satellite to provide a 5G network to remote areas. More recently, Hellas Sat performed a successful 5G demonstration in Greece: it consisted in backhauling the connection between a 5G Core Network and a 5G gNB through Hellas Sat 3 / Inmarsat S EAN satellite.
Thales Alenia Space manufactured both satellites. 
Will 5G technology be secure?
4G networks use the USIM application to perform strong mutual authentication between the user and their connected device and the networks.
The entity hosting the USIM application can be a removable SIM card or an embedded UICC chip. 
This strong mutual authentication is crucial to enable trusted services.
Today, security solutions are already a mix of security at the edge (device) and security at the core (network). 
Several security frameworks may co-exist in the future, and 5G is likely to re-use existing solutions used today for 4G networks and the cloud (SEs, HSM, certification, Over-The-Air provisioning, and KMS).
The standard for strong mutual authentication for 5G networks was finalized in 2018. 
The need for 5G security, privacy, and trust will be as strong as for 4G, if not stronger, with the increased impact of IoT services. 
Local SEs in devices can secure network access and support secure services such as emergency call management and virtual IoT networks. 
5G connectivity promises to break traditional data delivery paradigms by providing network connectivity almost everywhere.
New business opportunities drive data-in-motion security requirements to include network transparency, low latency, high-level bandwidth, consistency in delivery, and complete interoperability.
 
To accommodate this new paradigm in data delivery, the build-out of 5G infrastructures is underway.
Older, more traditional data in motion security methods are no longer viable solutions to meet these diverse 5G requirements.  
Additionally, these older technologies cannot meet today's challenges of auditable compliance and the not-so-distant future's quantum threat challenges.
Security, performance, interoperability, and auditable compliance are just a few of the 5G challenges that require immediate attention.  
There is a need for a more intelligent data-in-motion security solution to accommodate the diverse range of 5G use cases.
How will 5G impact roaming?
While traveling abroad, 5G users will enjoy a 5G roaming experience on visited networks seamlessly. A fall-back to 3G-4G will be guaranteed.
How will 5G boost the commercialization of IoT devices relying on cellular rather than Wi-Fi technology?
Wi-Fi wireless is a "Local Area Network" technology, limited in operating range and very limited in speed and latency.
Many IoT services demand more ubiquity, more mobility, and more performance speed and response time.
5G will truly unleash a vibrant IoT ecosystem.

How will 5G networks use cases change the world?
The "perception" of speed, instantaneous response time, and IoT performance will become a reality thanks to 5G.
For example, self-driving cars' well-expected success will only be possible when 5G networks are available.
Now it's your turn.
What do you think?
If you've something to say on 5G technology and networks, testimonials on 5G speed, a question to ask, or have found this article useful, please leave a comment in the box below.
We'd also welcome any suggestions on how it could be improved or proposals for future papers.
We look forward to hearing from you. 
More resources on 5G technology
Discover below our white paper, survey, e-book, blog posts, and related press releases.

3GPP NR interesting times to come for (Smart) - IoT in Release 17 Thales
Thales view on NR-REDCAP 10th July 2020
Read more on 3GPP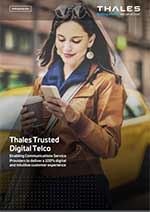 Thales Trusted Digital Telco
Enabling Communications Service Providers to deliver a 100% digital and intuitive customer experience
Read our eBook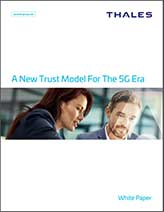 A New Trust Model For The 5G Era
5G use cases will bring new requirements on the storage, compute and network domains and will introduce new risks to the confidentiality, integrity and availability of enterprise & user data. This White Paper provides Thales' recommendations to address these new challenges and build a new trust model for the 5G era.
Building a new trust model in the 5G era


Data in Motion Security Through a 5G Infrastructure
White Paper
Read more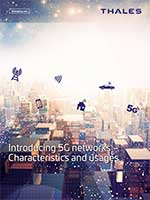 Introducing 5G networks – Characteristics and usages
The fifth generation networks (5G) is currently under development and will hit the market at the horizon 2020. Compared with the current 4G LTE technology, 5G is targeting to reach both high speed (1 Gbps), low power and low latency (1ms or less), for massive IoT, tactile internet and robotics.
Introducing 5G networks – Characteristics and usages
Our lastest articles about 5G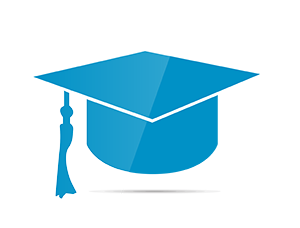 5G overview & subscriber security essentials for next-generation networks
A comprehensive insight into 5G evolutions for digital transformation
Training agenda