Case study with a leading Mobile Network Operator
With a vast number of customers to support, and a valuable product/service offer, Mobile Network Operators (MNOs) are particularly vulnerable to the threat of phone-based fraud.
In this case study, a leading MNO was suffering losses of up to €1 million a year through impersonation-based fraud. Known as account takeover fraud, this involves criminals using genuine customer identities to steal high value goods from the MNO, or funds direct from individual victims.
In this whitepaper, you will learn how the MNO deployed Thales' biometric voice matching and detection solution to address this significant loss of revenue. Operated on a Software as a Service basis, this sophisticated solution enables call centers to detect potential fraudsters by identifying the unique 'voiceprint' of every caller and matching it either to data held on known criminals, or individuals responsible for previous suspicious call patterns. 
Download the whitepaper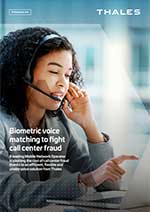 Biometric voice matching to fight call center fraud