A leading Mobile Network Operator slashes fraud with biometric voice matching
MNOs' call centers are particularly vulnerable to fraud.
With many customers to support and a valuable product/service offer, Mobile Network Operators (MNOs) are particularly vulnerable to the threat of phone-based fraud.
In this case study of account takeover fraud, a leading MNO suffered losses of up to €1 million annually through impersonation-based scam. 
Account takeover fraud (ATO fraud) involves criminals using genuine customer identities to steal high-value goods from the MNO or funds directly from individual victims.
It can also be devastating to individuals who have their identities and their money stolen. It is also important to note that victims of account takeover fraud may not realize they are being scammed until they receive notifications about suspicious activity in their accounts.
In this whitepaper, you will learn how the MNO deployed Thales' biometric voice matching and detection solution to address a significant loss of revenue.
Enter biometric voice matching
Biometric voice matching is a type of biometric authentication that uses vocal characteristics to verify an individual's identity.
There are two main types of biometric voice matching: speaker verification and speaker identification.
In speaker verification, an individual's voice is compared to previously recorded speech examples to determine whether they are who they claim to be.
In speaker identification, a new speech sample is compared against a database of all known voices to find a match.
Biometric voice matching offers call centers a highly effective, unobtrusive method of detecting attempts to impersonate genuine customers.
Based on the numerous features that define our voice's uniqueness, biometric voice matching can immediately compare a speaker's recorded voice with thousands of similar recordings in databases.
By matching a caller's voice with information such as the recording of a known fraudster, it is possible to address the threat of fraud before it becomes a financial liability for the MNO.
Benefits of Thales Trust Digital ID services
Operated on a Software as a Service basis, this sophisticated solution enables call centers to detect potential fraudsters by identifying the unique 'voiceprint' of every caller and matching it to data held on known criminals or individuals responsible for previous suspicious call patterns. 
Needless to say, the Thales solution meets local regulations related to privacy.
The leading MNO presented in this case study has been operating the Thales solution for several months.
The results?
At least ten thousand voice recordings are supported every week.
By comparing these recordings with both its blacklist and weekly call databases, fraud has been reduced dramatically.
In addition to saving on the immediate cost of fraud, the MNO is also set to reap the long-term benefits of an enhanced reputation and a steep drop in negative customer experiences.
But there's more.
As far as the customer is concerned, the entire voice matching and detection process is seamless, invisible and unobtrusive.
There's no disruption to the user experience or quality of service delivered by the MNO.
Good reading.
Download the whitepaper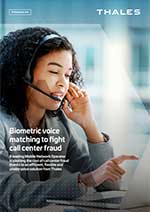 Biometric voice matching to fight call center fraud