Where robust ID fraud prevention meets a seamless customer journey
Identity fraud is increasingly recognized as a business-critical issue for Mobile Network Operators (MNOs). However, the structures and strategies typically employed by MNOs often hinder attempts to identify the scale of the problem and address fundamental security weaknesses. Moreover, standard mitigation techniques are of limited value in terms of deterring well-organized and sophisticated fraudsters.
In this white paper, we explore the nature of the threat posed by fraud, and the true
costs being imposed on MNOs.
We also introduce a new approach to fraud prevention that can embrace genuine
consumers while resisting criminal attacks. Combining real-time ID document verification with seamless biometric authentication, Thales Trusted Digital Identity enables MNOs
to slash fraud losses, enhance the customer experience, and automate routine administrative processes.
What you'll learn
1.    Understanding the types of identity fraud for operators
2.    Taking a holistic of an MNO's business when fighting fraud
3.    Measuring the business impact of ID fraud
4.    The flaws in traditional ID fraud prevention methods
5.    Using trusted digital identity solutions to fight fraud
 
Download the whitepaper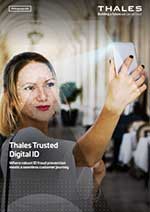 Thales Trusted Digital ID