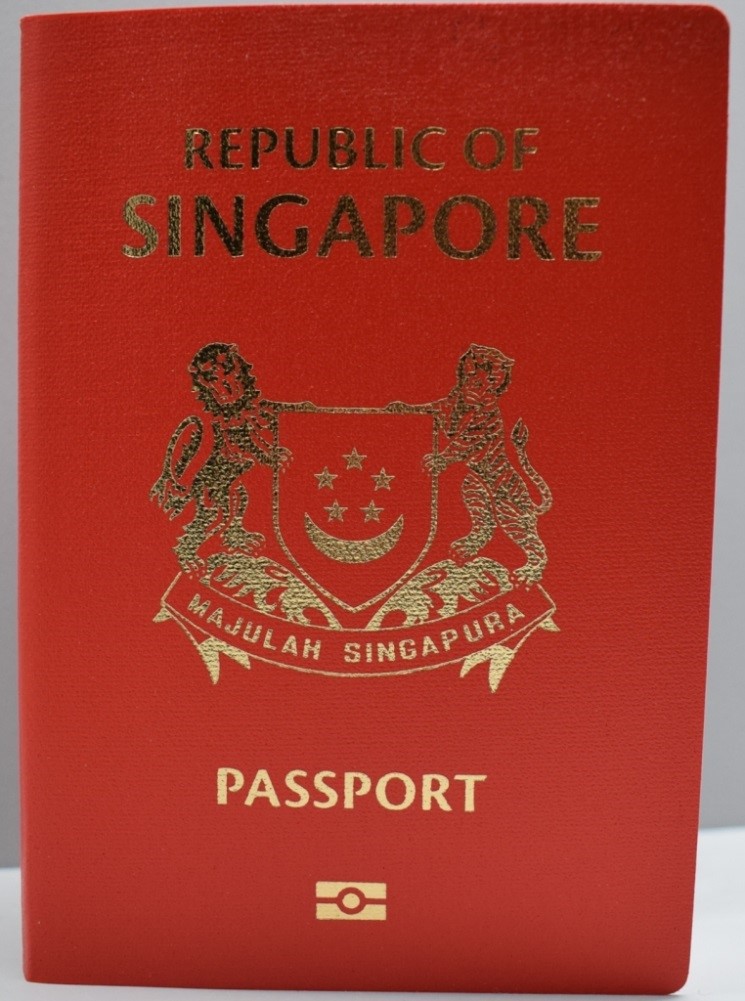 With 693 km2 and a population of 5.8 million, Singapore is well known as a country of innovation and business. Singaporeans enjoy a strong economy and travel widely. There are over 2.8 million passports Singapore passports in circulation. 
Singapore's immigration authority is one of the first immigration authorities in the world to implement a biometric system for secure immigration clearance at checkpoints. 
Enhanced Security and Innovation in the New Singapore Passport
In 2017, the Immigration and Checkpoints Authority (ICA) introduced a new design for the Singapore biometric passport with additional security features.
This will make the passport harder to forge or be tampered with, ICA said in a press release on October 26th 2017.
Introduction of New Security Features
The Singapore Immigration and Checkpoints Authority (ICA) has taken significant strides in enhancing passport security by introducing additional features in its biometric passport.
These features provide a unique identity to each passport and make it considerably more challenging to forge or tamper with. Two of these enhancements include a Multiple Laser Image in the shape of the Singapore map and an embossed tactile design.
Multiple Laser Image
The Multiple Laser Image (MLI) is a pioneering technique in security technology, making the passport extraordinarily resistant to fraudulent practices. This technology is employed in the new Singapore passport to create an intricate image of the Singapore map.
The MLI is a high-resolution image that can change its appearance depending on the angle of view. This dynamic feature makes it extremely difficult for counterfeiters to duplicate, adding a layer of complexity that discourages forgery.
Moreover, using the Singapore map as the chosen image for the MLI further bolsters the national identity of the passport, making it easier for immigration officers worldwide to identify and verify.
Embossed Tactile Design
The new Singapore passport also incorporates an embossed tactile design, which is an additional security measure that also enhances the user experience.
This tactile element is a raised feature on the passport's data page that can be physically felt. Using this tactile feature increases the security level of the passport because it cannot be easily replicated without the advanced technology and manufacturing processes employed.
This embossed design is unique to each passport and provides an additional layer of security that is perceptible visually and physically. The tactile feature can be verified by touch, making it a quick and efficient security measure that can be employed.
Update to the Visa Page Design
To refresh and modernize the Singapore passport, the Immigration and Checkpoints Authority (ICA) has updated the visa page design. This redesign has given a new face to the Singaporean passport, showcasing the nation's vibrant culture, significant landmarks, and advancements.
The updated visa pages now feature six of Singapore's most iconic landmarks, each with unique significance and representing various facets of Singaporean life and culture.
These landmarks are the Singapore Botanic Gardens, Esplanade, Marina Barrage, Gardens by the Bay, Singapore Sports Hub, and Punggol New Town.
The Singapore Botanic Gardens, a UNESCO World Heritage Site, represent Singapore's rich biodiversity and commitment to sustainability.
The Esplanade, a performing arts centre, symbolizes Singapore's vibrant arts scene and creative endeavours.
The Marina Barrage, a marvel of modern engineering, signifies Singapore's ingenuity in water management and urban planning.
The Gardens by the Bay, featuring its famed Supertrees, echo the nation's vision as a city in a garden, blending urban life with tropical nature.
The Singapore Sports Hub, a state-of-the-art, fully integrated sports, entertainment, and lifestyle hub, mirrors the country's passion for sports and a healthy lifestyle.
Lastly, Punggol New Town, a modern residential area with digital technology, represents Singapore's stride towards smart urban living.
These new images have replaced the previous ones depicting the Central Business District skyline and Esplanade.
This shift in design is not just aesthetic but also symbolic, presenting a more holistic representation of Singapore's culture, technological advancement, and commitment to sustainability;
Thales manufactures the current Singapore electronic passport. The issuance is taken care of by ICA as previously.