Last updated 22 May 2020 - Average reading time: 9 minutes
Thales is providing electronic health card solutions to several countries around the world and contributes to more efficient national healthcare systems for the benefit of patients, health insurances, and health professionals.
In this web dossier, we will share the results of a white paper created with several of our customers and the feedback we collected on the impact of smart cards used in their environments.
Socialized medicine and healthcare systems [2017 - study]:​​​​
Overview of insurance systems and models around the world
Origins of healthcare and health insurance systems​
The three main shared challenges facing organizations when providing health care
​​​Benefits of smart cards in healthcare

Universal Health Coverage is a target defined in the UN Sustainable Development Goals. It​ is achieved when everybody receives the health care they need​ without suffering financial hardship.
​Types of healthcare systems 
The healthcare sector is an essential part of our societies, due to the resources which are allocated to it, the role played in healthcare by the state or regional authorities, and because of the large number of stakeholders which it links, either directly or more indirectly.
And the idea of universal health care - providing health care and financial protection to all – is not new.
Indeed, government programs for healthcare, retirement benefits, and family allocations, and in particular health insurance, are the legacies of national traditions.
They have developed according to four different models.
What is universal health care? Discover this video from the World Health Organization.
Benefits of universal health care (the World Health Organization)
Let's discover the four basic models​ and some mixed schemes.
#1 The Bismarck model
This model of universal health care was created in Germany by Bismarck, who enacted social legislation between 1881 and 1889. 
Health insurance and access to health care are, therefore, linked to the notion of employment in this system. The model is financed through social contributions, rather than taxes.
It relies on health insurance funded through social contributions (by employers and employees), managed by the representatives of companies and employees. The state must decide on the scope of intervention of health insurance funds, and take the appropriate measures if a financial imbalance arises.
The German example was used as a blueprint in Austria. It was also the case in Belgium, France, with the decrees of October 1945, in Luxemburg and the Netherlands.
In all countries that have adopted the Bismarck model, protection has been extended to include population categories that were not protected initially (students, independent workers, etc.), and "risks" not taken into account, to begin with. 
In France, the CMU now PUMa (Protection Universelle Maladie - universal coverage) has been voted in 1999, implemented in 2000 and modified in 2016. De facto, France, is one of the many countries with universal health care. 

#2 The Beveridge model​​​
Implemented in 1942 in the United Kingdom following Lord Beveridge's report, this social protection system is based on the principle of universal access to health care, nondependent on employment. 
This access to healthcare is not considered as contingent on employment, but rather as an intrinsic part of citizenship. Public authorities fund this system through taxes, rather than through social contributions.
A centralized system is in place in the United Kingdom and Ireland (NHS​ for National Health System).
In contrast, a decentralized system has been adopted by Mediterranean countries (Greece, Spain, and Portugal).
#3 The Semashko ​model
This model, which was developed during the 1920s in the Soviet Union, then spread to the USSR's satellite states after 1945. It is named after Nicolai Semashko, the USSR's health minister, from 1918 to 1930.
This socialized medicine is, of course, the product of a specific political ideology.
Healthcare services belonged to the state, and the state paid healthcare professionals. Services were usually free, but patients had to pay out-of-pocket fees for medication, for example. 
The system provided universal access to health care. It was broadly a benefit in the kind system. Coverage levels and the amounts set aside for healthcare spending (share of GDP) were defined centrally. Health care and health insurance systems from this era are currently undergoing a radical change in the Central and Eastern European countries.

#4 The out-of-pocket model
The fundamental principle of the American healthcare system is that health is a matter of individual responsibility and private insurance. 
So what's the story here?
In practice, then, there is no compulsory national system and a preponderance of private organizations (two-thirds of Americans under the age of 65 are covered by employment-related insurance).
Public healthcare is only provided for the elderly (Medicare) and disadvantage (Medicaid), not unlike the Beveridge model. 
These two programs started in 1965 under the administration of Democrat L.B. Johnson.
Medicare is a federally funded and managed healthcare system for citizens over 65
Medicaid is a jointly funded system between the federal and state governments for families with low incomes and resources.​
Both Medicare and Medicaid are the responsibility of the federal agency, Centers for Medicare & Medicaid Services (CMS). CMS directly manages Medicare and oversees Medicaid. The states manage their individual Medicaid programs for their citizens.
#5 European mixed-model plans
Mixed-model plans aimed at ensuring healthcare for all
The Bismarck and Beveridge models have had a lasting influence on most European countries. 
So what has been done?
During the second half of the 20th century, all European countries progressively extended universal health care to cover nearly all citizens.​
Since the implementation of the CMU (universal health care coverage), the French system, for example, has ensured that everyone has access to healthcare. Employment no longer determines access to healthcare, as is theoretically the case. 
But funding methods have not been called into question.
In all countries influenced by the English model, funding mainly comes from taxes, while in other countries, it is mainly drawn from social contributions. 
In countries influenced by the Bismarck model, such as France or the Netherlands, social protection is mainly funded through contributions. 
These differences in funding are linked to how the system is organized: in general, 
​financing through taxes corresponds to a state-run organization, 
in contrast,  funding through social contributions usually means that trade unions and employers' organizations are involved. 
 
But is there a European health care system per se? No.
Social protection does not fall under the jurisdiction of the European Commission.
It is an example of the principle of subsidiarity, and therefore under the jurisdiction of national governments. 
Europe-wide cooperation does exist on the matter, in particular concerning the cross-border mobility of patients (with measures such as the EHIC, the European Health Insurance Card. It gives the holder the right to access healthcare during a temporary stay in another EU country, the U.K., Norway, Iceland, Liechtenstein or Switzerland.).
In other words:
Healthcare is a national topic only.
Cooperation also facilitates the exchange of knowledge and best practices.   
More than €1,500 billion is spent in the European Union (including the UK) on healthcare.
Faced with the sharp rise in healthcare costs, all European countries have tried to rein in spending, while improving the efficiency of universal health care systems in place.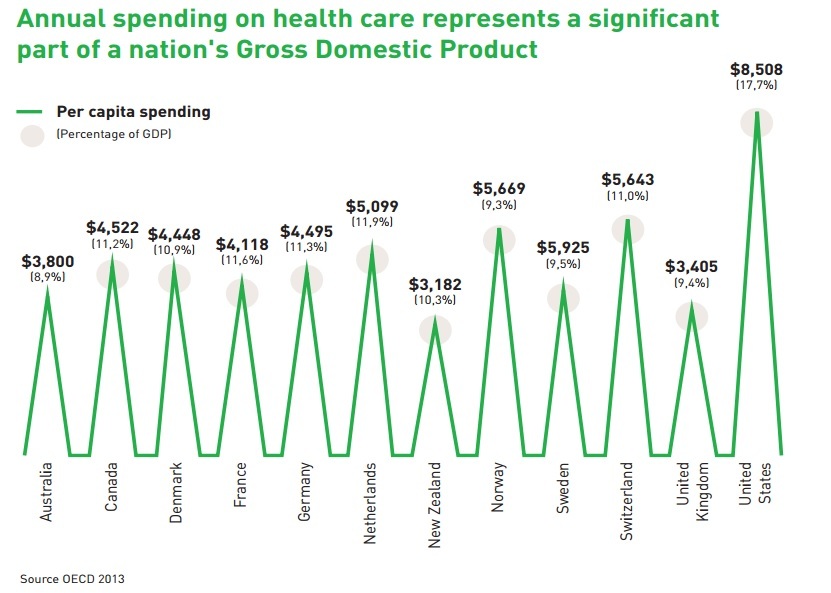 Note that the United States spending per capita is twice as much as Germany or France. The situation is unchanged in 2019.
The healthcare system management 
Let's see how the three major challenges when considering healthcare system management.
Three main challenges to providing health care:
1. Providing long-term healthcare
Long-term healthcare while ensuring a steady source of funding
The first challenge is, of course, to maintain or improve the health of citizens by providing healthcare that meets the legitimate expectations (medical or otherwise) of the general public. Issues surrounding the funding of the system, continuity, and proper management are, of course, fundamental.
There are several priorities to manage the resources available, such as:
optimizing the system by rendering procedures paperless,
freeing patients up from the many administrative processes linked to the management of healthcare.​​
​If the aim is to implement lasting improvements, the fight against error, fraud, and abuse must, of course, must be included.
Take, for example, the inadvertent effects or complications resulting from medical errors (treatment or advice), known as iatrogenesis.
This is an issue of some magnitude.
In the United States, the total number of deaths due to iatrogenesis in 2001 reached 738,936. The number of deaths caused by cardiac disease was 699,697, and 553,251 deaths were caused by cancer (source: American Iatrogenic Association 2002).
In France, in 2004, the number of deaths resulting from iatrogenesis was higher than 10,000, and 3.19% of hospital stays were due to medical errors and medication errors.
A financial assessment of this issue is particularly difficult to carry out. No realistic study relating to the amounts involved was to be found. But the causes of the phenomenon are known. 
Iatrogenesis can be linked to many factors such as doctors lacking information or training, patients requiring information or education, prescription errors (inappropriate medication: dose, protocol, treatment), over-prescription or incomplete prescription, a lack of data on the patient (allergies, symptoms not all taken into account, multiple pathologies), an under-estimation of drug interactions and self-medication.
Between 30% and 50%+ of iatrogenesis could be avoided (French Ministry of Health, July 2010). Better information systems could play a part in cutting this figure. This reduction is one of the goals of the Personal Medical File.
Health care fraud is also a significant challenge.
Just think about it.
​In the United States, between $75 billion and $250 billion, according to the FBI, are lost to fraud. In 2019,  $3,80 billion or  $3.8 trillion, and so 17,7% of GDP was dedicated to health care spending.
On average, around 6% to 10% of spending in the healthcare sector is lost to fraud, according to the European Healthcare Fraud and Corruption Network (EHFCN). 
In Europe, which spent€1,482 billion on healthcare in 2016 (10% of GDP), this means over €140 billion lost in that year alone.
Feedback from interviewees in a study we conducted indicated that the higher EHFCN figure (10%) is closer to the real cost of this problem.

2. Focusing the work of Healthcare professionals on patient health 
Most programs in this area aim at :
facilitating information exchanges & helping healthcare professionals to concentrate on care and treatment rather than management.
This attempt to reorganize the relationships between patients, healthcare professionals, and administration is much helped by the introduction of new digital technology for exchanges between healthcare or insurance organizations, and the creation of health cards. These factors can often lead to drastic improvements.
In France, with the universal health care SESAM Vitale program, for example:
patients are now reimbursed after five days, rather than after 2-3 weeks (due to paperwork). 
​1.257 billion electronic claim forms were used in 2019; 93% of all claim forms with administrative productivity and treatment costs divided by 6 for the claims in question.
12% of the French population has a shared Electronic Medical Record ( smart EMR) in January 2020.
"Carte Vitale"  is a card with an embedded microcontroller that certifies entitlement to health insurance.
​There's more.
The introduction of electronic claim forms and the cut in the number of statement sheets means that 3,6 billion A4 sheets of paper are saved per year. They are no longer produced, printed, distributed, stored, or destroyed.

3. Coordinating & optimizing information-sharing
Ambition:  optimize the use of medical data.
A patient's Electronic Medical Record (smart EMR) ensures that all their medical information can be accessed by healthcare professionals, whenever and wherever.
This record, therefore, cuts errors and hesitancy in emergencies and improves the quality of services provided. It also enhances cooperation between all healthcare workers, pooling all available information on patients into a centralized file.
Electronic Medical Records streamline healthcare systems.
Smart EMRs limit the number of medical interventions and ensure that the care provided for patients is consistent. There are also advantages to government health policy: a well-treated patient does not have to keep coming back.
Telemedicine also presents fantastic opportunities. The term refers to any situation where information is passed between healthcare professionals electronically (general practitioners or specialists, care workers, pharmacists, etc.). This information could be messages, letters, signals, results, images, administrative data, complete files, etc., for diagnosis, therapy, or monitoring.

Benefits of smart mart cards in healthcare 
Using smart cards speeds up the transition to paperless, electronic procedures and data exchanges, which are three formidable catalysts for the modernization of systems. 
In terms of administration, the results obtained are impressive. 
Yet this technology is often under-used at present, in areas where it will produce excellent results.
Now:
Strong identification and authentication for patients and healthcare professionals are key features of computerized card and should be implemented in the healthcare sector. Yet this is not the case in many countries.
Implementing health care cards with an identification number and PIN or biometric authentication would enable the creation of personalized, online services, a quintessentially «patient-centric» approach, yet these initiatives are still in the development stages.
The ability to verify benefits, expiration dates, repeated, and multiple uses are on the whole underused. 
Thus far, the benefits of paperless, electronic medical data exchanges have not been fully tapped. Yet cards have a crucial role to play in creating consistent databases, with the automatic reading of data, and the temporary or permanent confidential local storage of additional data such as blood groups, allergies, chronic diseases, and associated treatments.
Electronic services that have already been implemented in European countries for universal health care schemes, and in the rest of the world—with identification systems, electronic signatures and electronic authentication - clearly show:
The key elements (microchip cards, public key infrastructure, authentication, etc.) of a modern healthcare system can rely on robust technology to rise to the challenges presented by fraud, abuse, and errors.  
The best part?
This robust technology can strike at the heart of fraud mechanisms, often with minimal investment in infrastructures, and without significant changes for patients and healthcare professionals.
Smart card technology is an invaluable asset to combat healthcare fraud and errors in the interest of all.​

​
Thales – a significant health care systems provider
Thales provided technical services and products during the implementation of 11 national electronic health care systems, including the German Gesundheitskarte (picture above) or Chifa card, an eHealthcare solution in Algeria.
Our contribution to these electronic health care projects provides us with an excellent overview of the technology involved, its applications, and the quality of information systems, as well as the social context of its use.
Furthermore, our experts have provided support for national debates on how to improve systems, in particular, to fight fraud and cut the number of errors.
Finally, Thales is an active collaborator in European and global standardization organizations.​