AVIOBOOK, A SOLUTION DESIGNED TO OPTIMIZE FLIGHT OPERATIONS
Thales proposes a full package of solutions for aircraft operations through Avio.  
Avio is uniquely positioned to bring together the latest robust technologies to design world-class secure, easy to use software and hardware solutions for all types of aircraft. With extensive experience in software and hardware, our innovative solutions maximise the efficiency of aircraft and their crew.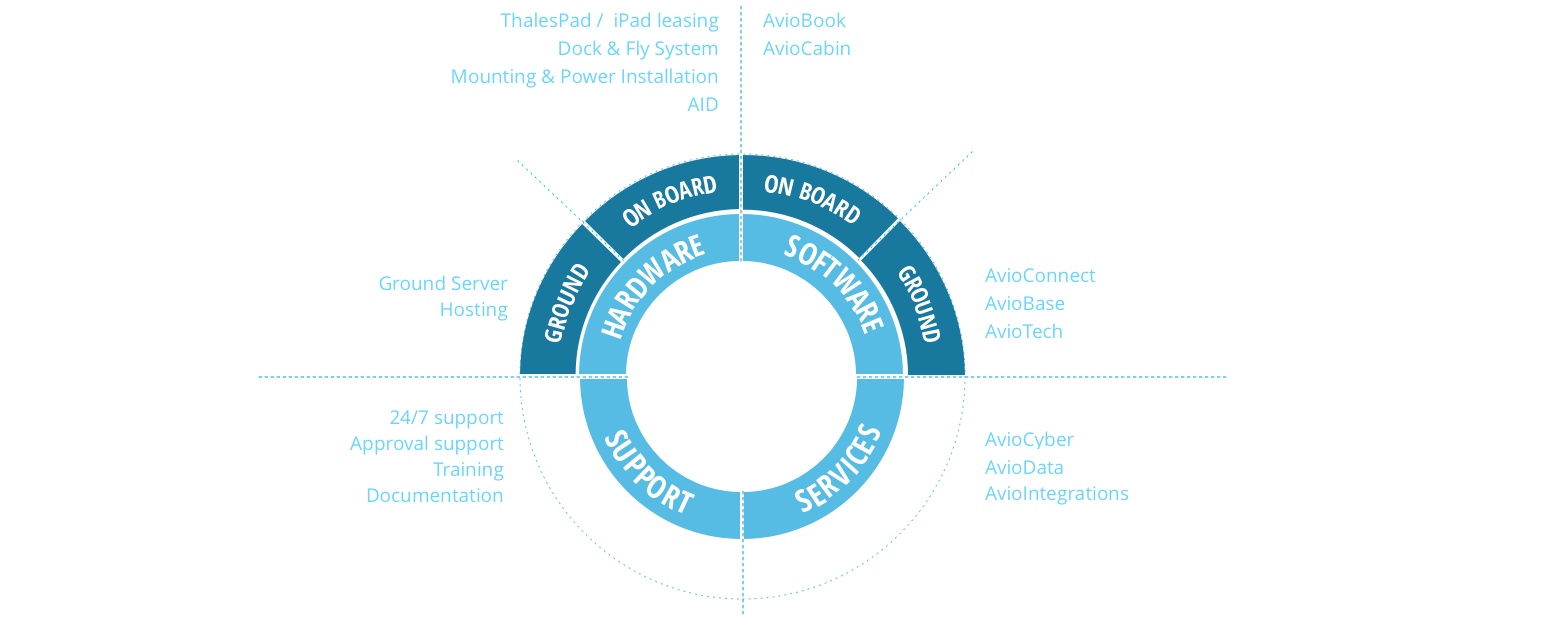 The Aviobook is a user-friendly Electronic Flight Bag software solution. It is not just an EFB, but a comprehensive aircraft operations suite designed for use across a variety of platforms, online and offline, including desktop and laptop computers, tablets, iPads and cockpit-installed units.
 
AVIO SOFTWARE APPLICATIONS
AvioCabin: fast, native and user-friendly application which will make cabin operations run like clockwork.
AvioConnect : a secure communication application that improves the communication between different stakeholders around the aircraft to decrease turnaround times and make workflows more efficient.
AvioTech: enables pilots, mechanics, MCC and cabin crew to review the status of the aircraft, report defects, review open and deferred defects,…
AVIO HARDWARE SOLUTIONS
 Tablets (Avionics grade or COTS, iOS/Windows)
Mount/power installation
Aircraft Interface Device (AID)
Connectivity means
Supplemental Type Certificate (STC)
AvioSystems is extremely flexible and scalable and can be installed on most of aircraft platforms.
Cybersecutity, Integration & Data Management Solutions
AVIOCYBER
In a world where operational processes rely more and more on IT system, ensuring seamless IT service is the key for successful airlines. Thales offers its cyber expertise to aviation leaders eager to fly secure and protect their valuable data. AvioCyber security services allows to grow awareness on security matters and to build preventive and corrective actions to secure your airline operations.
 

AVIOINTEGRATIONS 
Dedicated group of highly experienced software developers focusing entirely on the agile systems integration of your back-end systems with the AvioSuite.
 

AVIODATA
Benefiting from Thales' avionics skills and data management infrastructures, AvioData provides efficient, reliable and qualitative data deliveries to your avionics and your AvioBook. AvioData also provides a business intelligence solution turning Airline operational data into enhanced and synthetic views leading to better operational awareness and optimisation.