The connected vehicle and a host of new technologies are currently leading to an evolution of existing business models in the automotive industry.
The core CASE technologies (Connectivity, Autonomy, Shared business models and Electrification) support the automotive transformation for better forms of mobility and a comprehensive mobility-as-a-service ecosystem.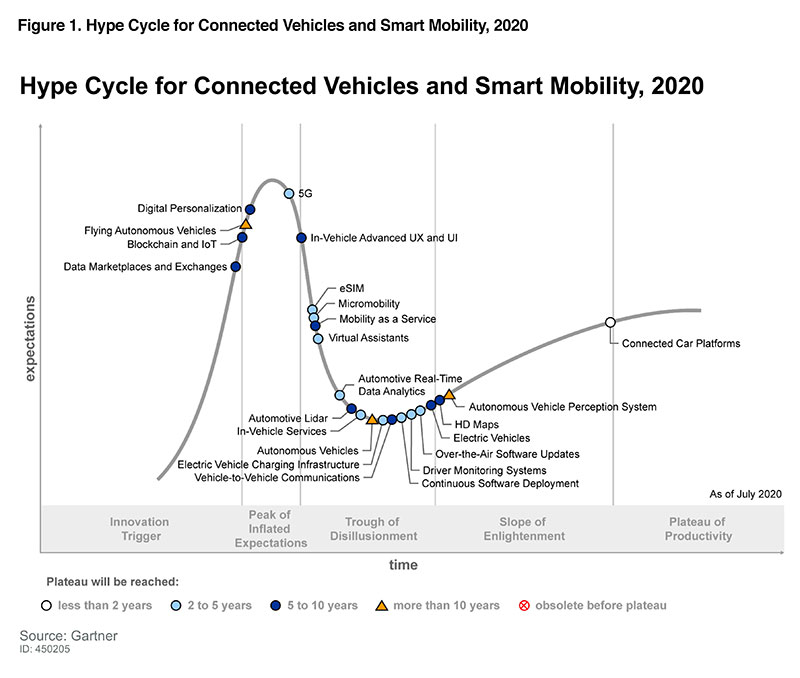 In this 2020 Hype Cycle report, Gartner highlights the most powerful changes that automotive players can expect in their industry for the next 2 to 5 years. 
From 5G to autonomous vehicle perception systems, and from eSIM to real-time data analytics, the report provides key guidance for automotive leaders to concentrate on game-changing technologies and business opportunities.
Thales (previously Gemalto, as named in the report) recognized by Gartner as a Sample Vendor in Gartner 2020 Hype Cycle for Connected Vehicles and Smart Mobility.
Thales is thrilled to be mentioned in the Gartner Hype Cycle for Connected Vehicles and Smart Mobility Report (2020) as SampleVendor of eSIM for connected cars.
For the last 15 years, Thales´s eSIM connectivity management solution has been enabling automotive OEMs customers to remotely manage cellular subscriptions for the whole vehicle´s lifecycle, while ensuring the best cybersecurity level.
As stated in the Gartner report, ´OEMs should continue to promote eSIM in designs where its advantages are attractive, for example use cases swapping cellular providers regularly across countries and with big amounts of data.