The eKYC Context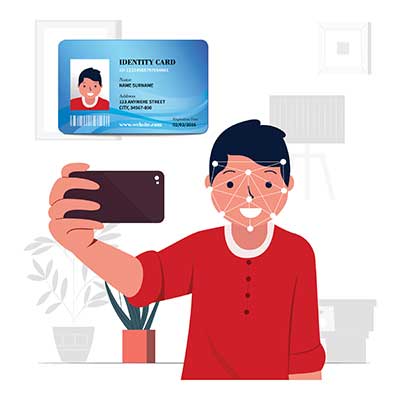 For several years, an Asian country has pursued an ambitious 'Smart Nation' initiative. Technology is being applied throughout society to improve the lives and livelihoods of citizens. Digitization of the ID verification procedures, also referred to as eKYC (Electronic Know Your Customer)  employed by enterprises including banks and mobile network operators is now very much part of this transformative program. 
One of Country's leading telecoms operators, is fully committed to the Smart Nation project. Reflecting this, the operator has implemented a fully digital eKYC journey for new subscribers built on Thales' Trusted Digital Identity Services Platform.
Initially the operator's remote enrollment service relied only on a local postal delivery worker to visit the subscriber in person to verify their ID, creating additional administrative and logistics costs.
 
The Challenges
The telecom operator's new eKYC service must verify around fifteen different types of ID cards and documents captured via the company's mobile app. Facial recognition technology then confirms that the new subscriber is the legitimate holder of the ID credentials submitted. With the country's regulators demanding an 85% success rate for remote identity verification, both processes must be performed to high standards of accuracy and reliability.
Benefits of the Thales Solution
Thales Trusted Digital Identity service platform is a highly integrated solution featuring advanced facial recognition technology with built-in liveness detection and can swiftly confirm the authenticity of subscribers' ID credentials. The main advantage is a more seamless and convenient digital enrollment journey. The entire process can be completed quickly and easily, at a time and location that best suits the customer. In the context of the Covid-19 pandemic, eliminating the need for face-to-face contact also provides welcome public health benefits.
 
Why Thales?
The telecom operator has a well-established relationship with Thales, and already subscribed to Thales' offers: Over The Air (OTA) platforms, On Demand Subscription Management Platform for eSIM and M2M. Building on this successful partnership, Thales' Trusted Digital Services ID Platform proved an ideal match for the demands of the new eKYC project. Crucially, Thales could offer a true one-stop solution that integrates everything needed to capture, verify and authenticate customer credentials and biometrics, both in-store and online.
"The future is digital," said an Executive of the Telecom Operator. "We are committed to supporting a national digital ambition by delivering an outstanding experience for all our prepaid and postpaid customers. Going forwards, our eKYC journey will fit perfectly with the new generation of eSIM enabled devices, creating a fully digitized service for our subscribers".