Norway's national post and logistics service grows business and strengthen fraud protection with Thales Gemalto's ID Verification.​
​

​​
The scale and sophistication of identity fraud continue to grow worldwide, and Norway is not immune to this trend. 
In September 2016, to fight fraud and serve legitimate clients, Posten Norge, Norway's national post and logistics service, selected the Gemalto ID Verification solution for its front-desk personnel to check customer credentials such as identity cards and passports quickly.
Norway's national post and logistics service
​​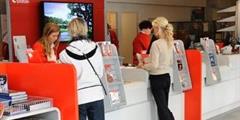 Posten Norge, Norway's national post and logistics service is part of the Norwegian society's infrastructure and is the largest employer in the country. 
The Group has more than 1400 points of​ sale in Norway in post offices and Post in Shops.​
Preventing fraud and creating trusted identities
The scale and sophistication of identity fraud continues to grow worldwide. ID Verification leverages Thales' unrivaled experience and expertise in secure identity documentation and represents an easy-to-deploy, easy-to-operate solution that can help realize Posten Norge's future vision. John Eckhoff, Chief Press Officer at Posten Norge
ID Verification is an essential component for preventing fraud and establishing trusted identities for public authorities (Ministry of Interiors, local authorities, US DMVs..) and private institutions (banks, postal services, casinos, liquor stores, rental cars, retail, etc.). 
Effectively combatting identity fraud while maintaining international standards and best practices allow these industries to provide employees with a valuable tool to enhance their customer identification and fraud deterrence processes.
Efficient Know Your Customer process.
Posten Norge selected the ID Verification solution, which enables customer credentials such as identity cards and passports to be checked quickly and easily by branch staff.​
​ID Verification will deliver a robust solution for the authentication of identification documents and allow Posten Norge to act as a highly efficient Know Your Customer (KYC) hub for the country's financial services sector, in line with the requirements of the latest EU Anti-Money Laundering Directive (AML4 and AML5). 
The document verification system is to be deployed in 1100 branches at first, with the potential ultimately to cover Posten Norge's entire national network.
Verification of identity credentials will be performed by existing staff using a specialized passport and ID card scanner.
Documents are checked instantly for discrepancies against Thales' comprehensive database of worldwide passports and identity documents.

ID Verification supports over 4,000 documents, including passports and e-passports, national IDs and eIDs, US and Canadian driver's licenses, alien registration cards, military IDs, PIV, and residence permits from over 180 countries worldwide. 
In particular, it automatically checks security features under all available light sources (visual, UV, IR, co-axial): presence and absence of patterns, UV dull paper, UV ink pattern, photo replacement, retro-reflective laminate, optically variable devices (OVD), etc.
ID verification service
Norway Post will initially use ID Verification to check that their legitimate recipients collect letters and parcels. They will also assist banks and other financial enterprises by confirming customers' identity by picking up new payment cards. 
There's more.
In the long term, the solution will create a platform for innovative new services and position the Group as Norway's leading provider of document authentication.​
Where do we fit in?
Thales enables public and private sector institutions to combat identity and financial fraud and comply with international regulations against money laundering and terrorist financing. 
Active in secure documents for over 150 years, Thales continuously innovates the market as the world leader in digital security.
In the public sector, Thales provides secure documents, robust identity solutions, and ID verification systems, border management, and biometric solutions and services for more than 200 government programs worldwide.
In the private sector, ID Verification also addresses the needs of banks, telecoms, currency exchange, money transfer, post offices, ​car rental companies, and more.
​The Benefits: accuracy and convenience
Thales has developed an automated verification system that will help to reduce fraud and verify the authenticity of identity documents. 
Our document verification solution is a technology that automatically verifies electronic and physical security features of identity documents with the most accurate results. 
Our solution can integrate into each customer's current solution and enhance identity authentication.
Additionally, the technology can be operated on behalf of the customer or managed directly with systematic updates regularly.