Digital First by Thales is a card issuance revolution in payment that enables issuers to offer their customers the best in physical and digital EMV cards.  
The mobile banking app becomes your cardholders' control centre giving them the power to order, manage and use all their payment cards in-store and online – all from the palm of their hand.
Discover the five reasons to take the leap.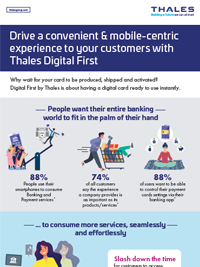 Five key reasons to roll out your digital-first banking and payment services
You have no time to read this page, so download our infographic.
#1 – Customers want to use their mobile app for all banking and payment needs
Customers' trips to the branch should be limited to financial advice.  
For everything else, such as ordering a physical or digital card, setting up a PIN code, adding a card to a mobile wallet – the mobile application is where everything should happen, instantaneously and seamlessly.
 People expect their bank to provide them with an up-to-date digital experience, from account opening all the way to payments.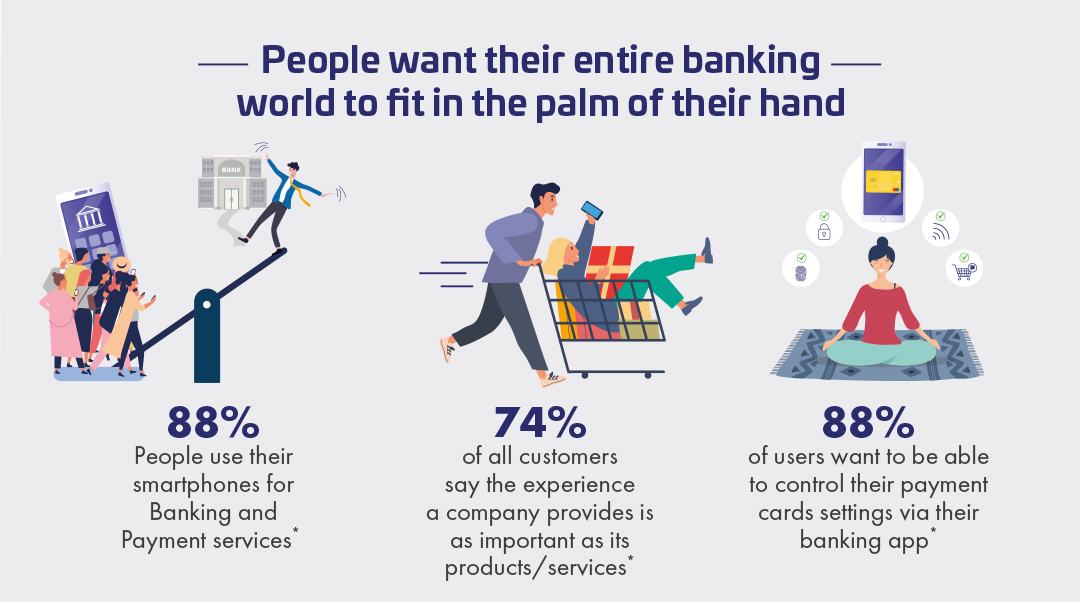 #2 – More transactions, greater revenue for issuers deploying a Thales Digital First experience for their cardholders!
With so many digital cards available for mobile wallets on smartphones and wearables and with eMerchants replacing card-on-file data systems with EMV token storage, there's a big incentive for customers to set up the ideal card for each purchasing channel.
And with a more significant number of cards to choose from, cardholders are likely to make more transactions. 
The good news?
Because Thales Digital First enables you to issue these cards instantly, it increases the activation rate and virtually wipes out activation abandonment.
There's more.
Customers welcome the chance to get a new type of card they can order and receive straight away and use the next second.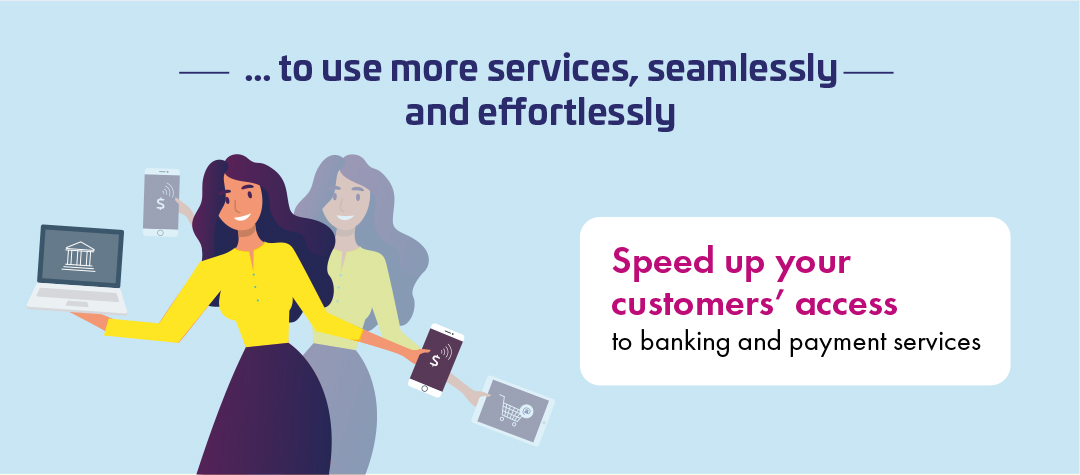 #3 – Instant services and instantaneity in card issuance translate into the "top of wallet" effect 
Cardholders have a choice when they own multiple payments cards. 
So issuers need to ensure their card is "top of wallet" and the main one used for transactions. 
Digital First by Thales means that when customers order a card directly via their mobile app and get it straight away, that new card is instantly at the top of their wallet.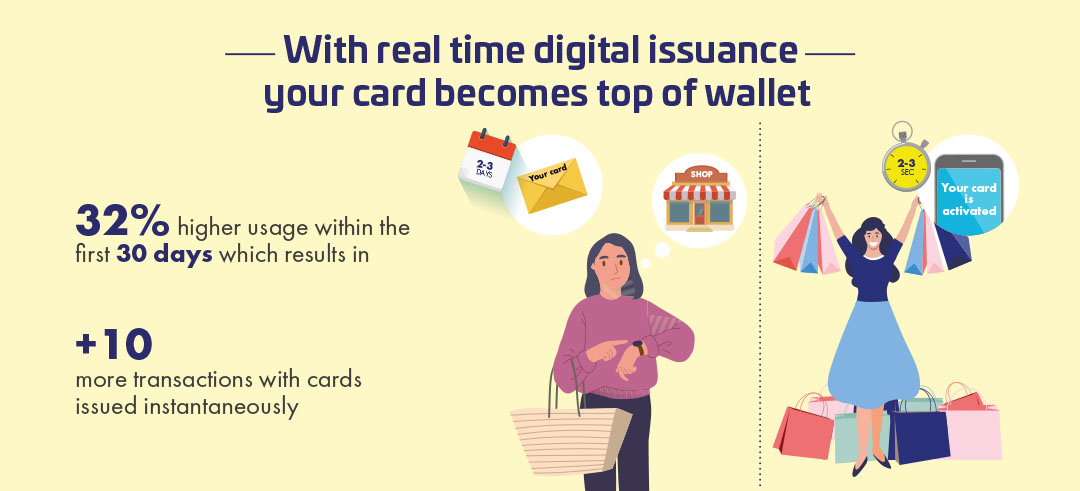 #4 – Good news for issuers, creating digital cards for eMerchants couldn't be easier, straight from the mobile app! 
Digital commerce is skyrocketing!
EMV tokenisation to replace card-on-file data storage for eMerchants is, together with EMV 3DS, the most secure, convenient and straightforward solution for shopping online yet. 
Digital First by Thales performs all the EMV tokens issuance and management steps for your cardholders so they can order, control and use digital cards for all their favourite eMerchants.  
Online sales are booming, and so will your transactions revenues, thanks to the complete Thales Digital First portfolio of services for online payments.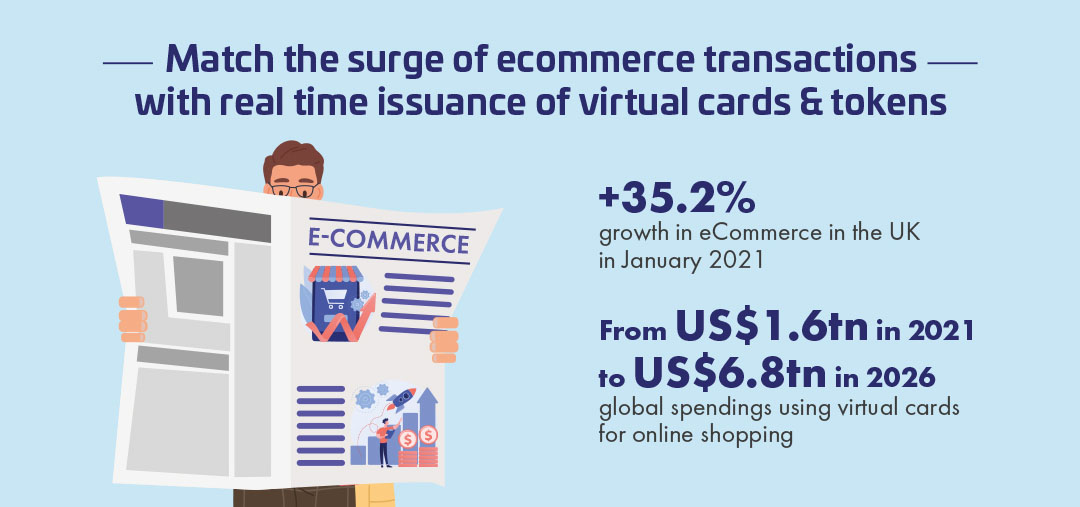 #5- All card issuers will undergo their digital-first revolution. 
 It's an essential step for issuers to take and meet their customers' payment needs for the next decade to come.
Physical and digital are ready to co-exist in the EMV payment ecosystem to deliver an ultra-personalised payment journey for billions of people. 
Give your business every chance to succeed in this major digital transformation by choosing Thales – the world leader in EMV cards issuance – and its Digital First platform.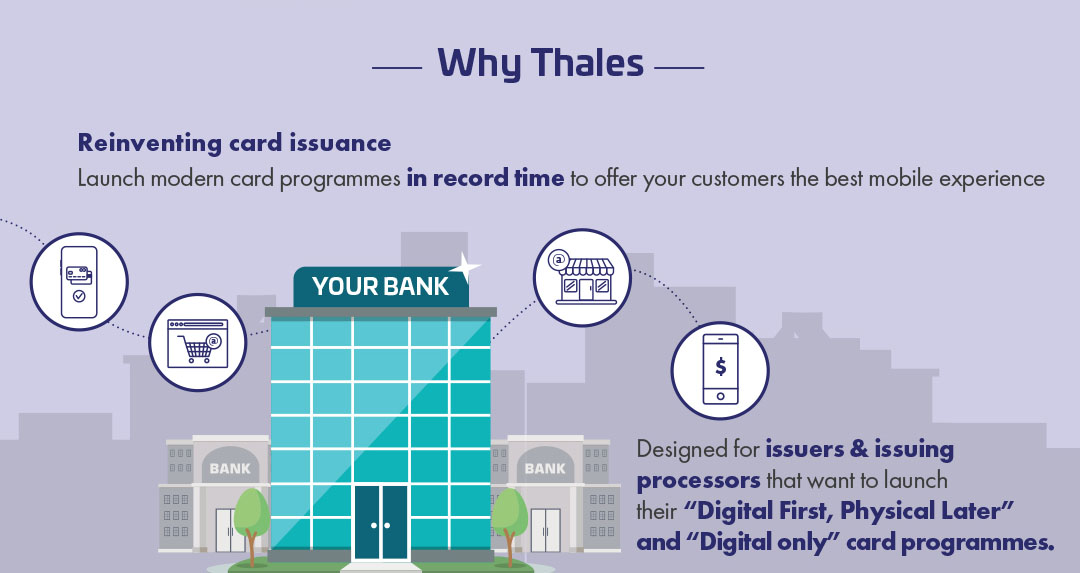 More resources on digital-first in banking