​​​​​Enrollment is a first and critical step to ensure secure and reliable population (voter and/or citizen) registration and build a foundational identity infrastructure. 
A field-proven, robust, and flexible enrollment solution is vital for such large scale government initiatives.
Now you can mobilise Thales biometric registration solutions and experienced service teams to support your project.  
Our customers trust us to deliver. So you can.​​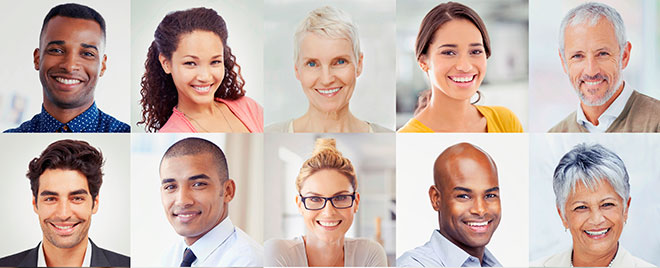 ​
The registration you can trust
In today's environment, authorities face numerous challenges.
Enrollment is the moment when the primary document that proves an individual's identity, such as a new ePassport, national identity card, driver's license or voter ID, is created. 
There can be no room for error. 
For official documents, the use of biometrics and face-to-face live enrollment processes are essential.
From citizen registration appointments right through to delivery, Thales can help you streamline the enrollment process - bringing greater convenience to citizens and guaranteeing the quality of data capture.
The Thales Enrollment Solution is designed to provide:
Fast enrollment and easy to use software

Clear and easy to use interface
Guidance for enrollment officers at every step
Warnings and dashboard available
Data retrieval from reading identity documents or connecting to a back-end system using legacy database

High-quality biometric data capture

Multi – biometric capture: face, fingerprints, iris, signature
Immediate ICAO or other quality checks 
Ensure the best quality photo for printing
Ensure optimum biometric capture for subsequent nationwide identification
AFIS or ABIS

Flexibility

Easy modification of enrollment workflow
Various types of biometrics and peripherals are supported to allow optimum project flexibility.
Various form factors supported - from mobile kits to kiosk enrollment.

Security 

Guarantee confidentiality of applicant's data during enrollment and transfer to central systems with secure encryption mechanisms
Prevent unauthorised access and misuse of the application by applying for user roles and segregating rights
Track activity via logs and audit reports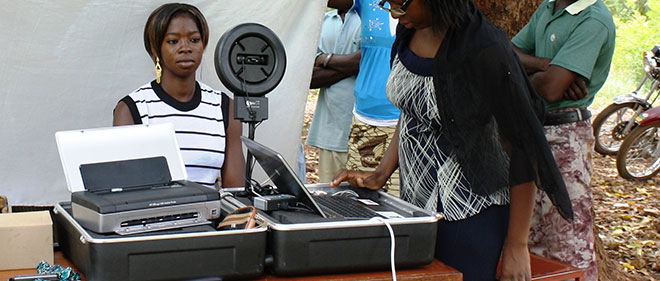 Reap the benefits of enrollment best practices
Thales will provide the right team and partners throughout your project: from consulting, specification workshops, development, and training to the deployment and support of enrollment centres countrywide.
Thales' expertise in providing end-to-end biometric enrollment solutions and services have been proven in numerous projects worldwide. 
Typically, our customers have renewed their confidence in Thales' solutions and expertise by commissioning further projects. 
Examples include the Democratic Republic of the Congo, Gabon, Oman, Burkina Faso, Benin, the Philippines, or Sweden.
Thales' experience is a key asset for the success of your project:
Leverage best practices with Thales, drawing on our involvement in over 20 national enrollment programs worldwide.
Mobilise our experienced service teams and established network of partners to support your program
In other words, our teams will save you time and effort.
There's more.
Thales will do more than listen.
We'll make sure that the solution is shaped precisely to your unique requirements.
Committed to meeting your deadlines
Enrollment programs very often require partners with extensive industrial strength and buying power.
Thales has the global resources necessary to provide a genuine one-stop-shop for even the most complex programmes. 
Our local project management, industrial, and logistics teams offer the capabilities and commitment needed to meet the tightest timescales.
Tailored services are provided through a network of dedicated support and maintenance teams that specialise in government program solutions. 
On-site technical assistance is also proposed, particularly to support our customers during deployment phases or in the first months of operation.
Public-Private Partnership
PPP may constitute a cost-efficient means of accelerating your enrollment of the registration project. 
It is a partnership. Success will only be realised if both parties are committed for the long term.
Choosing the right partner remains a significant challenge. Proven expertise, knowledge of the country, and long-term financial credibility are the ideal candidates' defining features. 
With more than 30 years of experience in identity solution integration, Thales is a stable and reliable system integrator for your identity project. 
We'll be glad to know more about your project. Contact for more information on Public-Private Partnership models.
Get results from your solution.
Here are a few examples of government projects that illustrate the wide variety of technologies and form factors employed by Thales to support citizens' enrollment for identity documents, passports, driving licences, health care, voter registration, or civil registries.
GUINEA: A FAIR AND CREDIBLE ELECTION PROCESS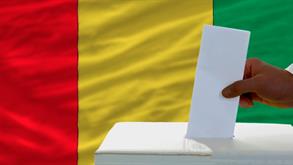 Millions of Guineans voted peacefully on Sunday, October 11, 2015. In September 2014, the Guinea Konackry Electoral Commission issued a tender to revise the electoral register and ensure unique voter registration to allow fair elections in October 2015. This project included 2,700 Mobile Enrollment kits to register citizens throughout the country, reaching even the remotest areas. 
It also involved hiring and training 5,000 operators to perform enrollment operations. 
There's more.
Thales delivered a
back-end solution
comprising an Automatic Fingerprint Identification System (AFIS) to ensure citizens' unique registration before issuing voter lists.
OMAN NATIONAL REGISTER: THE BACKBONE OF THE STATE MODERNISATION
In October 2002, the Sultanate and the Royal Oman Police (ROP) launched a project to deploy a smart card-based national ID program. 
The core objectives were to modernise the National Registry System (NRS), simplify and speed up administrative processes, provide better quality public services to Omani citizens and residents, promote the use of IT technology, and achieve enhanced homeland security. 
Since 2002, the Royal Oman Police has regularly confirmed their trust in Thales. Another 11 registration centres were opened in 2015 and 22 in 2016.
SWEDEN: OPTIMIZING INVESTMENT FOR QUALITY PUBLIC SERVICE
In March 2011, the Swedish National Police Board (Rikspolisstyrelsen), acting on behalf of the Swedish Police, the Ministry of Foreign Affairs, and the Swedish Migration Board, renewed its five-year agreement for travel documents. 
Thales manages the end-to-end delivery process, including the live enrollment solution in Sweden and the production of all secure Swedish passports and operating the issuance service. 
Thales provided over 250 kiosks to instantly capture the holder's photograph, fingerprints, and signature. The system currently manages one million enrollments every year. 
In​​ 2012, the Swedish Transport Administration (Trafikverket) had also deployed over 40 self-service kiosks for faster enrollment and renewal processes.
PERU: MIGRATING TO A NEW SECURE BIOMETRIC PASSPORT
In February 2016, the first Peruvian biometric passports were delivered in Lima. 
The passport incorporates new security features that will enhance the security of the document. It meets rigorous international standards and is now one of the most secure passports in the world. 
Thales ensures the complete credentials system's implementation, with the creation of 20 enrollment offices throughout Peru, incorporating over 240 enrollment stations. The company secures citizen enrollment, including an Automated Fingerprint Identification System (AFIS), public key infrastructure (PKI) services, ePassport personalisation, a contingency data centre plus quality, and access control across the entire biometric passport ecosystem.
As of spring 2016, Thales supplies its polycarbonate contactless eID cards along with a comprehensive suite of enrollment, card personalisation, and issuance solutions for the reliable management of all processes.
Thales also supplies the Automated Fingerprint Identification Systems ( AFIS​) necessary for this project to guarantee that the principle of one identity-one person is maintained.
The enrollment system is being deployed in 100 civil registry and passport offices, enabling MOI staff to capture citizens' personal and biometric data for duplication-free entry onto the National Registry.
INDIA:  A FOUNDATIONAL DIGITAL ID SCHEME FOR 1,27B PEOPLE 
Aadhaar started back in 2009, and the basic concept is simple. 
Biographic and biometric data are captured from all Indian residents aged over 18. This means name, date of birth, gender, address, a photograph, ten fingerprint and two iris scans.
Each resident is then issued with their own, unique 12-digit Aadhaar number. 
 In the search for biometric enrolment solutions capable of capturing fingerprint and iris scans from over one billion people, the Indian authorities turned in particular to 3M Cogent– now a Thales company for Aadhaar enrollment​.
Tools supplied included the CS 500e lightweight ten-print scanner. 
As well as being certified by the UIDAI, this proven fingerprint scanner is compliant with NIST and FBI standards. The Aadhaar program utilises the CIS 202 Dual Iris Capture Scanner.
As the name suggests, this is capable of simultaneously capturing two irises.
It is unaffected by ambient lighting, and other key features include liveness detection.
For authentication, Thales is supplying its highly portable CSD200​i. 
It is a single-digit (one finger) optical fingerprint scanner with a durable, compact casing.
Powered by USB 2.0, the connection allows for easy integration with applications. It eliminates excess cables and the need for an image capture board. This fingerprint scanner is ideal for network biometric authentication.​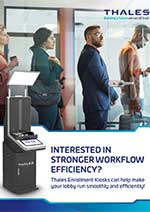 Thales Enrollment Kiosk
Interested in stronger workflow efficiency? Thales Enrollment Kiosks can help make your lobby run smoothly and efficiently!
Read more