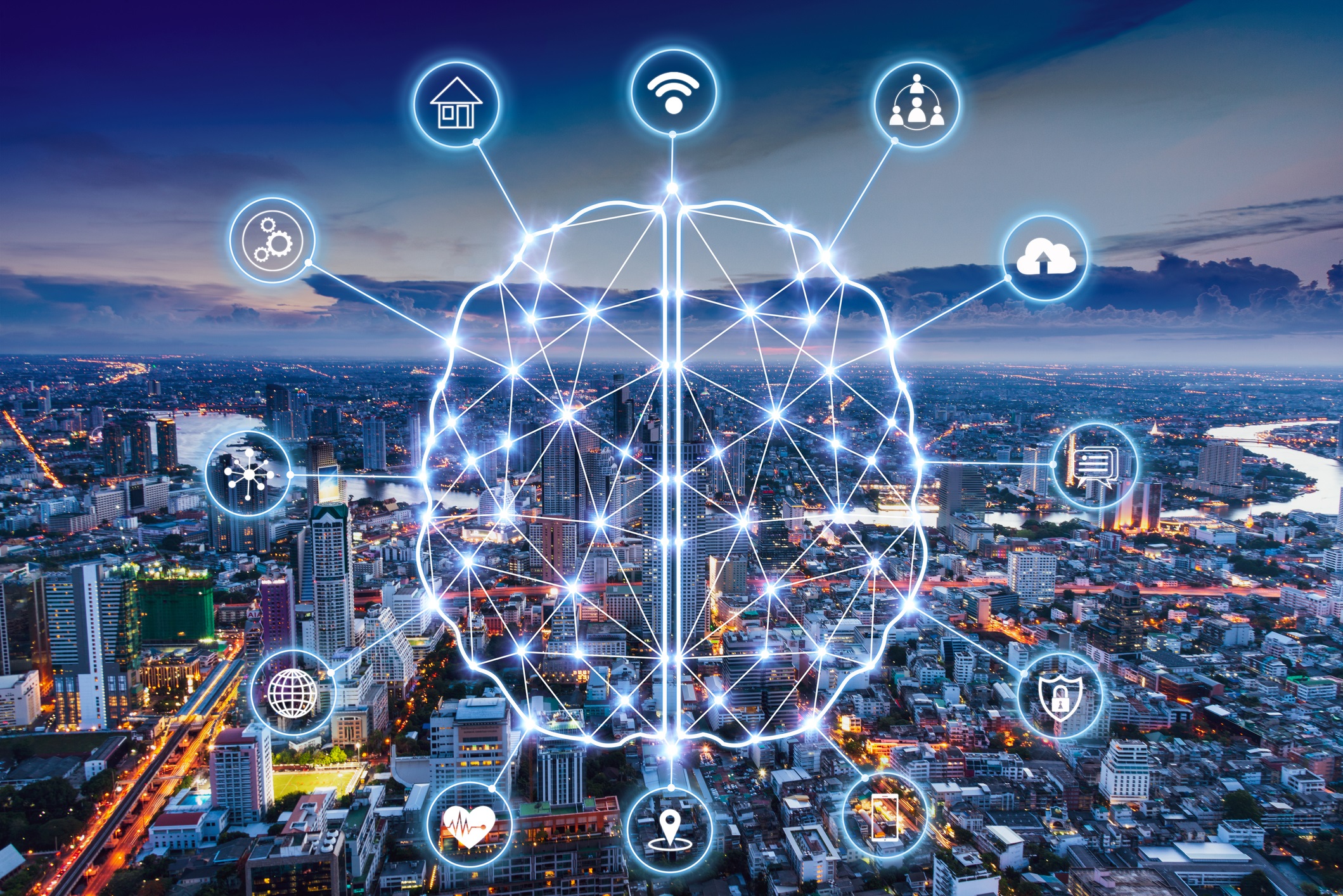 We accelerate your business with the power of innovative IoT technology.
Here is how.
Unleash the power of IoT
Thales delivers innovative IoT solutions to simplify digital transformation and help customers master decisive moments.
Above all, we empower customers to create solutions that solve today's most pressing challenges and accelerate business success.
Customers trust our technology, services, and expertise to guide every step of the IoT journey toward a more connected and intelligent future. 
From the bottom of the oceans to the depths of space and cyberspace, Thales solutions:
Connect assets to wireless networks and cloud platforms,
Manage the long lifecycle of IoT solutions,
Secure devices and data,
Analyze real-time data transforming it into business intelligence that improves decision making.
Our 360o approach provides the essential IoT building blocks needed to simplify design, streamline development, and accelerate time-to-market for new solutions that improve health, enhance safety, and save energy and the environment.  
Trust Thales to transform your business with the power of the IoT.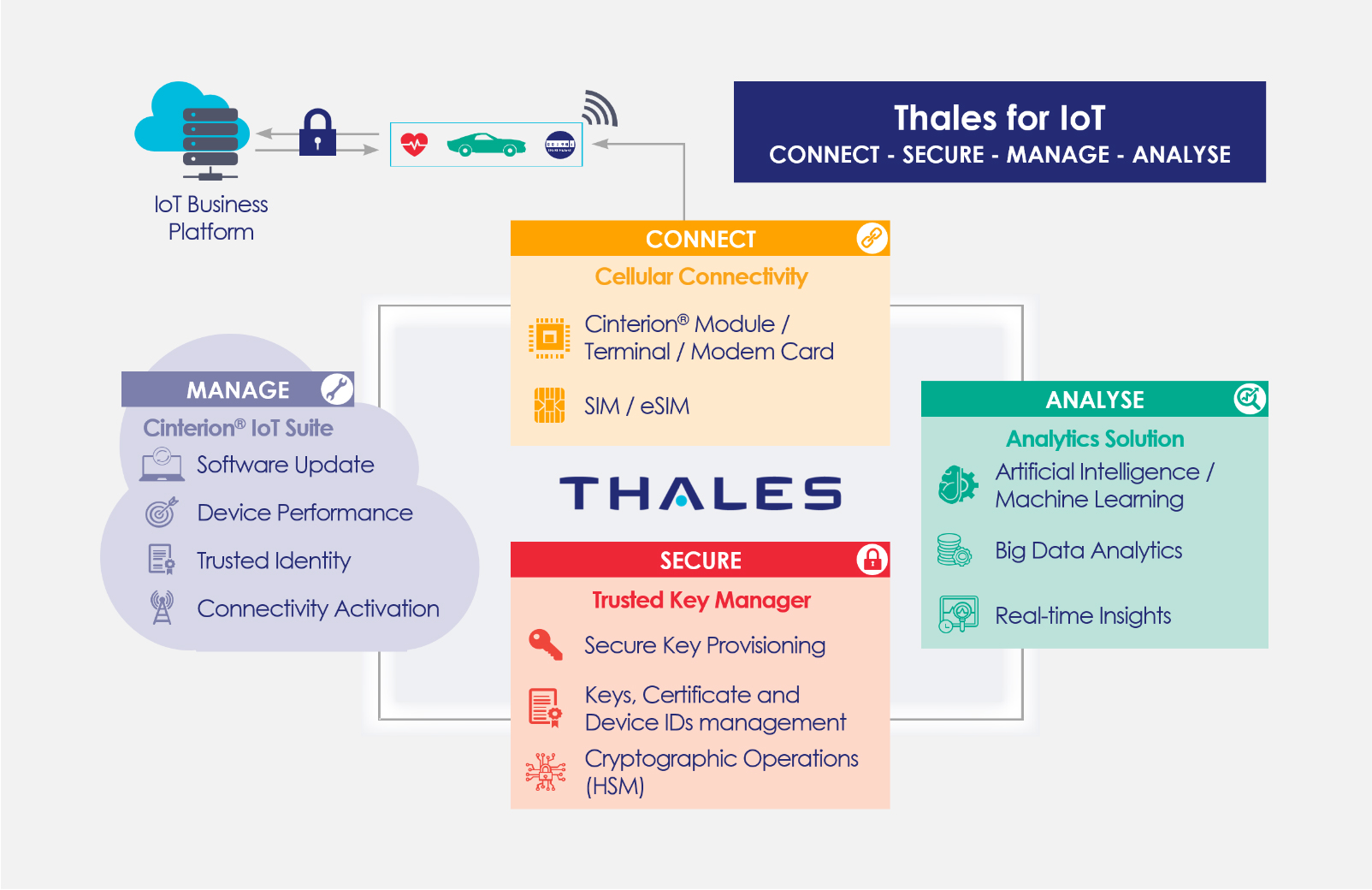 Why Thales for your IoT project? We deliver the four building blocks necessary to unleash the power of IoT technologies for your business: Connectivity, Management, Security, and Analysis.
1. Thales Connects IoT devices.
Our Cinterion® products are at the heart of IoT platforms, securely connecting billions of things worldwide.
For over 25 years, Thales has been driving IoT innovation with a record number of first-to-market Cinterion IoT Modules, Terminals, Modem Cards, SIMs, and eSIMs.
Our comprehensive product portfolio delivers future-proof, reliable cellular connectivity anywhere in the world. 
2. Thales Manages IoT devices.
IoT technology is built for the long haul, and devices require product, network, and security updates along the way.
Thales IoT Services help you manage the long lifecycle of IoT solutions and remotely update, control, secure, and manage devices and network subscriptions.
The result?
Quick platform onboarding and tight integration to Cinterion hardware dramatically simplifies IoT technology and reduces time-to-market. 
There's more.
Security attributes embedded in our Cinterion hardware simplify and secure on-boarding to external cloud platforms.
3. Thales Secures the IoT ecosystem.
Thales brings trust to an increasingly connected world.
Thales IoT Security solutions and services strongly protect IoT devices, ensure data confidentiality and integrity, and renew keys and credentials whenever needed in your IoT architecture.
These solutions safeguard and simplify cloud platform onboarding. 
4. Thales Analyses IoT big data.
By leveraging Machine Learning (ML) and Artificial Intelligence (AI) with our deep expertise in IoT analytics, Thales helps companies interpret IoT big data and take decisive action in real-time.
Businesses can:
predict the needs of their customers,
automate preventative actions,
tailor their products and services based on derived behavioral insights.
Why select Thales?
It's simple.
We help our customers unleash the transformative power of IoT technologies.
In other words, we support them at every step of the IoT journey with expertise, passion, and innovative solutions that allow businesses to thrive.
More resources on IoT technologies and solutions
Now it's your turn
Get in touch with us if you are interested in learning more about IoT technologies and our solutions and how we can help you get started.
Just leave a reply in the contact form at the bottom of our page, and we will contact you.