Wireless IoT with millions of modules used on production floors combined with other innovative technologies and processes have given birth to smart manufacturing.
​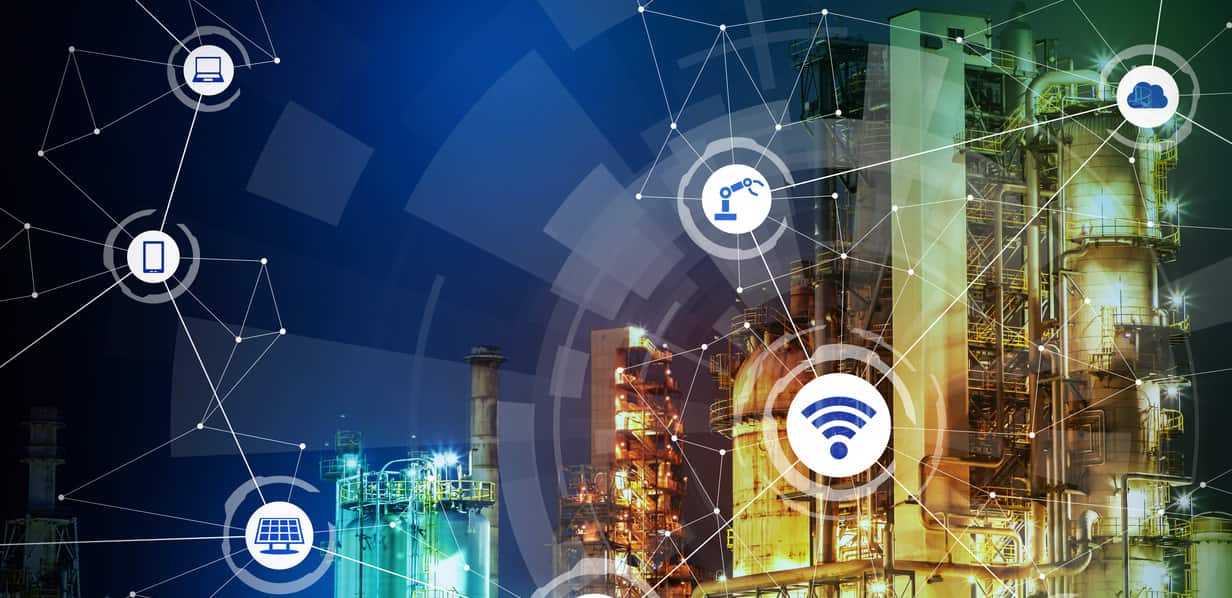 In 2019, IDC estimates the manufacturing segment invested close to $200 billion in IoT spending, twice as much as the consumer IoT segment, the second largest IoT vertical market.
And in Q1 2020, the smart manufacturing industry experienced notable growth, with a compounded annual growth rate of 12.4% forecasted through 2025, according to a communication of ISG dated 4 June 2020.
Why is that?
In fiercely competitive global markets, IoT-enabled smart manufacturing, also known as Industry 4.0 or industrial IoT, provides full visibility of assets, processes, resources, and products.
The result?
Smart manufacturing supports streamlined business operations, optimized productivity, and improved ROI.
For more than two decades, Thales has been a trusted partner, helping customers Connect, Secure, and Monetize their enterprise operations with IoT technology.
In this web dossier, we share some of the best practices we've gathered to help companies in making an educated leap to "Industry 4.0."
The keys to success are:
connecting equipment, integrating diverse industrial data,
securing industrial systems for the entire lifespan of the machine,
protecting and, potentially, licensing your company's intellectual property.
Let's jump right in.
What is smart manufacturing, and how is it related to the IoT?
Smart manufacturing allows factory managers to automatically collect and analyze data to make better-informed decisions and optimize production.
The data from sensors and machines are communicated to the Cloud by IoT connectivity solutions deployed at the factory level.
These data are analyzed and combined with contextual information and then shared with authorized stakeholders.
IoT technology, leveraging both wired and wireless connectivity, enables this flow of data and provides the ability to monitor and manage processes remotely and change production plans quickly, in real-time when needed.
There's more.
It dramatically improves manufacturing outcomes, reducing waste, speeding production, and improving yield and the quality of goods produced.
In other words, replacing the hierarchical structure (that has historically defined the "shop floor") with an open, flatter, fully interconnected model that links R&D processes with supply chain management has many benefits.
They include optimizing global manufacturing processes related to performance, quality, cost, and resource management.
It also enables the manufactured products themselves to play a vital role in the manufacturing process's development and design.
Why?
Because connected smart products can feed information back to the factory so that quality issues can be detected and fixed during the manufacturing stage by adjusting product design or the manufacturing processes.
It's also great for collecting feedback from consumers.
The secret?
Smart products can also provide insights into how consumers use them. It's an excellent opportunity to adapt features to better meet the real needs of the marketplace.
​How is the manufacturing marketplace evolving?
The 4th Industrial Revolution is fundamentally reshaping the manufacturing sector (aka factory 4.0), powered by the IoT.
The changes to this segment are made possible by technological breakthroughs that are occurring at an unprecedented pace.
Just as the steam engine ushered in massive changes in the early 17th century and the advent of the digital age rocked the world in the second half of the 20th century, today's technological innovations are forcing decision-makers to reimagine how products are designed and produced.
In addition to the IoT, additional key enablers include Artificial Intelligence (AI) and machine learning, industrial robotics, big data, and IoT analytics, digital twins, and 5G.
What does 5G mean for smart manufacturing?
5G has been designed to match industrial IoT requirements and is a catalyst for the new industrial transformation.
5G technology is about to amplify the industry 4.0 revolution by allowing even more agility, flexibility, cost control, and quality.
It is the next digital revolution.
5G brings faster speed, lower latency, and higher bandwidth.
The same machine will be able to perform different tasks thanks to an almost instantaneous remote reprogramming.
Robots in production lines can be updated remotely, too, and in a matter of seconds.
Human operators, remotely monitoring operations, will instantaneously get haptic feedback from robots and literally feel what they are doing in real-time.
Real-time communication will bring unprecedented levels of machine learning and AI.
Smart manufacturing initiatives to boost business value creation
This IoT revolution is expected to increase productivity and value profoundly.
This is why the world's largest manufacturers, China, the US, and Europe, have launched dedicated smart factory initiatives to bolster their manufacturing sector.
In essence, these manufacturing leaders are engaged in a global battle for smart manufacturing competitiveness.
The expectation is that all manufacturing types have something to gain from the 4th industrial revolution and the IoT.
Just think about it.
For instance, discrete manufacturing is the production of distinct items that can be individually touched and counted and are typically associated with assembly lines. This includes items such as cars, furniture, and airplanes that are increasingly connected.
Similarly, process manufacturing where goods are produced in bulk using carefully crafted recipes, gains from the IoT revolution in improved plant monitoring, a streamlined supply chain, and quality improvements in track and trace and distribution processes.
Smart processes will play a prominent role in balancing supply and demand, improving product design, optimizing manufacturing efficiency, and significantly reducing waste.
Why is security a considerable concern in smart manufacturing?
Today, the manufacturing sector is the leading victim of infrastructure cybercrime, accounting for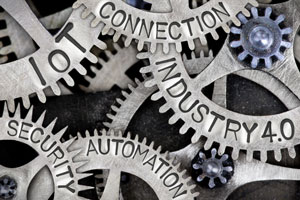 one-third of all attacks. That's because most conventional manufacturing plants were not designed with cybersecurity in mind and because hacking technology has become increasingly sophisticated.
As manufacturers migrate from traditional factories to IoT-connected, IP-based systems, new vulnerabilities emerge.
Inherent in connecting processes and elements of smart manufacturing is an expansion of the cyberattack surface.
Each point of connection becomes an added risk of attacks and cybercrimes that can lead to interference, remote access, theft of intellectual property, and data loss or alteration.
Although many tried-and-true security tools remain effective, they are not always planned into systems from the beginning.
To assure adequate security, manufacturers must adapt by building defensive measures to legacy equipment and systems that are now connected.
And they must consider security architecture from the beginning for new, state-of-the-art manufacturing centers.
The bad news?
Security challenges have also slowed the pace of adopting new IoT technologies, organizational changes, and business models that could improve processes, enhance competitiveness, and bring new services to customers.
Unfortunately, enterprises that do not keep pace will find it more challenging to compete with their more forward-thinking counterparts who tackle the challenge head-on.
The smart factory step by step
Building and scaling up the smart factory are the challenges to unlock exponential value.
To stay competitive, manufacturers need to partner with manufacturing automation vendors and systems integrators that provide solutions to upgrade factories or build new systems from scratch.
Manufacturers should work with experienced integrators, developers, and technology partners who have already exhibited excellence and longevity in connecting and securing smart manufacturing systems.
Experienced partners can provide the direction needed to develop the best system to meet business needs. 
Connect
For instance, manufacturing processes can be connected by hardwiring, WiFi, Bluetooth, RFID, Low-Power Wide-Area Networks including LoRa and LTE M, and even IoT Terminals that work out of the box and connect via flexible industrial interfaces.
Each option has different strengths and ideal use cases.
A partner with experience in connecting smart manufacturing systems can help decide which solution is best for individual use cases. 
Secure
Reliable automation partners add security architecture to the value chain since they know this is a significant concern for manufacturers and a key to competitive advantage in the marketplace.
They must also consider security and how to protect smart manufacturing systems from intrusion or error.
For instance, Thales' Secure Elements are used to secure product manufacturing systems. SEs allow manufacturers to generate and distribute IDs and certificates for devices, and they authenticate devices, users, and applications that interact with devices.
They also help secure communication and protect data at rest.  
Similarly, the Trusted Key Manager (TKM) plays a crucial role in security.
TKM manages credentials for LoRa devices and networks and IoT devices not connected to a cellular network, historically a challenge for manufacturers.
The TKM solution allows manufacturers to decouple these credentials from the production process, making the business scalable and preserving trust between manufacturers and customers.
Monetize
Another area for industry players to consider is successful software monetization.
Licensing and IP (intellectual property) protection is a critical component in manufacturing industrial devices. This includes more and increasingly sophisticated software, trade secrets, and pricing models based on usage and variable feature sets.
What should stakeholders do to secure their smart manufacturing facilities?
Security measures must be embedded in all manufacturing systems from the outset, enabling failsafe production and protection against cyber threats.
Sorry, there is no one-size-fits-all solution here. 
Instead, manufacturers must work with experts to protect and defend the device, the network, the data, and the software solutions and applications driving IoT smart manufacturing systems.
Where do we fit in?
Thales offers services and solutions that provide recognized end-to-end security, whatever the connectivity means - from cellular to LPWAN to fixed networks.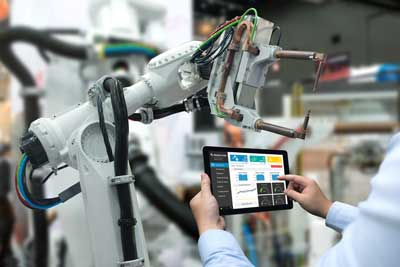 The potential for smart manufacturing is enormous and should not be hampered by security doubts.
Industry leaders must develop trust when creating or retrofitting smart factories.
Solutions must be carefully and precisely selected and recognized for stellar performance.
Because of the long life cycle of manufacturing equipment, it is also critical that chosen solutions have built-in flexibility and advanced over-the-air updating solutions to prevent threats today and well into the future.
Where to learn more
Now it's your turn
If you've something to say on smart manufacturing and IoT, a question to ask, or have found this article useful; please leave a comment in the box below.
We'd also welcome any suggestions on how it could be improved or proposals for future articles.
We look forward to hearing from you.​