​By leveraging Machine Learning (ML) and Artificial Intelligence (AI), businesses can predict the needs of their customers and networks, automate preventative actions, and tailor their products and services based on derived behavioral insights.
IoT business opportunities are infinite!
Smart meters and grids optimize power, connected cars optimize routes and keep drivers safe, and remote monitoring solutions keep cellular networks secure and drones flying high.
IoT technology provides real-time insights and empowers intelligent, data-driven decisions that improve our world. And analytics is an essential component of every successful IoT application. 
Thales IoT analytics turn data into better business.
Thales' Guavus analytics platform helps businesses and mobile network operators extract insights from sensor data and transform it into meaningful business growth and enhanced consumer experiences.
The platform uses machine learning (ML) and artificial intelligence (AI) to help businesses overcome barriers to success by optimizing operations and improving quality, efficiency and productivity.
Guavus Smart Industry and IoT Platform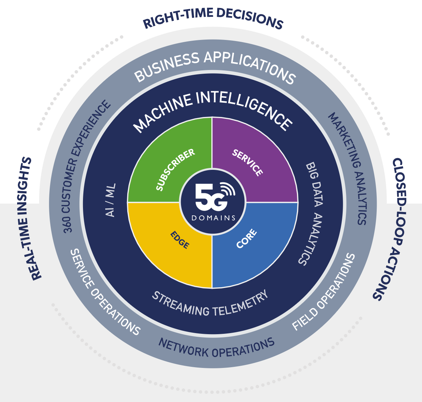 As IoT solutions quickly scale and expand globally, monitoring edge devices and cellular networks becomes a monumental task.
The Thales Guavus solution leverages edge analytics and Artificial Intelligence (AI) to improve IoT network operations and efficiency.
The solution collects and correlates billions of asset performance measurements, key performance indicators (KPIs), plus user, device and contextual data to gain a comprehensive view of networks and device usage. 
Advanced machine learning and AI algorithms strip away redundant data, saving transmission bandwidth, storage and expense.
There's more.
The platform identifies normal or erratic device and network behavior and recommends changes before a disruption occurs.
Guavus IoT analytics platform features and benefits include:
On-demand behavioral and content segmenting.
Automatic anomalies detection and attribution
Real-time asset geo-positioning
Monitoring of asset usage and health
Compromised asset detection
Connectivity service level agreement (SLA) monitoring
Detailed breakdown of consumer usage behaviors and interests
Alarm noise reduction and prioritization
APIs for easy integration in IoT platforms, enterprise data architecture, business support systems (BSS) and operational support systems (OSS)