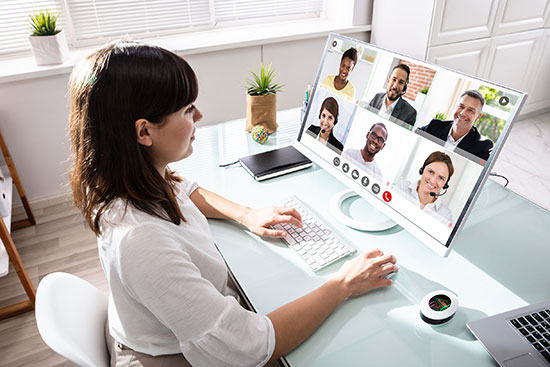 Remote working has been increasing regularly in the last few years and the need for security to access corporate applications from outside the office has grown in parallel.  However, since the outset of the pandemic, this trend has been accelerated dramatically.  Most companies are continuing new home office policies to adapt to the new way of working. 
72% prefer hybrid home office models*
In this context where the home office is 'the new normal', enterprises need to ensure a smooth and secure working environment so that networks are protected the same way for remote workers as those on-premises. 
According to Gartner, 70% of the employees are not aligned with the corporate policy rules and enterprises need to deploy the right solutions to mitigate the potential risks. This can partly be explained by organisations reaction to Covid-19 when they were most concerned by business continuity and in some cases, security was compromised. In this context, the main two cyber threats in the home office environment are identity theft and unencrypted data.
These security issues have been magnified during the last 24 months due to the scale of remote working so enterprises need trusted solutions to protect their digital assets.

How can Thales help operators build this trust?
Telcos have played a crucial role in keeping the world working, connected and informed during the COVID-19 pandemic.  Thales, through its cybersecurity expertise, can help them to increase trust in this new way of working.
The digitalization of services has taken a quantum leap at both the organizational and industry levels. According to McKinsey, the crisis has accelerated the digital transformation process by 3 years on average. 
Through our 3 pillars Connect, Protect and Predict we help enterprises to ensure that the networks are resilient, secure and work efficiently.   See how our solutions  can help in these areas: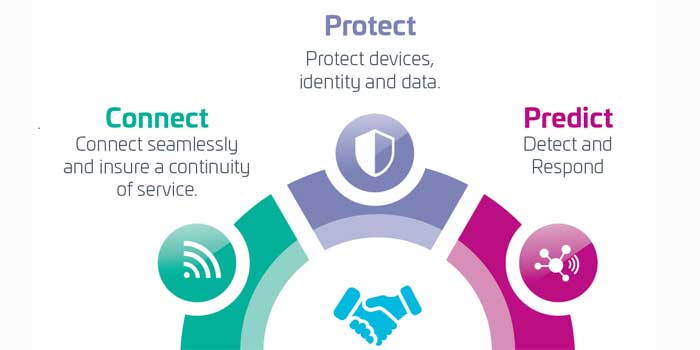 Connect
It's of paramount importance that employees' connection is reliable and easy to set up even in a complex logistics context. 
With eKYC, eSIM and Trusted Digital Telco we provide you with all the building blocks to offer 'touchless' logistics and a fully digital experience for employees right from onboarding. 
 

Why you should trust Thales:
- Full integrated experience
- eSIM expertise
- Awarded partner
- Secure-by-design
* Market research firm GlobalWebIndex for Slack to survey more than 9,000 knowledge workers
Protect
Working from home has led to the use of many consumer platforms for messaging and collaborating. Unfortunately, these platforms don't provide the security that corporate communication requires and the opportunities for cyberattacks increase.
Read our reports on cybersecurity
How can Thales secure professional communications? 
Thales Cybels Secure Mobility solutions provide communication with the highest security and privacy combined with an enhanced customer experience and the administration to manage their users' fleet and eliminate shadow IT. 
It includes Cryptobox and Citadel Team.

Our data protection solutions provide a unified approach and help with the classification of data, encryption of sensitive information and access to the data with centralized access management.  See more on CipherTrust Data Security Platform.
Predict
Having a much higher percentage of remote workers has resulted in a large increase in support requests. This leads to frustration for users if they don't receive the support quality they expect as well as significant growth in the support budget for companies. 
There is a shift in the approach where IT services need to be proactive rather than reactive and analytics are critical to anticipate service disruptions.
Guavus –a Thales company- and its Ops-IQ provides a proactive analysis of all the different data sources. It addresses Communications Service Providers (CSPs) network and service issues through real-time ML-based operational analytics, topology-independent root issue analysis, fault correlation, fix recommendation, incident prediction and automatic trouble ticket generation.
Designed for Network, Service, Field & Customer Care teams, Ops-IQ prevents customer-impacting service degradations and outages, lowering OPEX and optimizing overall customer experience (CX).
Home office: New challenges for enterprises, new business opportunities for Communication Service Providers
Download our eBook