Thales Support & Services, providing operators with Avionic Equipment
When every minute matters, airlines and operators rely on Thales to optimize the efficiency of their fleet and operations. Our portfolio covers a wide range of services to equip and maintain aircraft, to support pilot mission and to optimize operations, through state-of-the-art digital services.
Millions of Thales avionics equipment fly around the world everyday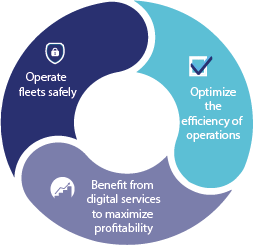 As an Original Equipment Manufacturer, Thales has extensive and recognized expertise in providing, maintaining and upgrading avionics systems. From initial equipment provisioning to maintenance, overhaul, equipment trading and Aircraft on the Ground (AOG), Thales covers the complete product lifecycle and supports its customers to protect their valuable assets. The support and services offered by Thales can be tailored to each customer's requirements.