​​​According to a recent survey conducted by Thales and GfK*
Since Apple introduced Touch ID in 2013 the world has embraced fingerprints as a form of identification and authentication. The convenience and security afforded by the technology has led to its rapid adoption and now almost every smartphone has a sensor. Bank cards will soon have one too.
In January 2018 we have launched our first EMV card with fingerprint biometric, and since then banks have shown increasing enthusiasm and trials are ongoing. UK is expected to follow soon.
With this in mind, we have recently commissioned a research to explore whether UK cardholders are ready to adopt the new biometric card.
Let's dig into more details.
821 UK cardholders have evaluated the interest and the benefits of the new biometric cards.
​Here's what they have to say​.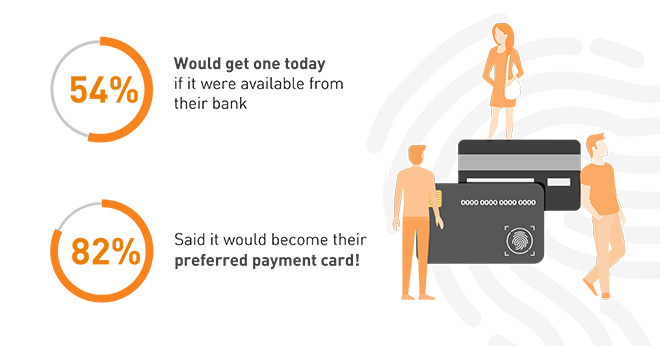 These innovative cards with integrated fingerprint readers let users authorise payments with a simple touch of their finger on the sensor, as an alternative to the PIN code.
Biometric cards are convenient and easy to use, offering benefits to consumers, retailers and banks:
For Consumers
No need to remember different PIN codes, a more secure experience and more opportunities to pay contactless thanks to higher spending limits.
For Retailer​​s
As the card works with existing EMV card terminals, they can maximise the shopping experience without investing in new infrastructure
For Ba​nks
More usage (top of the wallet card), less fraud and more traction to gain and retain new or more loyal customers.
A large majority of UK consumers are enthusiastic about the new cards. The benefits are well perceived:

For some consumers, the biometric technology is still source of concern (41% are worried that it won't work all the time and 37% are afraid that their fingerprint data can be compromised). However, these concerns should fly away as consumers learn more about the technology.
Dispelling the my​ths
In addition to being convenient and easy to use, biometric EMV cards are safe and secure. From the outset they have security built into the design.
For those still not convinced we have covered some of the most common misconceptions about the use of biometric cards. ​Read through to find out more on how Thales answers to the 9 myths frequently associated to biometric usage.
​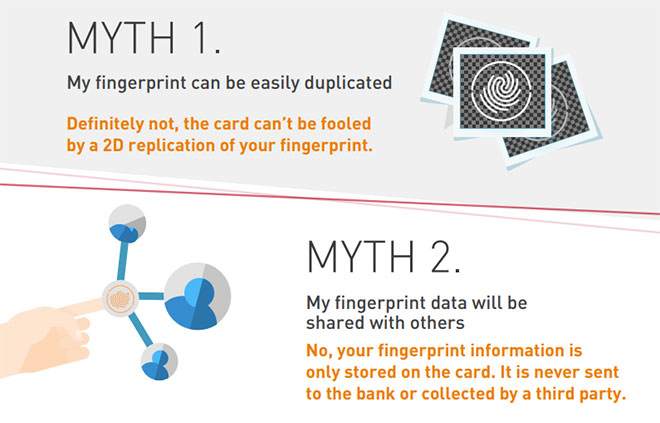 *About the research: Research conducted by GfK (821 interviews done on line representative of UK cardholders from 05/25 to 06/05/2018).​

9 myths frequently associated to biometric usages
Debunking the most common misconceptions about the use of biometric cards.
Download the infographic