Thales Trusted Digital ID Essential is a streamlined ID verification service that addresses the crucial needs of Telecom Operators when it comes to enrolling new customers online: ID document verification and facial matching.
This cost-effective and ready-to-deploy SaaS solution leverages the proven performance of the Thales Trusted Digital ID platform. Offering state-of-the-art ID verification, it also complies with local regulations.
This turn-key SaaS solution fully complies with local regulations and offers state-of-the-art ID verification, making it an ideal choice for small or medium-sized transaction volumes.
Not just limited to Telecom Operators, Thales Trusted Digital ID Essential is also well suited for other industry players, such as integrators, who require central identity verification needs to be met.
Thales Trusted Digital ID Essential offers a combination of efficiency and helpfulness; all wrapped up in a convenient pay-as-you-go model.
With a focus on simplifying the onboarding journey for you and your customers, this service is seamless and incredibly helpful.
 
Packaged ID verification features
​​​​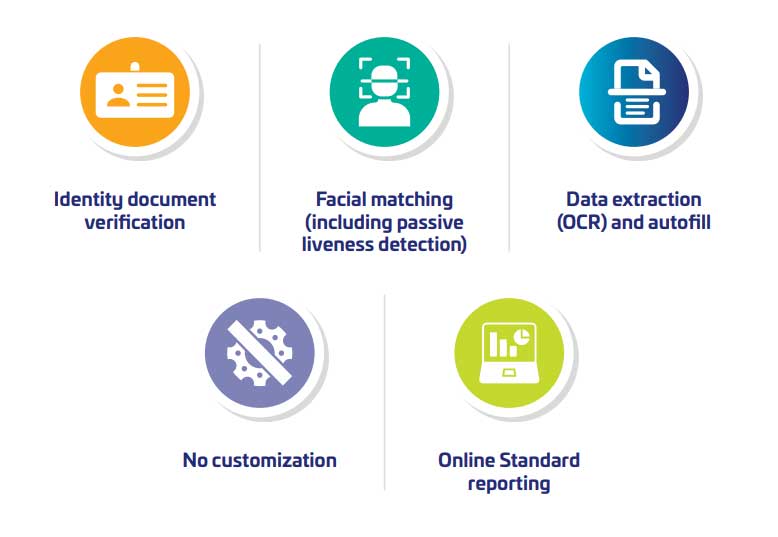 #1. ID document verification
Thousands of ID documents templates are covered
Tens of checks are done on any official ID document to guarantee its authenticity
#2. Facial matching and liveness detection
Automated user guidance
Real-time image quality control
Thales Facial Matching Service compares the photo on an identity document with a live selfie capture
Ensure the person is real and present during the process. The liveness detection algorithm can confirm if the picture is from a "live" person.
#3. Data extraction and autofill
Automatic data extraction using Optical character recognition (OCR)
To Auto-populate the data in the database assigned in customer CRM (Auto form filling)
#4. No customization is required with its client user interfaces
iOS/Android compatible Service Developer KIT (SDK) for integration into mobile applications
TDI Client API for integration into custom user interfaces
Regarding ID verification procedures, having a packaged offer can make a big difference.
With a ready-to-go process in place, you can be sure that deployments will be cost-efficient, quick, and streamlined.
​​​​

TDI Essential benefits
Create the ability to onboard end users in real time
Thales TDI Essential improves customer experience. Real-time onboarding eliminates the need for customers to wait for a long time to complete the onboarding process, resulting in a seamless and efficient experience.
In turn, it can increase conversion rates by reducing the time and effort required to complete the onboarding process, as more customers are likely to complete the process and become active users.
Reduce fraud loss by validating end- user's identity automatically
Thales's TDI Essential can reduce the risk of fraudulent activities by verifying the end-user's identity in real-time and ensuring that only authorized individuals can access sensitive information or transact.
It contributes to compliance with regulatory requirements, such as KYC (Know Your Customer) regulations, by verifying the end user's identity and ensuring that all necessary information is collected. 
Standard solution quick and easy to implement
Thales TDI Essential allows a faster time-to-market. It can be implemented quickly, reducing the time required to bring a new onboarding service to market and allowing businesses to respond more rapidly to changing market conditions.
Thales TDI Essential reduces the resources required to bring a new solution to market, as there is no need for extensive custom development work.
Streamline operations by empowering digital workflows
Overall, the ability to onboard end users in real-time can improve customer satisfaction, increase business efficiency, and better compliance with regulatory requirements.
Cost-efficient business model adapted for small to medium volumes
Thales TDI essential is an ID verification service designed to help businesses support a cost-efficient model particularly adapted for small to medium size transaction volumes. 
With our solution, businesses can now take advantage of the latest ID verification technology and adapt quickly to changing market conditions and low volumes. 
Whether you are a small startup or a larger enterprise, our entry-level solution can help your online onboarding process succeed right from the beginning.
Why Thales ID Verification?
Experience: Thales has extensive experience providing secure identification solutions for digital client onboarding, with a proven track record of over one thousand biometrics deployments in more than 80 countries and more than 60 digital ID verification implementations worldwide.
Security: Thales provides highly secure identification solutions that meet industry standards and regulations.
Innovation: Thales invests in cutting-edge technology to stay ahead of the curve and provide innovative solutions to its customers.
Global presence: Thales operates globally, which allows it to provide local support and solutions tailored to the specific needs of different regions and countries.
Comprehensive solutions: Thales offers a range of identity verification solutions, including biometrics, smart ID documents, and cryptography, to meet a variety of customer needs.
 
More resources on online ID verification and client onboarding