​​​What is identity fraud in telecom?
Subscription fraud in telecommunication is a widespread telecom fraud.
Such telecom frauds involve identity theft or using fake identities at the point of sale, enabling either the fraudulent use of telecom services or the use of such services for subsequent fraudulent activities.
The bad news?
As the services offered by MNOs flourish, so does the potential for subscription fraud.
Once a fake subscription is established, the fraudster can access a wide range of value-added services, including call-related, TV, and internet, and new mobile financial services such as mobile banking and payment.
The result?
CFOs and heads of fraud departments for the major MNOs face a significant challenge to secure the many channels fraudsters can target.
According to risk management and analytics expert
Neural Technologies
, there are over 200 types of telecommunication fraud related to identity theft or ID fraud.
How does identity fraud in telecom happen?
The ID check process
During the consumer acquisition stage in the MNO's store, consumers must usually provide ID documents along with utility bills and bank account details.
Identity verification service is critical to the subscription process and is carried out manually by a sales assistant.
However, manual KYC (Know Your Customer or Know Your Client) checks are ineffective and a waste of resources.
The failure to detect forged or stolen IDs at this point in the onboarding process means fraudsters can walk out of stores with high-end, heavily subsidized smartphones, and it may take some time before the fraud is discovered.
SIM swap fraud
So-called SIM swap fraud is another major problem whereby scammers use fake IDs to gain access to a legitimate subscriber's SIM card.
They then use this SIM to authenticate transactions with the real subscriber's bank, make online purchases and money transfers and run considerable costs in the legitimate subscriber's name.
Manual and non-automated identity verification service is ineffective and exposes to a significant risk of telecommunication fraud. 
Sim swap fraud is when a fraudster impersonates someone and convinces the person's phone company to change their sim card. The fraudster then takes over the victim's phone number, which gives them access to the victim's data, money, and even social media accounts—all things that can be used to scam others.
In May 2019, a group of hackers stole $1 million from people who used their phone numbers to log in to Facebook and Instagram accounts. The hackers then changed the victims' personal information and passwords on those sites so they could access them anytime. The hackers could do this because they had access to people's phone numbers via sim swaps.
The FBI estimates 600,000 sim swap fraud attempts each year, but just a few are reported.
In 2021, the FBI Internet Crime Complaint Center (IC3) received 1,611 SIM-swapping complaints with more than $68 million in adjusted losses.
Why is a strong identity verification service critical for MNOs?​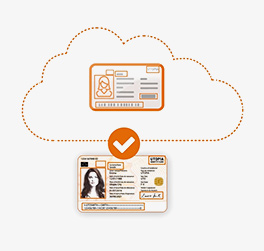 Effective identity verification service is key to tackling telecom fraud.
The challenge to MNOs is threefold.
They need to ensure they are compliant with local and international regulations;
Their CFOs and Revenue Assurance departments need to reduce the heavy financial burden of fraud;
they must protect their brand image to maintain their reputation as operators one can trust.
#1. Compliance with regulations
Public authorities and governments are requesting ever-stronger identity verification services.
For instance, most governments now impose a mandatory registration of prepaid mobile SIM cards with valid proof of identity.
As of  2022, the Comparitech website found that the governments of 160 countries mandate SIM registration policies with strict identity verification services to tackle national security issues and criminal behaviour.
Compliance is critical for MNOs, especially as 73% of all SIM cards globally are prepaid, according to the GSMA.
Moreover, mobile financial services are increasingly important in MNO's portfolio services. As such, they must meet so-called Know Your Customer (KYC) ID verification procedures.
Non-compliance with such procedures can lead to fines and the disablement of SIM cards and services.
​

​​​#2. The financial burden of telecom fraud
Telecommunication fraud resulting from insufficient ID verification procedures can take months to be discovered.
As a result, MNOs are subject to considerable financial costs, direct, with the loss of a heavily subsidized handset, and indirect, through all the services an MNO offers through a single subscription, such as foreign calls, internet, TV, and mobile financial services.
Neural Technologies estimates the annual cost of identity fraud to the telecoms industry at €40 billion.
And according to the Global CFCA Telecom Fraud, subscription or identity fraud represents 35% to 40% of all scams undergone by the telecoms industry.
Neural Technologies claims this can represent up to 10% of an MNO's bottom line.
#3. Costs of damaged brand image
Besides, the indirect costs associated with identity theft can mount up quickly.
MNOs need to act fast to address the damage caused to their reputation due to poor user experiences.
This includes compensation and incentive payments, updating security parameters in back-end systems, re-issuance of SIM cards, not to mention any financial liability issues with banks.
Furthermore, lengthy and costly advertising campaigns to restore trust with consumers, investors, and partners play a big part in these costs. 
Checklist when selecting an identity verification service
For operators and MVNOs, choosing an ID verification solution is a critical decision in 2023.
Here are seven essential factors to consider.
Make sure that your provider:
1. Has extended expertise. Start-ups may picture it as "specialization", but find a provider that offers more than facial biometrics - much more.
Fraudsters come from every angle.
Telecom businesses require versatile solutions to protect their physical, mobile and virtual ecosystems. Combined expertise in documents, identification, online authentication, advanced biometrics and security are essential in ID verification.
Managing a rich solution from a single provider is easier than a patchwork of solutions. You won't get integration headaches down the road.
2. Can innovate. While you probably do not look forward to being the guinea pig that experiences the latest AI-based technology, you also do not wish to lag behind. Offering the latest services and adopting new technology early on will ultimately give you a competitive advantage.  
An ID verification solution provider who stays on top of innovations and offers the most advanced options will ensure your business remains at the edge, functional, and relevant.
3. Is an advisor and not just a supplier. As we said, compliance regulations are complex and technological change is accelerating. Look for a provider who can act as a consultant, design a customized solution to meet your unique requirements and explain how it will impact your business operations.
4. Offers many different options you can choose from. There's no one-size-fits-all solution in identity verification. Only with various options can your provider craft the customized technology solutions that best fit your needs.
Simply put, your provider should have the capability to help you scale. Therefore, choose a provider who can continue to support you when regulations change and your goals evolve.
5. Helps you budget for the ID verification services you need. A good provider will offer services you can budget for and cloud-based solutions that you can write off as operating charges rather than capital ones. Software-as-a-service solutions will also provide the flexibility of a "pay as you go" scheme.
6. Is willing to share experience and references. A trustworthy provider will readily share customers' experiences.
Feedback from other customers will provide insight into the company's industry experience and service skills.
7. Ensures you'll have a highly secure environment that sustains your identification solution and data's availability, integrity, and confidentiality. You're protected from threats and breaches in compliance with industry and government regulations.
But the future of your business may hang on your ability to take reasonable steps to avoid ID fraud and prove you've done your due diligence.
Thales in the field of identity verification service
Thales is the leading government supplier of secure ID documents and has over 15 Mobile Network Operator references.
We work closely with identity fraud experts worldwide. Through the many ID projects we have rolled out, including securing national borders for many countries, we have built a raft of experience detecting fake documents.
Identity fraud techniques constantly evolve, and staying ahead of the game is vital.
Thales closely monitors any shifts in technique and immediately integrates them into our portfolio of identity & document verification services.
Our solutions perform specific and automated cutting-edge graphical ID documents and biometric checks, such as facial or voice matching, including liveness detection, in a matter of seconds, freeing up our customers to focus on the customer experience.
We combine our in-depth knowledge of public and private sectors to help MNOs slash subscription fraud with identity verification services that meet government-grade security standards, comply with national regulations, and easily integrate into their existing environment.
Our worldwide capabilities enable the deployment of platforms and services, such as managed services or on-premises.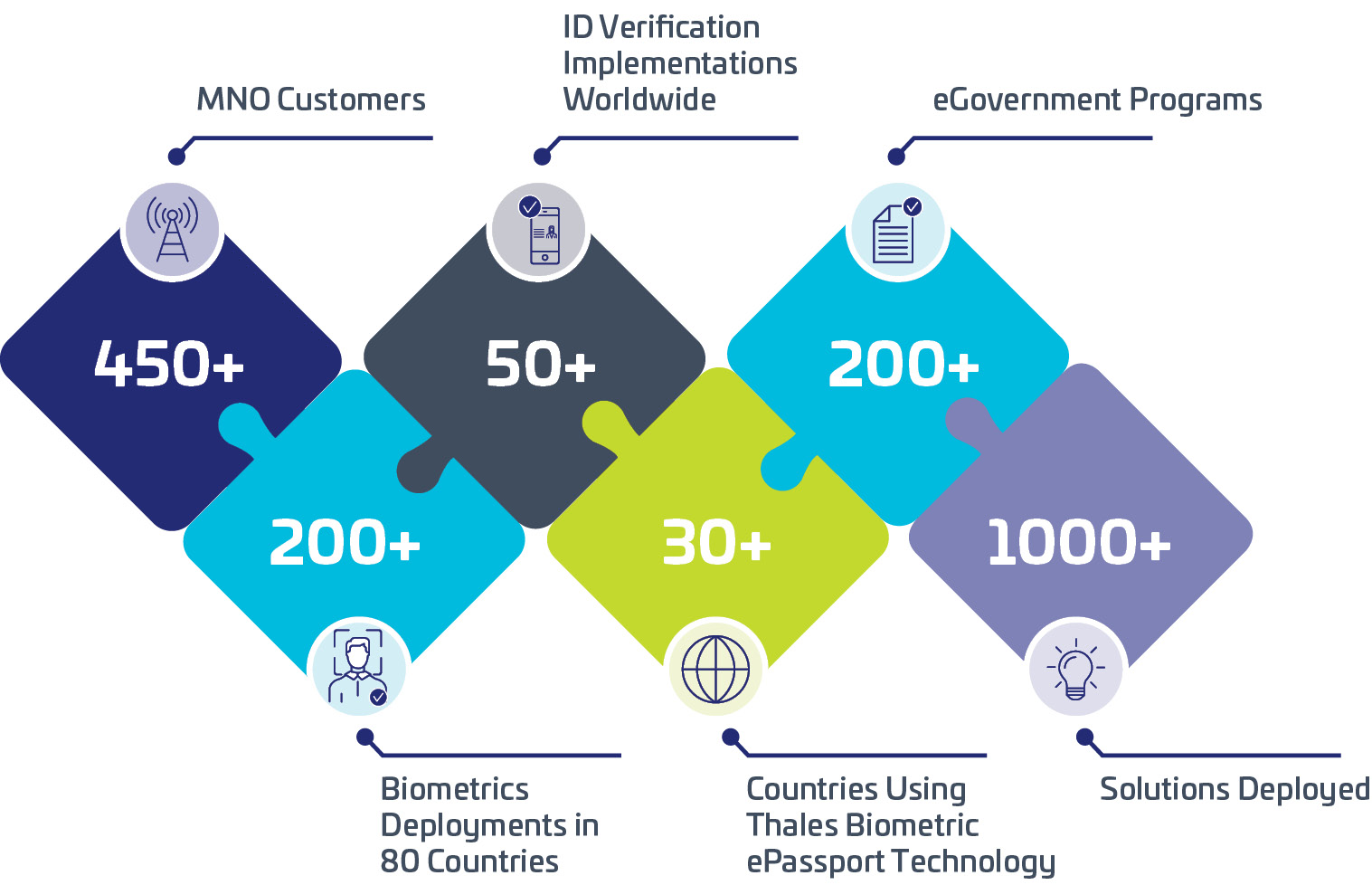 More on ID verification use cases, solutions and services for  telecom operators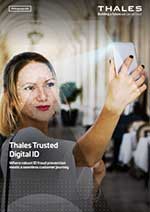 Thales Trusted Digital ID
Where robust ID fraud prevention meets a seamless customer journey
Read more