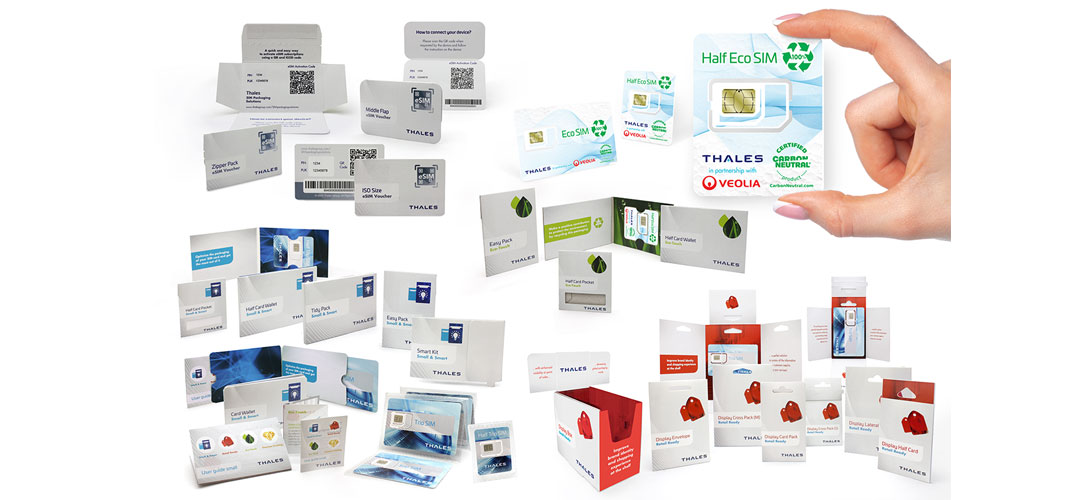 Increase your SIM card visibility, embrace the green trend – and ramp up eSIM activation
Three decades after their first commercial launch, approximately 4.5 billion SIM cards sell each year (ABI Research – Sept. 2020).
In addition, new generations of mobile devices (including wearables) require further miniaturization and now rely on the latest and smallest SIM form factors, i.e. 3FF and 4FF.
Thus SIM card body and packaging solutions continue to be a must for logistics, user experience, and brand reasons.
Then the growing ecological awareness in many countries coupled with increasing stringent Corporate Social Sustainability regulations create opportunities for mobile operators to launch eco-friendly products, such as Thales' Eco SIM, the world's first SIM card made of 100% post-consumer recycled plastic.
In parallel, eSIM has definitely enjoyed a very successful beginning. 1.1 billion eSIM-compliant consumer devices, such as smartphones, wearables, and connected PCs, have been already shipped end of 2021.
And more than 3 billion units in total are expected to be shipped between 2021 and 2025 (source: ABI Research – Feb. 2021).
The arrival of the eSIM has been a game-changer for the mobile industry and has accelerated operators' digital transformation while requiring a new process for end-users eSIM subscription ramp up : eSIM voucher.
At Thales, we understand how fast this environment is evolving and all the great challenges that it imposes.
With more than 300 million packs delivered each year and more than 30 years of experience in the telecommunications sector as the world's number 1 provider of SIM packaging, we've designed the largest & most innovative portfolio of SIM card body, SIM packaging solutions, and eSIM vouchers as well.
Let's dive into details.
 
SIM card body & form factors
Thales offers a unique portfolio of card body shapes and form factors (from a regular Mini-SIM (2FF) up to a Nano-SIM (4FF), in different possible combinations) to ensure visual appeal and greater differentiation.
Operators can use the card body support to hold all their essential information, such as logistic bar codes, ICCIDs, phone numbers, or even the PIN/PUK values that can be optionally protected with a scratch label.
Eco SIM, the world's first SIM made of 100% post-consumer recycled plastic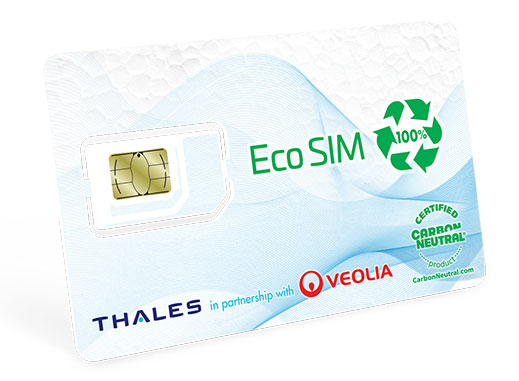 Thales has launched the world's first SIM, made of 100% post-consumer recycled plastic.
 
This new Thales´ eco-designed product is part of an innovative offer (which includes the eco-friendly Eco Touch SIM packaging) for operators looking for real sustainable strategies and willing to reduce the impact of their SIM card activity while improving brand awareness in front of end customers.
Turning old fridges into new SIM cards

After three years of joint development, Thales and Veolia, the global leader in optimized resource management, have mastered the process of turning polystyrene waste from old fridges into pellets that are then used to manufacture the SIM card body.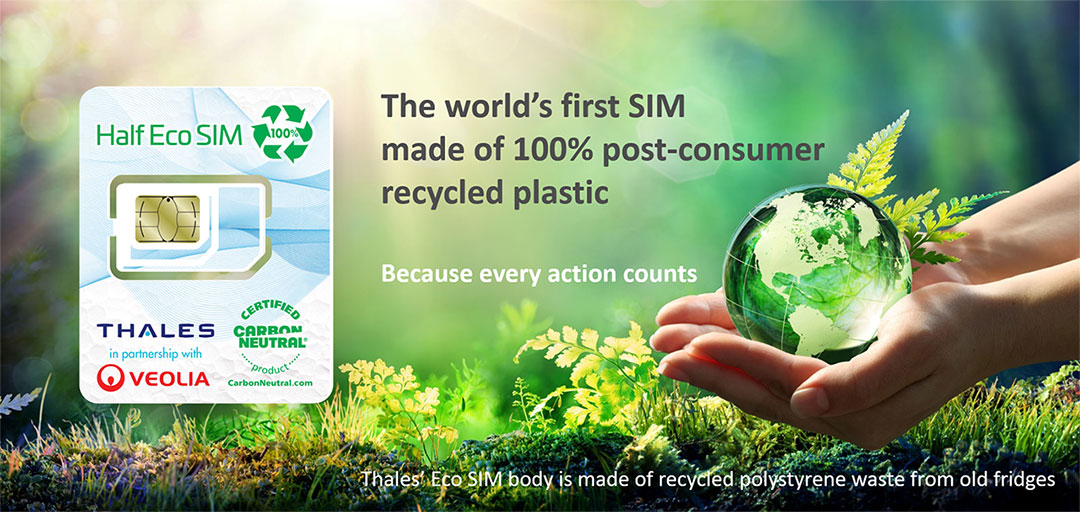 Let's have a look to how an Eco SIM is manufactured.
Eco SIM, the world's first certified carbon neutral SIM card

On top of the recycled card body itself, Thales commits to offsetting the carbon footprint of the other non-recyclable components of the SIM (such as the chip) in order to achieve a controlled environmental impact.
Thales' eco-designed SIM card is a CarbonNeutral® certified product in accordance with The CarbonNeutral Protocol – the global standard for carbon-neutral programs.
The carbon footprint of each SIM has been calculated and offset through an offsetting program that supports impactful emission reduction projects (such as energy savings and renewable energy development in developing countries).
Eco SIM, an innovation recognised by the industry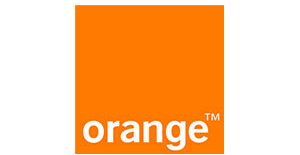 In 2020, Thales received a "Best Practice on Circular Economy" award from telecom operator sustainability association JAC1, in recognition of consistent approach regarding environmental impact reduction in products, including recycled card body, half card, energy efficiency of sites, renewable electricity sourcing, carbon offset offer, and life cycle assessment tool for eco-design of products.
1 JAC [Joint Audit Co-operation] is an association of telecom operators aiming to verify, assess and develop the Corporate Social Responsibility (CSR) implementation across the manufacturing centres of important multinational suppliers of the Information Communication Technology (ICT) industry.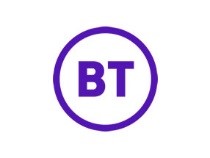 It has also received the "2020 Game Changing Challenge" award from one of the world's leading telecommunications companies, BT, which has led on climate action for over 28 years and aims to be a net zero emissions business by 2045, working with its customers, colleagues and suppliers to reduce emissions. 
According to BT, "the eco-SIM is simple elegant and delivers both sustainability benefits as well as being easy to implement and communicate to the consumer". As stated in BT's Digital Impact and Sustainability Report 2021 (page 32), Eco SIM "delivers a 30% reduction in the SIM card carbon footprint. This meets a number of BT's key sustainability objectives around the circular economy, reduction in single-use plastics and carbon footprint reduction."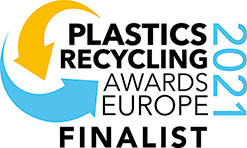 Thales Eco SIM has been selected as a finalist for the Plastics Industry Awards Europe 2021. They recognise and celebrate achievement throughout the scope of the European plastics recycling industry.
Winners will be announced at the Plastics Recycling Show Europe on 4th-5th November 2021.
Benefits of the Eco SIM for the mobile operators
With this sustainable solution, mobile operators can then better address their subscribers' ecological concerns by embracing the green trend with eco-friendly SIM cards. They can also more easily reach their overall Corporate Sustainability Responsibility objectives.
Eco SIM addresses the following United Nations' Sustainable Development Goals:
Let's now switch to other SIM card body and SIM packaging innovations.
Trio SIM, the 3-in-1 plug format SIM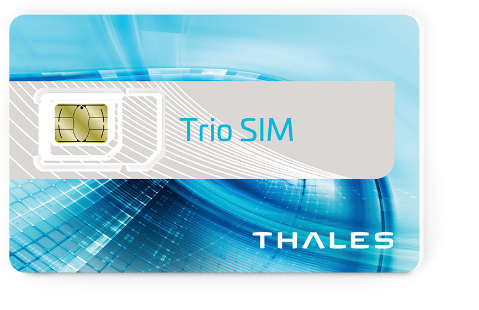 Mobile devices and handsets are evolving faster than ever. Faster, thinner, more powerful, shinier, more colourful, even curved… the list is endless, and opportunities abound.
But what lies at the heart of this revolution: the SIM card and the evolution of its form factor.
Device manufacturers and mobile operators have widely adopted standardized Micro SIMs (the third form factor, known as 3FF) and the latest iteration, Nano-SIM (or 4FF) 
Trio SIM is our answer for helping operators and users handle the form factor conundrum.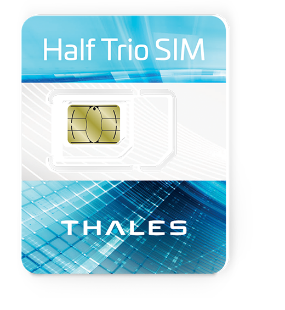 With Trio SIM, mobile operators don't need to choose one form factor over another, and they don't have to deal with costly and complex headaches. Instead, they can offer all three SIM options to their customer base. It provides three plugs to address all 2FF, 3FF, and 4FF devices and two thicknesses to ensure full ETSI (European Telecommunications Standards Institute) compliance.
In addition, Thales Trio SIM is available on half card size to improve the overall supply chain.
Nano-SIM, the smallest SIM format
Micro-SIM, the 2-in-1 plug format SIM
Three options are available:
Micro SIM: a 3FF-only SIM card.
Micro SIM Duo: combining both 2FF and 3FF plugs on the same card body in a winning combination to improve flexibility and efficiency at warehouse and point of sale.
Micro SIM+: a Micro SIM Duo with repluggable format.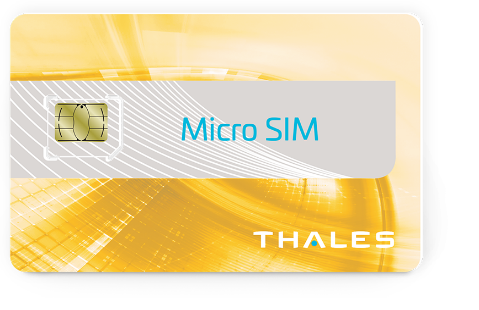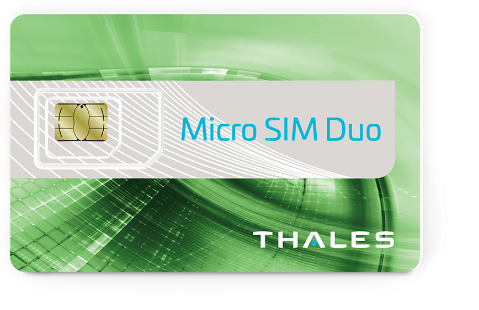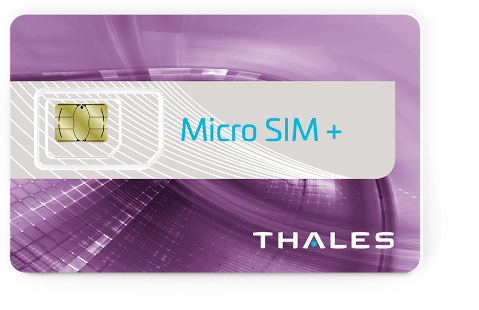 SIM packaging and eSIM vouchers
Thales SIM packaging solutions provide a one-stop-shop for mobile operators, ensuring great quality and security level recognized by our customers, from SIM production, through packaging design and till final product delivery, simplifying the overall supply process.
SIM packaging helps prevent tampering with the SIM card and content, and plays an important role in terms of brand promotion and differentiation for mobile operators.
Our offer includes a large range of SIM-related packaging products with an extensive choice of designs, materials, dimensions & finishing to match all your objectives:
Make positive contribution to protect the environment, thanks to the Eco Touch packaging range. Bundled with Eco SIM, it's the perfect combination for a better respect of the environment.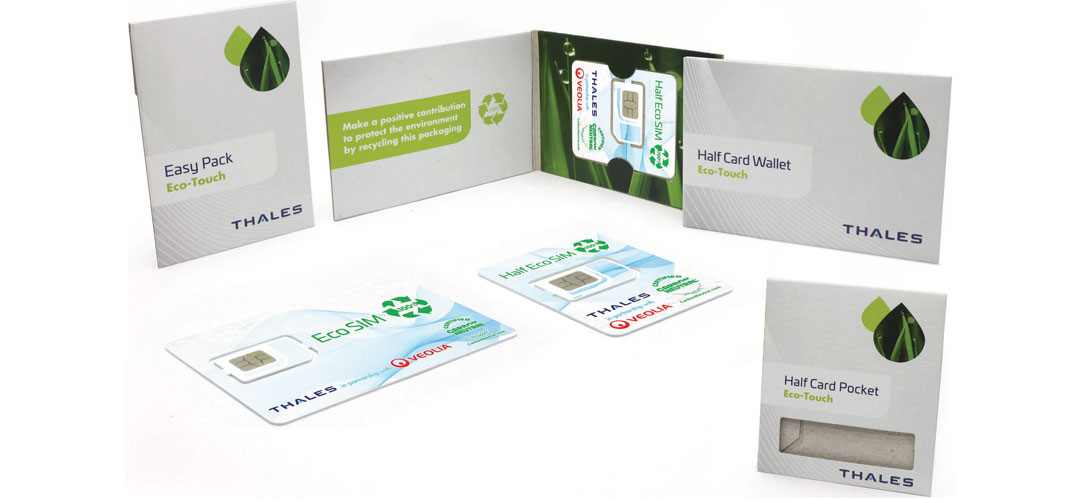 Improve brand identity and shopping experience at the shelf, with Retail Ready,
Reward your most valuable customers and attract new ones, with Premium Finishing.
Optimize your SIM card packaging for better cost efficiency, with Small & Smart,
Activate eSIM subscriptions in a quick and easy way, by using a QR and ICCID code with our eSIM vouchers.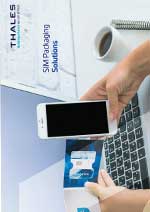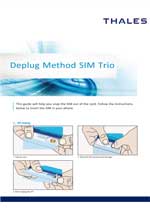 SIM card body unplug manual
A guide to learn how to correctly unplug your different 2FF/3FF/4FF SIM card form factors
Download our manual

Thales: a member of the Trusted Connectivity Alliance (TCA)
Together against 'greenwashing' practices.
We're working with the Trusted Connectivity Alliance to support the connectivity ecosystem in building a more sustainable future.
Find out more in TCA's latest paper.
> Learn more on: http://www.trustedconnectivityalliance.org or on Thales ECO SIM.

Thales: a member of the United Nations Global Compact (UNCG)
We're working with the United Nations Global Compact (UNCG) to create the world  we want. 
That's our vision…
> Learn more on: https://www.unglobalcompact.org/what-is-gc/participants/9172