​​​​​​

Gemalto Clear to Cyan Sealer
Gemalto Clear to Cyan (C2C) technology embeds a transparent color-shifting optically variable device, such as a patch or strip, into the credential for easy authentication and enhanced document security. 
These optically variable devices using C2C technology are easy to see but hard to replicate.
Transparent when viewed straight on, the optically variable device (OVD)​ appears as a cyan colour when viewed at an angle. The custom embossing features a rainbow effect built with hundreds of layers using a proprietary process. 
The film reflects and refracts light, creating a distinct and easily detectable visible effect. ​
​Multiple features for authentication
Strong overt colour shift
Patented and proprietary colour shifting film technology
Indelible embossing with dynamic colour effect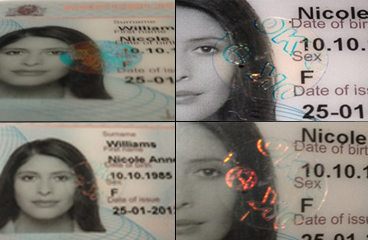 Do you think OVD can help you design a more secure ID?
At Thales, we believe in taking a comprehensive approach to security. That's why we strive to provide secure, durable, and innovative solutions. 
We also offer extensive experience and support, enabling our customers to meet their expectations for distinctive documents that are as secure as they are attractive. 
When it comes to fraud techniques and security features, you may have experienced the challenge of getting a clear and updated picture. 
So if you have a question on Clear to Cyan Sealer, levels of identity security​ , or more broadly on document security design, please leave a comment in the box below.
We look forward to hearing from you.