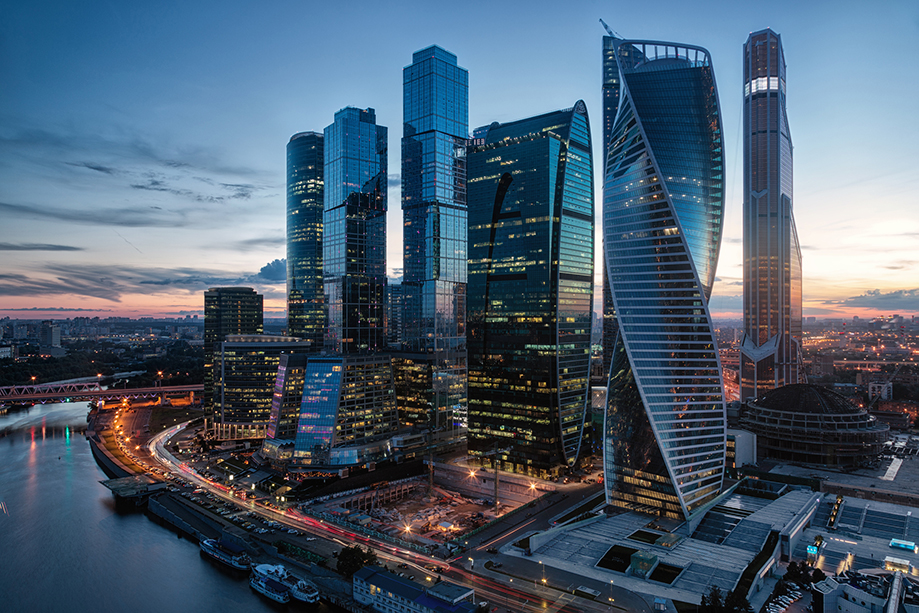 The Moscow International Business Center in the evening.
Metal cards for those who are used to getting more
It's not hard to see how dramatically the retail banking world has changed over the last few years. However, nowhere is this transformation more striking than in the premium segment.
With the arrival of metal credit cards, in particular, issuers are giving their customers one more opportunity to satisfy their desire for style and panache. 
These hefty cards usually come with high-value services. They've also proven to be an innovative tool in differentiation and retention strategies. 
In Russia, the banking group Tinkoff is seizing this opportunity. This most recent innovative move is something of a status symbol for its many premium customers. 
In this dossier, you'll discover 2019 Tinkoff's large-scale deployment of upmarket metal credit cards combined with exclusive services and their very first impacts. 
You're probably wondering what's so special about Tinkoff's Black card and its launch.  
Let's discover Tinkoff bank, its founder, and the challenges of this massive roll-out. 
Ready?

What is Tinkoff Bank?
As a modern digital bank operating in a country of close to 145 million people where there is vast potential for innovative financial services firms, Tinkoff has positioned itself as a pioneer in delivering disruptive and high-end quality banking products that fit with its motto: 'For those who are used to getting more'. 
Tinkoff has already attracted 10 million users to its online banking platform since its launch. Its mid-term goal is to double this figure and maintain its position as the world's largest independent digital bank in the world by customers. 
The branchless Tinkoff financial ecosystem offers a full range of financial and lifestyle services for individuals and businesses via its mobile app and web interface. 
A very distinctive path to innovations
In Russia, Tinkoff Bank is leading the pack when it comes to innovation. 
This is due to its very nature: 70% of employees at its headquarters in Moscow are IT specialists. 
Its mobile-first approach, now including advanced biometric authentication with voice and face recognition, started as early as 2011.
Most business processes at Tinkoff are now powered by machine learning and Artificial Intelligence, from customer on-boarding to day-to-day services. 
There's more. 
100% of incoming messages are processed by robots, while 30% of calls are handled without human intervention. 
What its founder Oleg Tinkov launched this summer is a breakthrough and a great illustration of Tinkoff's creativity. 
Speak to Oleg
In June 2019, Tinkoff Bank launched Oleg, the first voice assistant built by a financial institution as a proprietary solution.  
Oleg is integrated into the Tinkoff mobile app. 
The AI-based voice assistant can recognize and interpret different user commands, ask follow-up questions, solve problems and speak on various topics. 
Oleg's mission is to help users navigate within the Tinkoff platform and make customers' lives simpler. 
Tinkoff Bank and Oleg Tinkov 
Tinkoff Bank, founded by Russian billionaire entrepreneur Oleg Tinkov started its activities in 2006 as Tinkoff Credit Systems. 
The Bank started its first credit card product in 2007 and went public in 2013 on the London Stock Exchange. 
Tinkoff Bank has become the second-largest player in Russia's credit card market in less than ten years, with 13% of the market in 2019 and reached 13,3% in Q1 2020. 
The firm now employs more than 24,000 people. 
Tinkoff Bank outperformed the Russian credit card market again in 2018. Tinkoff Bank expanded its portfolio by 19%, from RUB 130.2 billion to RUB 154.4 billion. 
The Bank has a spectacular growth trajectory and an ambitious goal to reinvent how retail customers engage with banks. 
Its medium-term strategy is to become a financial marketplace where customers can buy the Bank's and partners' products and services. 
It's an ambitious target, and Tinkoff knows it needs to continue innovating and standing out from the crowd to achieve it. 
And the Bank can count on its founder.
Another innovation: Tinkoff Jr is targeting the younger generation and was launched in 2018. 
Its founder and controlling shareholder, Oleg Tinkov, 52, has an impressive and unconventional résumé too. 
Tinkov is a self-made man and one of the best-known Russian entrepreneurs. He is the son of a coal miner who grew up in central Russia. 
Before banking, he launched highly successful businesses in different industries (frozen food producer Daria, Tinkoff Beer, and Tinkoff Restaurants). 
The Russian billionaire is also known for his sponsorship of road cycling events from 1999 to March 2015. 
According to The Inner Circle website, he's is not an oligarch and very much transparent in Russian business, the equivalent of Richard Branson although in a modern Russian setting. 
He's proven to be provocative and disruptive. 
New Tinkoff Black Metal – for those who are used to getting more. 
Tinkoff recognizes that its clients want to turn heads when they make a payment, so it wanted to reflect this in its card offerings for high-end customers. 
By focusing on something genuinely innovative and classy, Tinkoff wanted to increase brand loyalty and boost the attractiveness of its premium service program, which also features: 
Cashback on every purchase;
Commission-free money transfer to cards issued by other banks;
Travel insurance for five persons;
Free access to airport business lounges. 
To achieve these aims, it is rolling out to its most affluent customers the Tinkoff Black Metal, a sleek new Metal credit card that marries the convenience of contactless payment with the beauty of metal.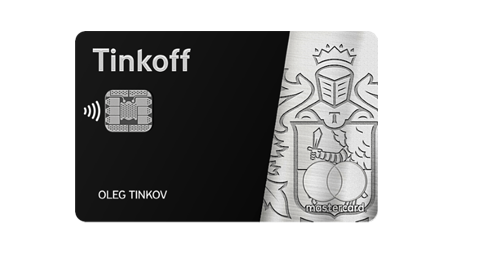 Exclusive striking metallic look and contactless 
The EMV chip cards, with their unique luxury design, tick all the boxes for the fintech's top customers. 
The eye-catching Black card comes with a tactile coat of arms etched and the Tinkoff and Mastercard logos engraved into it.
Its stainless-steel credit card core accentuates its striking metallic look and feel. 
To top it off, a double-coated satin finish gives the card a noticeably sleek and refined look which reflects the design tastes of the savvy customer base it's aimed at, helping to ensure it retains its top-of-the-wallet status. 
Although Metal cards had already been rolled out to a few hundred people in Russia by its competitors, these only supported contact payment. 
Tinkoff's bold offering marked a real advance by adding contactless functionality, a technology that it had already pioneered in Russia as the first bank to roll it out to customers with its dual interface veneer cards.
The card and its related services are redefining value in the payment experience.
Unique approach: An unprecedented large-scale deployment 
Additionally, rather than being a small rollout to a handful of people, Tinkoff's approach was the first large-scale deployment of its kind in Russia, challenging the region's biggest neo-banks. 
It knew that it would have to move fast to win these highly demanding and most exclusive customers. 
So, it decided to do a massive launch of the cards in a short time to create a truly unprecedented moment in the history of the Russian finance market. 
The scale of its ambitions has impressed both consumers and the Russian finance industry. 
Launching an entirely new type of high-quality card on time meant Tinkoff needed to consider the Metal credit design and how to achieve the huge rollout it had planned for this high-end product. 
It also had to build a business model that would enable the fast adoption of the Metal cards.
A very special moment: receiving the Tinkoff metal. 
No charge for the new Tinkoff Metal card 
It has done this by not charging customers for the prestigious cards but requiring that they make a minimum monthly spend of 20,000 rubles (2,500 euros) or maintain a minimum balance of 3 million rubles (40,000 euros). 
The roll-out of the 100,000 cards started in April 2019 and will continue into the first quarter of 2020. 
It achieved a fast time to roll out in line with its tight deadline. 
Tinkoff has already been able to prove that the Russian market has an appetite for a new and unique product. 
Where do we fit in?
The fintech was supported by Thales DIS (formerly Gemalto), building on a relationship dating back to 2013 when the two firms sealed their first deal for smart cards. 
Card design
Thales DIS supported Tinkoff in selecting the right product to meet its needs and help design the steel metal card and select its special features. 
Planning and coordination
It also helped the Bank achieve its ambitious roll-out plans without compromising on the card's quality and design features. 
The project has required massive coordination between all the players to deliver the contactless Mastercard Black edition veneer cards on time and budget. 
Working in conjunction with metal cards manufacturer CompoSecure (USA), the two firms' long experience in metal card projects, coordination, and mutual knowledge helped ensure a smooth rollout. 
Pilot and roll-out
Thales DIS supported Tinkoff in a card pilot a few months before the live roll-out to measure the market's appetite for the product. 
The successful pilot proved Thales DIS's experience supporting complex projects and meant Tinkoff could be sure it had chosen the right technology partner for the project. 
From the outset, Thales DIS has focused on the product's features and defining the exact milestones that needed to be met to achieve Tinkoff's requirements for the largest metal card delivery project that met high reliability and quality criteria. 
Tinkoff named best in Digital Premium Banking in Russia in 2019  
By being first to market with a truly premium product, Tinkoff is well-placed to differentiate itself from competitors in the market, especially traditional banks, which have been slow to deploy the innovative luxury products increasingly demanded by the wealthiest customers.
Feedback from Tinkoff's premium clients reveals that they feel proud that they belong to an exclusive group. 
The elegance of the cards combined with the metal makes them luxury credit cards. 
And the roll-out of these elite metal cards to premium clients only reinforces their exclusivity. 
More resources

Digital bank Tinkoff achieves mass rollout of Black metal cards to the Russian market
For those who are used to getting more
Read more on Tinkoff case study