Gemalto Earns the Best Payment Authentication Platform/Solution Award by Juniper Research​​
"This recognition from Juniper Research rewards our efforts at building a unique and resilient digital payment infrastructure through the combination of global EMV tokenisation and authentication services. Our platform effectively aids eMerchants increase transaction approval rates, eliminate fraud and improve customer conversion whilst meeting PSD2 requirements among other services" says Emilie Casteran, VP Digital Commerce, Thales.


Gemalto won Future Digital Award for Technology and Innovation 2019 with Gemalto Instant Connect
​​Gemalto has received the Future Digital Awards for Technology and Innovation 2019 in the category of the Smart City Innovation of the Year for its Gemalto Instant Connect solution.​
​Gemalto Instant Connect relies on a revolutionary mobile connectivity mechanism which allows OEMs and mobile operators to remotely and automatically provide a mobile subscription to any unconnected eSIM-ready device at first power-on.
Presented by hi-tech research and analysis firm Juniper Research, this category recognises the most innovative and impactful technology products operating across numerous sectors, including Automotive; Devices; Energy; IoT; Smart Cities; Smart Homes.
"This recognition from Juniper Research rewards our vision to make eSIM accessible to the largest number of stakeholders in the mobile ecosystem –starting from mobile operators, to subscribers, to consumer electronics & IoT device OEMs.", said Emmanuel Unguran, EVP Mobile Connectivity Solutions at Thales. "Gemalto Instant Connect aims at drastically simplifying the connection of eSIM-enabled devices on a mobile network from the first power-on."

Gemalto Earns Accolades from Frost & Sullivan for Innovation-led Growth in Digital Banking and Identity Verification Solutions Markets
​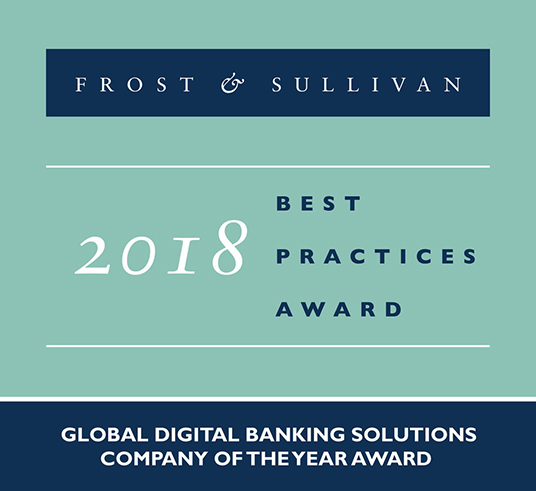 ​
Frost & Sullivan recognizes Gemalto with two 2018 Global Company of the Year Awards. The company safeguards a range of end-users from identity theft and data breaches using technologies such as biometric software, government ID document readers, and identity and access management (IAM) solutions. Moreover, Gemalto's comprehensive digital banking mobile security suite supports the secure transition to digital-first banking interactions, delivering identity verification, user authentication, transaction verification, and fraud prevention to create a seamless user experience, regardless of device.

Gemalto earns Frost & Sullivan's 2018 Customer Value Leadership Award in Middle East and Africa for PURE
​ ​
Gemalto, the Digital Security leader, is proud to receive the Frost & Sullivan's 2018 Customer Value Leadership Award in Middle East and Africa smart card markets for its PURE white-label payment solution.
PURE, empowers its customers with a white-label payment applications infrastructure for domestic schemes or private networks. PURE also offers its customers various transaction options apart from contact and contactless cards: wearables, cards with built-in fingerprint biometric sensor, contactless solutions with mobile NFC or QR Code, connected cars. This ensures that customers are "future-proof" and compliant with EMV standards.
Today, over 150 million cards with Gemalto's PURE are in circulation, from various card manufacturers in 28 countries. Through its technology, Gemalto's customers benefit from the diverse ecosystem, enabling payment solutions to function interoperably with point of sale terminals, automated teller machines, and core banking back-end systems.
With this remarkable achievement, Gemalto earns Frost & Sullivan's 2018 Customer Value Leadership Award in Middle East and Africa for PURE.​
​Read the Frost&Sullivan PR Award​​
​More info on PURE​​

Frost & Sullivan recognizes Gemalto as an established leader in fast-growing IoT market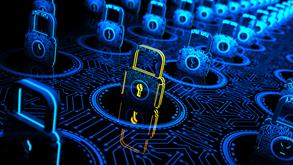 ​Gemalto has been has been awarded the Frost & Sullivan 2017 Encryption and Data Protection Technology Leadership Award1. Frost & Sullivan analysts independently ev​aluated Gemalto's SafeNet data protection and encryption solutions, in particular, the commercial success, growth potential, operational efficiency, and benefits provided to customers.​
"Gemalto's vision for data protection guarantees a tailored, scalable, centralized-IT-service solution for organizations needing efficiency, without an overhaul of their existing security systems," said Frost & Sullivan Research Analyst Danielle VanZandt. ​"Companies can standardize encryption and data protection breaking down internal silos achieving greater collaboration and visibility between departments."
"This award highlights our ability to provide customers with a simple, consolidated method of enterprise-wide data protection. The single pane of glass alleviates the burden of monitoring operations across multiple security platforms and simplifies the execution of internal data security policies," said Todd Moore, Senior Vice President of Encryption Products at Gemalto. "When preparing for an internal or external audit, a centrally managed system helps organizations quickly demonstrate their level of compliance without the hassle of collecting information across different systems."​
​Read the press release​
​​​​
​Juniper Research recognizes Gemalto as an established leader in fast-​​growing IoT market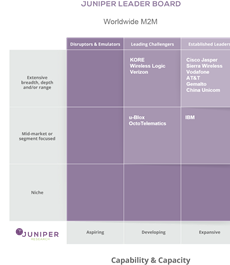 Gemalto has been recognized by Juniper Research​, the respected industry analyst, as a key player in the global M2M sector. This leadership position is based on Gemalto's advanced capabilities and product offering for the industrial and consumer IoT markets, where Juniper predicts strong growth for eS​IMs and remote subscription management platforms. ​
"In the report, we wish to highlight Gemalto's advanced eSIM offer and remote provisioning capability," said Sam Barker, Research Analyst at Juniper Research. "Gemalto's end-to-end IoT security is also recognized as addressing widespread concerns over the vulnerability of the IoT to hacking attacks."
​ ​ ​ ​​

Gemalto Contactless wearable wins Juniper Research Future Digital Award​​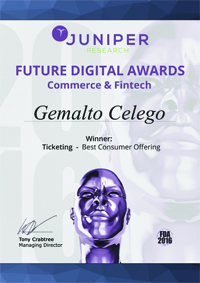 Gemalto is celebrating a 2016 Future Digital Award from Juniper Research, a respected industry analyst, for its Celego contactless wristband for transport ticketing and other value-added services. The Celego won Best Consumer Offer of Juniper's Commerce and Fintech awards category, reflecting its ability to embed a rich mix of secure contactless services in a stylish and convenient wearable.
"Contactless transactions and wearable technologies are two of the most powerful trends currently shaping the consumer domain," said Nitin Bhas, Head of Juniper Research. "The Gemalto wearable product makes it easy for providers to reap the benefits of both, making their service offers even more attractive, particularly to young, tech-savvy and fashion-conscious customers."
​Gemalto awarded three times as the global leader in transport ticketing solutions
Gemalto has been recognized by ABI Research, Juniper Research and IHS as the world's number one supplier of contactless and mobile solutions for public transportation.

2015 Future Digital Awards for Mobile Commerce
Gemalto has been honored by Juniper Research
​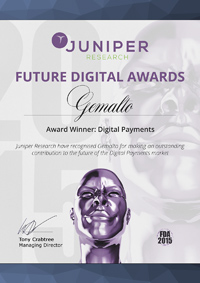 C​ompanies at the forefront of new developments in Digital Commerce have been honored in 2015 Juniper Research Future Digital Awards. These Future Digital Awards are given to companies that Juniper believes have made significant progress within their sector during the previous year, and are now poised to make considerable market impact in the future.
And Gemalto collects Digital Payments Award!
"We appreciate Juniper's recognition of Gemalto's unique vision to build an independent hub for issuers, processors and mobile network operators to bring secure mobile and online payment services to their entire customer base." said Jean-Claude Deturche, Gemalto SVP for Mobile Financial Services. Gemalto continues to be the long term partner of banks and MNOs, trusted to help them in their digital service transformation across wallets, devices and security frameworks.
​​Frost&Sullivan Awards Gemalto for Customer Value Leadership for Border Control (March 2014)
"Frost & Sullivan was looking for a company that not only had a vision for a high-quality total customer experience, but used those insights to achieve growth above the industry average," commented David Frigstad, chairman of Frost & Sullivan. "​Our market analysis of the Border Control and Biometrics sector highlights Gemalto's expertise in delivering end-to-end solutions that meet the combined needs of securing borders​ and simplifying travel procedures at land, sea and airport check points."
Gemalto Wins Two Future Mobile Awards from Juniper Research
Companies at the forefront of new developments in Mobile Commerce have been honoured in this year's Juniper Research Future Mobile Awards.
The Future Mobile Awards are given to companies that Juniper believes have made significant progress within their sector during the previous year, and are now poised to make considerable market impact in the future.
Future Mobile Award for NFC 2013
Gemalto received the NFC award for 2013. For NFC to succeed, it is critical that the ecosystem is presented with solutions that offer interconnectivity regardless of form factor or national market. Gemalto's TSM Interconnectivity Service represents a potentially key evolutionary development in this regard, reducing the NFC complexity (and time-to-market) for service providers and – from an SE provider perspective – offers the potential to stimulate NFC deployment across a host of services.
"This award recognises the readiness of Gemalto for supporting all service providers in their NFC deployments across the world," said Winston Yeo, Vice President of Mobile Financial Services, Gemalto. "The Allynis Trusted Service Management (TSM) solution, which has already been successfully deployed for many live NFC projects in US, Europe and Asia, provides the flexibility to quickly and easily onboard new service providers and enables them to deploy a broad range of secure NFC services such as airline boarding passes, transport ticketing or corporate badge. Gemalto TSM hub aggregates all the connectivity in the NFC ecosystem and greatly improves time-to-market for new service introductions, regardless of the location and the secure element form factor."
Future Mobile Awards for Mobile Payments 2013
Gemalto take their second award this year for Mobile Payments. Across the mobile payments arena, Gemalto has consistently launched best-of-breed solutions in recent years and its Mobile Wallet and Mobile Payment platform continue in this vein. Offering a futureproofed, technology agnostic solution that is built to scale seamlessly and providing two-factor authentication for secure payments to merchants, Gemalto's product range will deliver a further catalyst to this growth industry.
"We are grateful to see the leadership of Gemalto in delivering large-scale secure mobile payment solutions and driving innovations in the mobile commerce ecosystem recognised," said Winston Yeo, Vice President of Mobile Financial Services, Gemalto. "Gemalto's secure Mobile Wallet and Allynis Mobile Payment are designed for financial and payment service providers and retailers, supporting a rich and personalised payment experience integrated with merchant offers, promotions, loyalty and location-based services."
Gemalto Wins Two Awards for Mobile Commerce Innovation from Juniper Research
Recognizing NFC and TSM expansion in 2012
Gemalto (Euronext NL0000400653 GTO), the world leader in digital security, announces it has won two Future Mobile Awards from Juniper Research in the Near Field Communications (NFC) and Mobile Ticketing categories respectively. The awards recognize Gemalto's role in mobile commerce through Universal Integrated Circuit Card (UICC) deployment and Trusted Service Management (TSM) for NFC technology, as well as contactless services for mass transit.
These awards were decided by industry experts based on criteria including: product range, innovation, geographic market penetration, evidence of commercial campaigns, partnerships, and potential future business. Gemalto is already one of the world's leading technology suppliers powering a number of high-profile commercial NFC deployments and pilots, notably with KDDI in Japan, Crédit Agricole in France and the ISIS venture in the U.S. ​​