Identity verification to fight telecom fraud
In an ever-more digital world that is governed by new regulations, telecom operators are keen to offer more secure and more straightforward digital identification systems. 
Across the world, governments are passing legislation to protect their citizens from fraud and scams. 
In this context, Identity verification is front and centre, as crimes like money laundering typically involve fake or stolen identities, and accounts tied to false or absent identities. 
In response, regulations like Know Your Customer and SIM card registration require businesses to have more rigorous processes and secure systems for verifying the identity of their customers. 
This is key for telecom operators, as subscription fraud represents 20% of all telecommunications fraud. 
At the same time, besides, to protect their identity, consumers require more convenience as they are rapidly becoming accustomed to seamless and enjoyable digital journeys, and have begun to expect simple and fast a wide range of services access to. 
Identity Capture
In this context, for telecom operators, the days of "manually" checking the IDs of new mobile subscribers are coming to an end. 
The need to allow remote online sign-ups and a decreasing tolerance for slow processes in stores point towards the need for far more secure, efficient and flexible identity capture and verification methods. 
This includes a move towards collecting and verifying biometric information.
Thales' Secure Software Development Kit (for mobile devices) and our range of document readers and biometric readers make it possible for telecom operators to set up an identity capture solution that can be deployed across all their sales channels. 
As part of Thales' Digital ID platform of services, Thales' SDK and advanced readers enable to capture a vast diversity of ID documents, along with biometrics, including fingerprints and facial capture with liveness detection.  
Relevant personal details are extracted automatically from the customer's documents, speeding the process of form filling and minimizing any risk of errors. 
All the captured information is verified in real-time using Thales' Trusted Digital Identity Services Platform. 
Trusted Digital Identity SDK
If a telecom operator seeks to allow remote sign-ups, then a user's device (such as a mobile phone or personal computer) can be used to capture their identity attributes. 
Thales'Trusted Digital Identity SDK provides all the steps needed for customers to create a trusted digital ID from their smartphone. 
Thales' Secure SDK is easily and transparently integrated with the telecom operator's mobile app and can be used on Apple or Android. 
The resulting application assists the subscriber in taking a picture of their ID document and taking a selfie. It controls the camera and displays the video stream on-screen while checking that the image quality is acceptable and that light spots are not disturbing ID verification or facial recognition. 
Importantly, it also prompts the user to move to detect liveness. Quality control tips guide the user along the way. The image is automatically post-processed and prepared for analysis. 
Note that Thales' secure SDK integrates mobile software security features. 
Advanced ID documents Readers
To enable further verification of an ID document's security features or to capture identity attributes with an even higher degree of fidelity, dedicated equipment is needed. 
Thales' document readers address the need for security and speed simultaneously. 
Thanks to sophisticated checks (for example under ultraviolet light) our document readers can be used to detect numerous fake documents. 
With options built for stationary use (desktop readers) at the point of sale as well as mobile use (tablet readers), these solutions can be easily adapted to different needs and priorities. 

Biometric tablets & readers
Thales Gemalto biometric readers enable the collection of biometric information, such as fingerprints, at the telecom operator's point of sale. 
Our  fingerprint scanners are certified and ensure high quality in the capture of biometric attributes. They are in use across the globe for secure identification at national borders, healthcare offices, and law enforcement stations. 
Our biometric tablets have also been deployed in contexts where mobility and flexibility were vital, such as for voter registration in remote areas.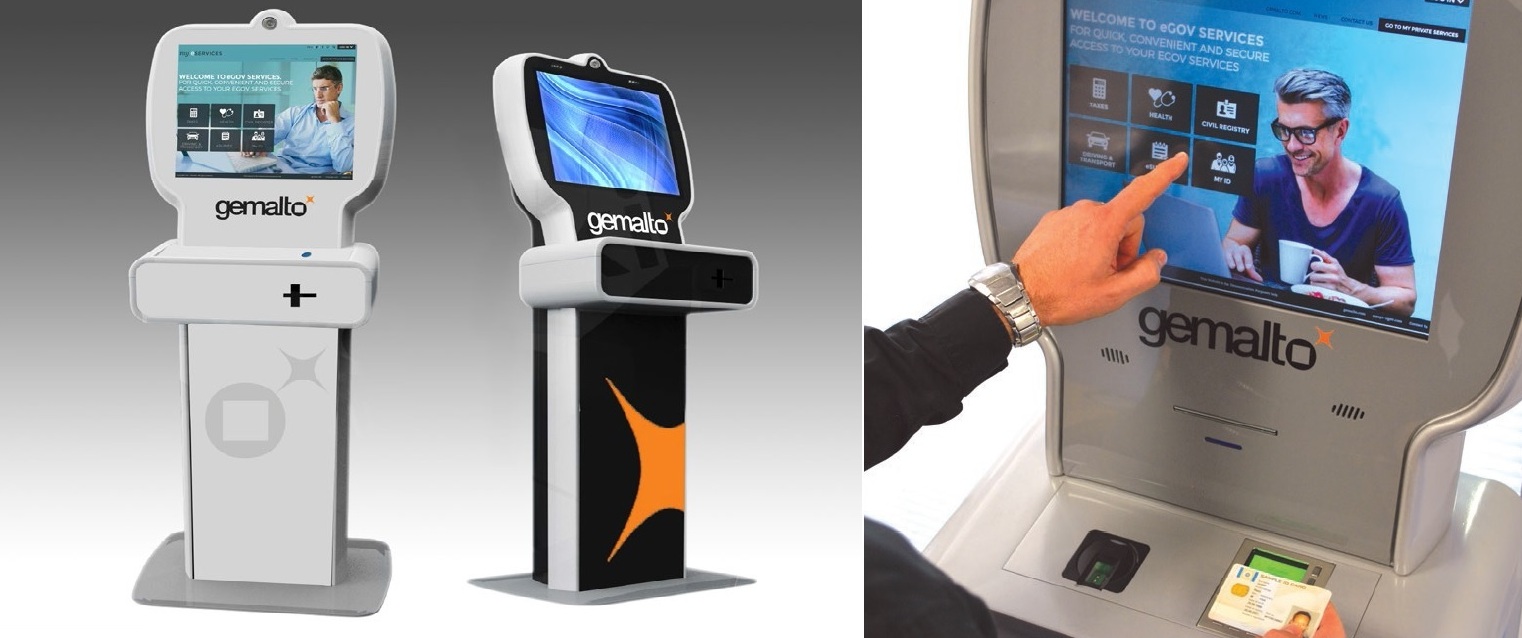 Kiosks for self-service enrollment
Escalating standards for speed and convenience are leading many telecom operators to allow customers to purchase
SIM cards and mobile plans remotely and on-the-spot. 
To enable this convenience while adhering to security regulations like Know Your Customer, this remote process needs to capture both ID documents as well as biometric information. 
Gemalto kiosks make it possible to provide fully self-serviced enrollment capabilities in places like malls. These kiosks help reduce lines at points of sale and enable access to services anywhere.