​​​

​
Let us help your agency.
As an FBI-approved channeler and provider of state-wide fingerprint collection networks, Thales offers federal, state and local government agencies a secure and compliant way to exchange criminal history record information (CHRI) for employment and licensing purposes.
Thales Cogent Applicant Processing Solution (APS) offers a full range of fingerprint collection, submission, and result dissemination services that can be customized to fit the requirements of any given mandate. 
The Fingerprinting Process is Simple with Thales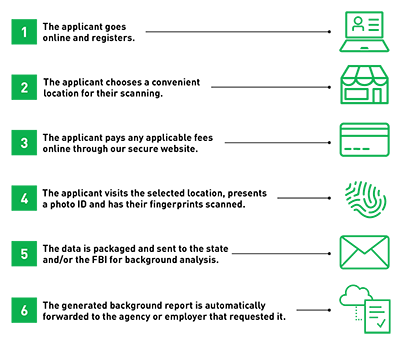 ​Experience you can trust
With a decade of experience in applicant background screening and transmission, Thales Cogent Applicant Processing Services have processed millions of requests averaging over 2 million per year.
Here's what Thales provides your agency:
Security for Background Check Applicants
Thales is committed to safeguarding each applicant's personal information collected during the fingerprint-based background check process and ensuring its proper transmission to the relevant authorities. 
We comply with all state and​ federal laws for collecting and submitting applicant fingerprint records.
Convenience for your agency
Customized to meet your agency's needs, our solution has been refined and customized to suit individual agencies with enhancements for reporting, online reviewing, payment, varying workflows, and specialized customer and technical support requirements.
Our APS solution is scalable to meet new, or changing customer needs, including increased transaction volumes, additional reporting requirements, and new user agencies.
By taking advantage of the Thales' fingerprint collection network, vendor auditing is simplified by reducing your submission vendor count to a single, third-party service provider.
Off-load interagency data transmission to reduce workload by providing automation between participants.
Accurate and timely reports
Online statistical reporting is available with a secure login for approved employees and program administrators. 
User agencies can monitor fingerprint site rejection rates, determine if and when an applicant has completed fingerprinting, review customer service and compliance logs and stay compliant with customized audit reporting.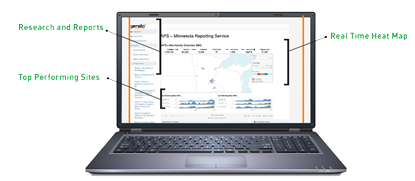 In which states are Thales Cogent Applicant Processing Services currently offered?


Thales Cogent Applicant Processing
Easy, efficient and compliant for agencies and their applicants
Download the brochure

Thales Cogent Applicant Processing for Private Businesses
Streamline your employee background screening process with an in-house applicant fingerprinting system
Download the brochure

Thales Cogent Applicant Processing for Retail Businesses
Easily increase foot traffic and generate additional revenue by adding fingerprinting services to your current service offering
Download the brochure