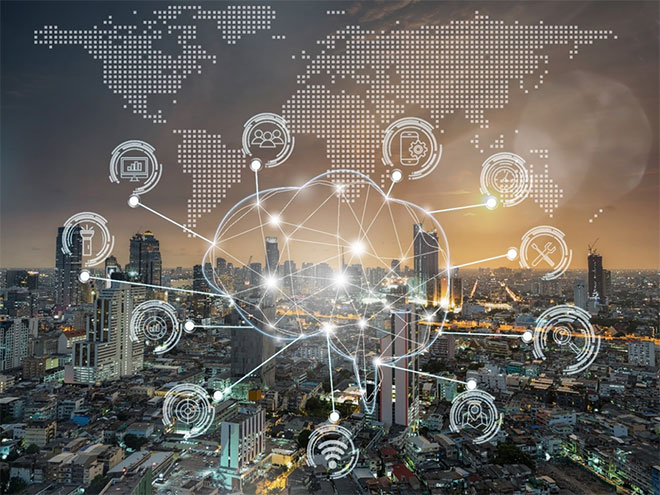 Real-time analytics, driven by AI (Artificial Intelligence) and ML (Machine Learning), is a game-changer for improving customer experience, reducing costs, generating new revenue, and achieving the scale and security demanded by 5G and the Internet of Things (IoT).
Reflecting this, we now offer advanced AI/ML-driven analytics by Guavus, enabling Communications Service Providers (CSPs) and Mobile Network Operators (MNOs) to boost the value derived from their data and networks dramatically.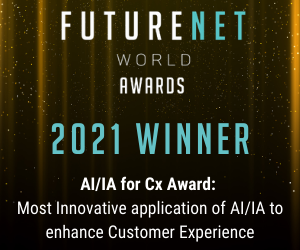 Guavus Wins the Award for "Most Innovative Application of AI/IA (Intelligent Automation) to enhance Customer Experience"
2021 FutureNet World Awards
Check out the Guavus website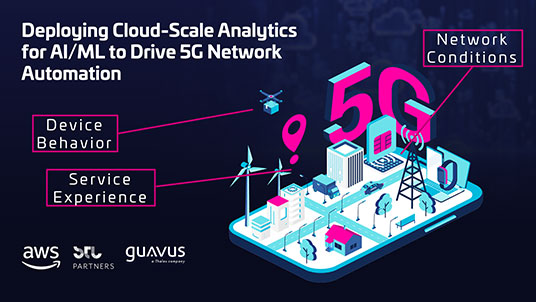 Deploying Cloud-Scale Analytics for AI/ML to Drive 5G Network Automation
In this on-demand webinar, 5G experts from Guavus, AWS and STL Partners discuss the role of network automation to successfully operate highly complex 5G Standalone networks at scale.
Watch the recording
Guavus is a telecom analytics pioneer focused on helping MNOs realize business value from 5G.
MNOs can do this by leveraging cloud-scale, real-time analytics and state-of-the-art AI/ML, resulting in increased operating efficiency, the ability to satisfy stringent 5G SLAs and ensure quality of service experience for people, machines and IoT devices.
We offer a family of analytics products that are open, vendor-agnostic, adhere to industry standards and designed for the 5G environment and beyond, while bridging the gap from 4G/LTE.
Successfully deployed by operators of some of the world's largest fixed-line and mobile networks, Guavus products benefit stakeholders in network operations, network engineering, service operations, customer care, field operations and marketing.
 
Guavus' portfolio of AI/ML-based analytics products for MNOs

5G Analytics (5G-IQ NWDAF)
Guavus is spearheading the development of analytics products for 5G network operators to help them overcome the challenges of operating complex, multi-vendor 5G networks at scale and deliver new revenue-generating 5G services.
5G-IQ NWDAF is a 3GPP-standard data analytics function that generates real-time operational intelligence in the 5G Core to drive closed-loop network automation and service orchestration.
Find out more: https://www.guavus.com/guavus-iq/5g-iq-nwdaf/
Operational Analytics (Ops-IQ)
Ops-IQ addresses network and service issues through AI/ML-based operational analytics to automatically detect and investigate customer-impacting service problems, and help MNOs reduce their mean-time-to-repair.
Designed for Service Operations & Customer Care teams, Ops-IQ has a positive impact on OPEX reduction while focusing on improving the customer experience and preventing churn related to service dissatisfaction.
Find out more: https://www.guavus.com/guavus-iq/ops-iq/ 
Subscriber & Device Analytics (Service-IQ)
Service-IQ addresses MNO business and operations challenges through end-to-end behavioral analytics, from massive network event collection to high-value analytics use cases.
Designed for marketing, product, network planning & network operations teams, Service-IQ enables to understand the connected subscriber and device footprint and their corresponding digital behaviors. MNOs can fully capitalize on their own network data assets to grow revenue, increase profitability and support customer experience initiatives.
Find out more: https://www.guavus.com/guavus-iq/service-iq/ 
New AI-driven Mobile Voice Analytics Product from Guavus Helps Operators Meet Customers' Great Expectations for 5G
Leading Mobile Operator in Vietnam Selects Guavus Device Management Analytics as it Prepares for 5G
Real-time Analytics on Mobile Device Adoption and Usage Patterns Provide Critical Insights to Operator's Network Planning, Operations and Marketing Teams
Guavus Launches 5G Core Network Analytics Product to Help Operators Tackle 5G Complexity and Deliver New 5G Services
Carrier-grade analytics specialist takes "Open NWDAF" approach to automating multi-vendor 5G networks
Read more
5G Rollout Challenges & Analytics-Driven Remedies for MNOs
Big data analytics, ML and AI are critical for MNOs to master 5G operational complexity and overcome the rollout challenges. 
Hear from industry experts
 
NWDAF: Automating the 5G Network with Machine Learning & Data Analytics
What exactly is the Network Data Analytics Function (NWDAF)? What are the use cases? What will be the key challenges for CSPs and how can they overcome them?  
Read more