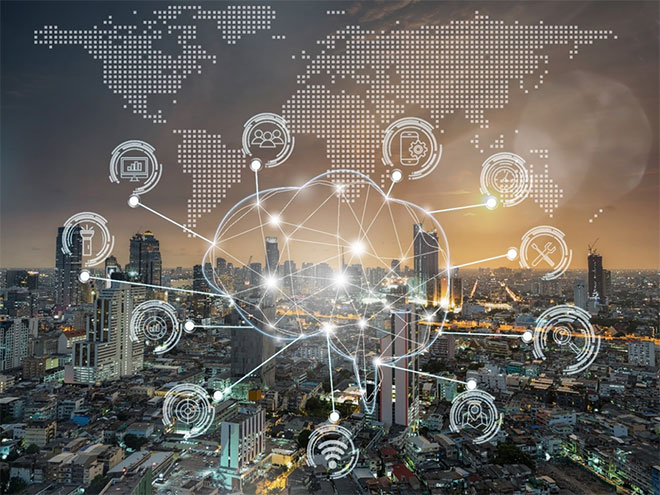 Real-time analytics, driven by AI (Artificial Intelligence) and machine learning, is a game-changer for improving customer experience, reducing costs, generating new revenue, and achieving the scale and security demanded by 5G and the Internet of Things (IoT).
Reflecting this, we now offer advanced AI/ML-driven analytics, enabling Communications Service Providers (CSPs) and Mobile Network Operators (MNOs) to dramatically boost the value derived from their data and networks.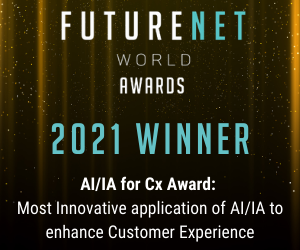 Guavus Wins the Award for "Most Innovative Application of AI/IA (Intelligent Automation) to enhance Customer Experience"
2021 FutureNet World Awards
Check out the Guavus website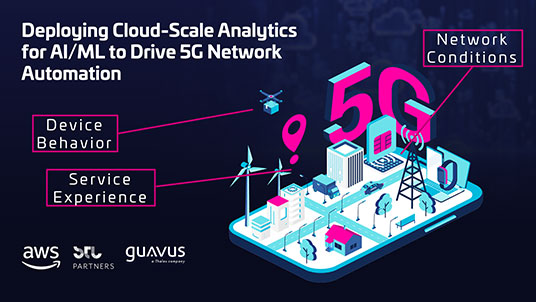 Deploying Cloud-Scale Analytics for AI/ML to Drive 5G Network Automation
The replay of our 28th July webinar on "Deploying Cloud-Scale Analytics for AI/ML to Drive 5G Network Automation" is available:
Gated access

2018 Global Big Data Analytics - Customer Value Leadership Award
Frost & Sullivan best practices research
Download the whitepaper
Guavus Launches 5G Core Network Analytics Product to Help Operators Tackle 5G Complexity and Deliver New 5G Services
Carrier-grade analytics specialist takes "Open NWDAF" approach to automating multi-vendor 5G networks
Read more
Guavus Unwraps New AI-based Analytics and Automation Products for CSPs
Guavus provides single solution to address both network and service operations, taking the cost and complexity out of big data analytics for operators. 
Read more
Guavus Brings MNOs New Cloud-based Analytics with AWS
Guavus-IQ analytics on AWS are designed to allow MNOs to improve customer experience, cut costs, and grow revenue through the use of explainable AI (XAI) and advanced cloud-enabled analytics on subscribers and network operations.
Read more
 
5G Rollout Challenges & Analytics-Driven Remedies for MNOs
Big data analytics, ML and AI are critical for MNOs to master 5G operational complexity and overcome the rollout challenges. 
Check out the eBook
Hear from industry experts
 
NWDAF: Automating the 5G Network with Machine Learning & Data Analytics
What exactly is the Network Data Analytics Function (NWDAF)? What are the use cases? What will be the key challenges for CSPs and how can they overcome them?  
Read more
 
Powered by Guavus, a global pioneer in this field, these new capabilities serve to complete a comprehensive product portfolio.
The Guavus-IQ portfolio delivers highly instrumented analytics insights to CSPs on:
how each subscriber is experiencing their network and services (bringing the outside perspective in),
and how their network is impacting their subscribers (understanding how their internal operations are impacting their customers). 
This single, real-time "outside-in/inside-out" perspective helps operators identify subscriber behavioral patterns and better understand their operational environments. This enables them to increase revenue opportunities through data monetization and improved customer experience, as well as reduce costs through automated, closed-loop actions.
Deployed at large and varied operators worldwide, Guavus differentiates itself on its efficient resource usage and data ingestion, long telecoms expertise, low-code development, network vendor independence, and the ability to handle massive scale: at one operator, it processes 5 petabytes of data a day!
 
Guavus' portfolio of AI/ML-driven analytics products for CSPs

5G Analytics (5G-IQ NWDAF)
Guavus is spearheading the development of analytics products for 5G network operators to help them overcome the challenges of operating complex, multi-vendor 5G networks at scale and deliver new revenue-generating 5G services.
5G-IQ NWDAF is a 3GPP-standard data analytics function that generates real-time operational intelligence in the 5G Core to drive closed-loop network automation and service orchestration.
Find out more: https://www.guavus.com/guavus-iq/5g-iq-nwdaf/
Operations Analytics (Ops-IQ)
Ops-IQ addresses CSPs network and service issues through real-time ML-based operational analytics, topology-independent root issue analysis, fault correlation, fix recommendation, incident prediction and automatic trouble ticket generation.
Designed for network, service, field & customer care teams, Ops-IQ achieves the self-healing network paradigm, preventing customer-impacting service degradations and outages, lowering OPEX and optimizing customer experience.
Find out more: https://www.guavus.com/guavus-iq/ops-iq/ 
Subscriber & Device Behavorial Analytics (Service-IQ)
Service-IQ addresses CSP business and operations challenges through end-to-end behavioral analytics, from massive network event collection to high-value analytics use cases.
Designed for marketing, product, network planning & network operations teams, Service-IQ enables to understand the connected subscriber and device footprint and their corresponding digital behaviors. CSPs can fully capitalize on their own network data assets to grow revenue, increase profitability and support customer experience initiatives.
Find out more: https://www.guavus.com/guavus-iq/service-iq/ 
More about Guavus comprehensive AI and big data analytics portfolio