Your fully traceable data chain of Aeronautical Information, from origination to publication, accessible from all ATM components.
As an aircraft is always in movement whether on the tarmac or in the skies, it is crucial to know its position and situation at all times to detect incoming issues and design optimum solutions. Consequently all the flight data collected including cartography and flight planning as well as air navigation services need to be treated and shared to all airspace users.
They need to have access to accurate and timely aeronautical data and information to insure safety air navigation. 
AIM references worldwide in 46 countries
of the world's airspace controlled by Thales
A complete & modular aeronautical information management suite 
In an increasingly data-reliant automated environment, the smooth and timely flow of accurate, high quality digital information between aviation actors is of critical importance.
TopSky-AIM offer is a component-based solution ready to integrate the latest technological developments from SESAR & Next Gen. 
TopSky – AIM Solutions are based on a robust product strategy for the next 10 years and beyond. They comply with the ICAO Aviation System Block Upgrades roadmaps and key standards. As world leading solutions, they are mature, safe and reliable.
Customer challenges
The effectiveness of information is a key challenge for ANSP that can be achieved by reducing the need for human intervention. The aeronautical database must be the single point of truth, delivering fully auditable data while preserving the security and integrity of data. Duplicated data must be removed, and the risk of data entry errors must be minimized.
Customers want a global and modular AIM solution aligned with the latest standards. The main goal is to give the accurate information at the right place and at the right time.
Thales answers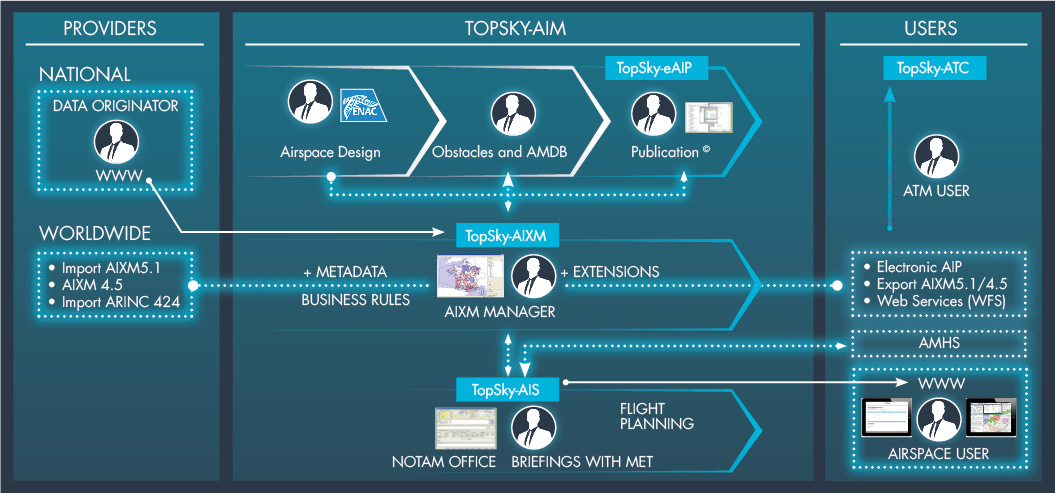 Thales has developed TopSky – AIM, a new AIXM5 based Aeronautical Information and Data Management solution. It is the most complete, reliable and scalable solution available for a smooth transition from AIS to AIM.
TopSky – AIM supports the advanced SESAR and NextGen developments. It complies with EuroControl standards, ICAO's Aviation System Block Upgrade - Block 0 and is ready and aligned with Block 1. TopSky is fully SWIM ready.
The product vision and roadmap are shared with customers who actively participate to the creation of new features. 
TopSky – AIM includes a complete set of interoperable components covering the full range of AIM functions.
All components are fully independent and are designed to be smoothly integrated within ANSP existing solutions.
 

TopSky – AIXM

Aeronautical information database
management component

Central and unique source of aeronautical data for all TopSky - ATM components

Compliant with AIXM 5.1 (.1) standard

Local or cloud deployment

Interoperable through SWIM interfaces

Complient with ADQ (Aeronautical Data Quality) regulation

Multi Country functionalities

 

 
 

TopSky – AIS

 NOTAM office and flight preparation
services compbonent

Manage AIS operations (NOTAM, ATS Reporting Office with Briefing service including MET)

Proven solution designed for operation

Connected to EAD and used as EAD backup in Europe

 

 

TopSky – Internet Briefing

FPL submission and integrated briefing service through the Internet

Submits Flight Plan in real time

Provides Flight Plan status to pilot

Computes Integrated Briefing NOTAM and MET

Available on tablets embedding a new graphical interface able to display airports, routes, airspaces,

navaids ... 

 
 

TopSky – eAIP

Electronic AIP production and publication component - Automated production of e-AIP

Fully compliant with latest Eurocontrol specifications (native XML technologies)

Automatic generation & publication of PDF, HTML, web site

Full integration with AIXM database.

Workflow management and tasks follow-up

Intuitive editor's HMI 

 
 

AIP-GIS Charting®* 

Automated and database driven aeronautical charting

GéoTITAN®©* 

Flight procedure design expert component provided by ENAC (French Civil Aviation Authority) and CGx AERO

 
 

Data4Flight®
OBSTACLES & AMDB* 

Flexible and smart obstacles and AMDB data management and assessment tool
(eTOD, OLS, BRA)

Airspace4Flight®*

Automated and database driven Airspace and
En-route data design

 

 

AIM4Flight® - Workflow 

Complete traceability of all the operations performed on aeronautical data based on customizable roles and profiles

 
*Provided by our long term partner CGx AERO
 
They trust us